The bodies came in, year after year, sometimes several per week, from all corners of the Chicago collar county. Will County Coroner Patrick O'Neil usually had a hunch about the cause of death even before the toxicology reports came back.
"They were housewives, athletes, grandparents, cheerleaders, and straight-A students, from the age of 17 to 72," he said.
And they all shared one thing in common: death from heroin overdose. It's but one flashpoint in a national epidemic.
For Chicago, a city in the grips of a violent crime epidemic — more than 3,000 people were shot this year, with homicides topping over 500 — a quieter but just as lethal challenge looms. In the Chicago metropolitan area the percentage of treatment admissions for heroin was more than double the national average in 2012, according to a study by the Illinois Consortium on Drug Policy at Roosevelt University.
The Chicago area also ranked number one in the nation for emergency room visits related to heroin use, according to the same study. The majority of these visits occurred on Chicago's west side, which had one out of every four opioid-related hospital admissions in the state of Illinois.
"We've seen the numbers of deaths go up," said Melaney Arnold, a spokesperson for the Illinois Department of Public Health.
Read More: How a Heroin Crisis Sparked a Police Revolution
There were 2,113 heroin deaths in Illinois from 2013 to 2015. Some 1,425 of those deaths happened in Chicago and its collar counties, according to the Illinois Department of Public Health.
Those numbers could potentially be even higher, Arnold said. "Heroin overdose deaths were underreported previously and they could be under-reported right now."
For many years, death reports did not always delineate "heroin" as the cause, she said. The reports would be labeled as "opiate intoxication" or just generically "overdose" without any mention of what kind of opiate, she said.
In 2013, after the Illinois Department of Health began seeing an uptick in death reports that specifically started to state "heroin" as the cause of death, the agency decided to start keeping tabs on the numbers.
Data collection has slowly started to pick up nationally as well.
"Some states tracked it more than others," said Karmen Hanson, a health policy manager at the National Conference of State Legislators. "Recently, a lot more states are taking actions to track heroin overdoses more closely then they have in the past because of all the attention from media and the public."
But health professionals,like O'Neil, started to to see a problem years ago.
"Before 1999, we would get maybe one heroin death per year in the county, and then all of a sudden it jumped to five a year and just kept increasing," said O'Neil.
He shared his observations with local law enforcement and they with other law enforcement agencies in the Chicago area.
The word finally reached state Representative Lou Lang, D-Illinois.
Read More: Obama Pushes For More Treatment for Opioid Addiction
After hearing about the dramatic increase in heroin abuse in Illinois, Lang formed a task force of 39 bipartisan state legislators to travel the state for a year researching the drug epidemic.
"We were ground zero in America. Not just in rough shape but ground zero." Lang said.
After getting well over a hundred testimonies from health care providers, parents, police, and users themselves, Lang and his task force created House Bill 1.
"Other states were doing a little of this and a little of that, but I wanted something complete and comprehensive," he said.
The bill passed unanimously while also surviving a veto by Illinois Gov. Bruce Rauner. It became the Heroin Crisis Act, the deepest dive any legislation has taken with regards to heroin abuse, said Lang.
The over 250 page law requires Medicaid to pay for medication-based substance abuse treatment, authorizes pharmacies to dispense heroin reversal drugs, allows a school nurse to administer reversal drugs, and imposes strict reporting requirements on health care providers in order to promote more reliable data, among several other mandates.
The law also takes focus off of criminal punishment and puts it on health treatment for drug users by allowing them to stay in care facilities instead of prisons.
"This law goes way beyond what any other state has done," said Lang. "It is the most comprehensive and wide-reaching piece of legislation aimed at battling heroin addiction."
The state law is now being considered as a federal model on heroin legislation.
In the past year, the White House has buckled down and taken a hard look at what they've already deemed a "national epidemic."
Several federal agencies have proposed initiatives to combat heroin and other opioid based drugs. Some of these include expanding access to treatment, improving prescription drug monitoring by federal prescribers, and advancing prescriber education.
The Department of Justice is starting to grease the wheels of a new plan to expand interstate information-sharing of drug prescribers in order to identify traffickers and trafficking networks.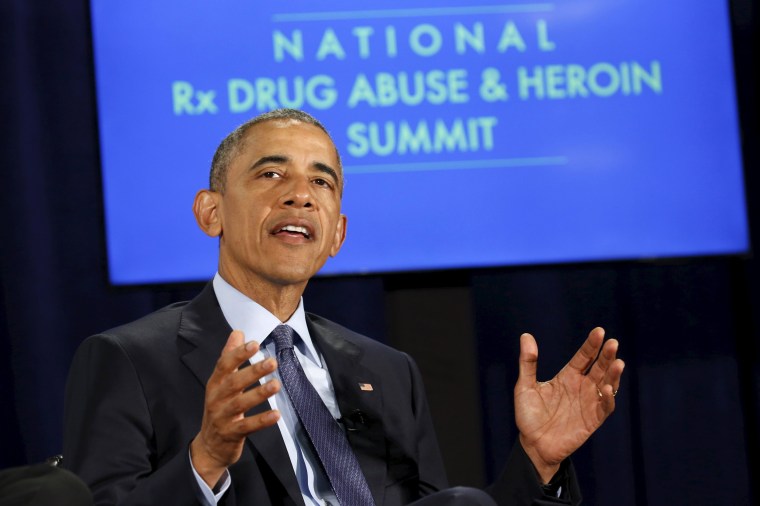 President Obama has already called for $1.1 billion to address opioid treatment, which if passed will be dispersed on a state by state level. Illinois would qualify to to receive $28 million under the President's budget proposal.
Last month, the president proclaimed "Prescription Opioid and Herion Epidemic Awareness Week."
As for O'Neil, he's just bracing for the next wave.
"We still have three and half more months to go," he said. "And I just signed off on another two."