CHICAGO — Over a quarter-million students are set to be kept out of classrooms on Thursday as the nation's third-largest school district's teachers announced they will go on strike after months of negotiations failed between the city and the Chicago Teachers Union.
Mayor Lori Lightfoot announced Wednesday that all classes and activities within the Chicago Public School system will be canceled ahead of a strike by the Chicago Teachers Union.
"Over the last several weeks and months we have tried to remain optimistic that through good faith negotiation we could reach a deal that could avert a strike," Lightfoot said at a news conference. "But the union has been crystal clear that they are going to strike."
The union tweeted that teachers would be out on the picket lines Thursday. The Chicago Teachers Union's House of Delegates voted to reject a contract proposal from Chicago Public Schools during a meeting on Wednesday night, NBC Chicago reports.
Even though classes will not be in session, school buildings will remain open so students have a safe place to go during the day and meals will still be served, said Chicago Public School CEO Janice Jackson.
As the union proceeds with the strike, they will be following in the footsteps of several other school districts in Los Angeles, Oakland and Denver who walked out this year over similar issues.
The Chicago Teachers Union, comprised of 25,000 educators, and the mayor have been locked in a standoff over teacher salaries, classroom sizes and increased support staff, including more nurses and librarians since the summer.
Beyond that, the union also asked for more help via social programs and staff to deal with students who are homeless and dealing with trauma from violence.
"We have been asking, begging, organizing, demanding the same things for the last 10 years, and [Lightfoot] should know because her campaign team copy and pasted every single demand we've put forth for the last 10 years to a campaign platform," Stacy Davis Gates, vice president of the teachers union said on Wednesday. "It's pitiful that we're at this point."
While a resolution seemed close at several points over the last few weeks, both sides came to an impasse after publicly sharing stern words about the other's willingness to come to an agreement.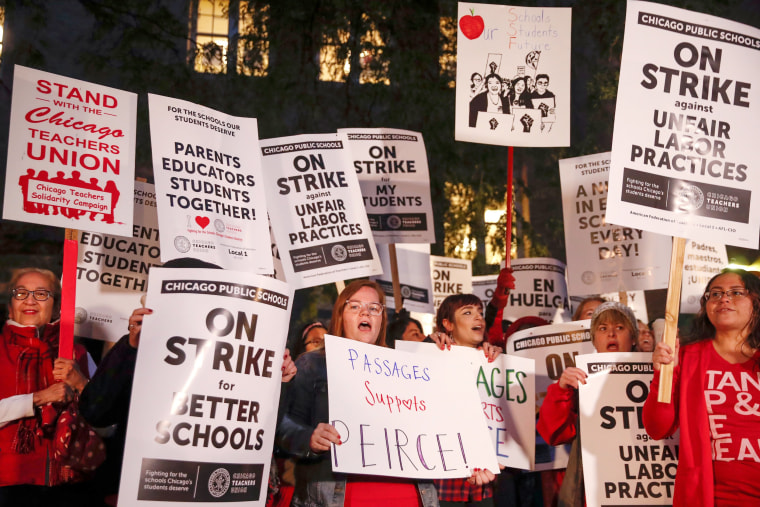 Lightfoot said she gave the union every one of their asks, but "behind the scenes" demands, such as cutting 30 minutes off the school day and an extra pay increase beyond the 16 percent bump that was offered, had soured a compromise.
"We can't agree to that," she said. "We are recovering from the brink of insolvency and do not have unlimited funds."
Lightfoot added that the demands would cost the city $2.5 billion, which it cannot afford.
But union brass said citing financial constraints is simply an excuse.
"The district is taking in over a billion dollars in new annual revenue from the state to do exactly what we are asking for in negotiations. And we intend to bargain until we get those commitments in writing in an enforceable contract," Jesse Sharkey, president of the teachers union, said in a statement.
Sharkey said the decision to strike is "not something we do lightly" and a "short-term strike that is going to cause some difficulty and pain" is the only way to make changes.
The last time the Chicago Teachers Union picketed was in 2012 and lasted seven days. The district narrowly avoided a strike in 2016, after the union came to an agreement with then-Mayor Rahm Emanuel.