The City of Chicago hit a deadly milestone over the Labor Day weekend — the 500th homicide of the year.
And with that tragic tally, the Windy City has now logged more homicides than New York City and Los Angeles combined — and is on pace to reach a homicide level not seen since the 1990s, the Chicago Tribune reported Tuesday.
Don't blame the cops, Chicago Police Superintendent Eddie Johnson said outside police headquarters Tuesday.
"It's not a police issue, it's a society issue," Johnson said after a Labor Day weekend during which 65 people were shot, 13 of them fatally. "Impoverished neighborhoods, people without hope do these kinds of things. You show me a man that doesn't have hope, I'll show you one that's willing to pick up a gun and do anything with it."
Of the 512 homicides in 2016 tallied by the Tribune, 488 fell under the jurisdiction of the Chicago Police Department, a police spokesman told NBC News.
"They're including every homicide in the city limits," Officer Jose Estrada said of the Tribune report. "Some of those are covered by other law enforcement agencies, so we don't count those."
The Chicago Police also don't count what they deem "justifiable homicides," which for example is when one person fatally shoots another in self-defense, said Estrada.
Still, the last time the city exceeded 480 murders in a year was in 2003, when there were 601, police said.
The latest homicide was reported at 10:45 p.m. Monday on the city's west side when a shooter in a silver minivan opened fire on a group of young men, police said. Two 22-year-olds were killed and three others, ages 16, 17, and 20 were wounded.
One of the fatalities was a documented gang member, police said. The shooter was still at large Tuesday.
The grim milestone comes just days after the Chicago Police revealed that August was the deadliest month in the city in more than 20 years, with 90 homicides and 384 shooting incidents involving 472 victims.
Among those slain was Nykea Aldridge, a cousin of NBA star Dwayne Wade, who was struck by a stray bullet while she was pushing her baby in a stroller near a school on the city's southside.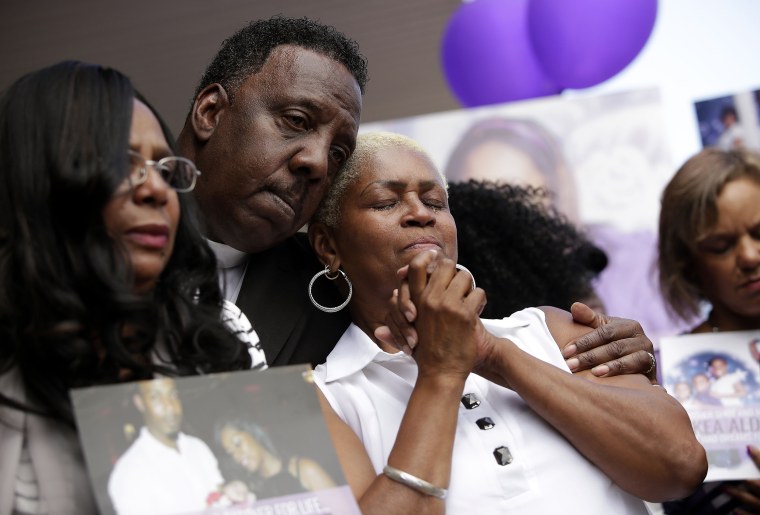 The vast majority of the deadly violence this year happened in persistently poor neighborhoods like Austin on the West side and Englewood on the South side where unemployment is rife and where rival gangs fight over turf and control of the drug trade.
Johnson has blamed the surge in killings on increased gang activity and on weak penalties for people convicted of crimes involving guns.
There were 473 murders in Chicago last year. But back in the 1990s, when Chicago was plagued by a crack epidemic, the city's murder rate was twice that. There were 928 in 1991, 943 in 1992, 855 in 1993, and 931 in 1994, according to statistics compiled by the CPD.