CHICAGO — A Chicago investigative agency released body-camera video Wednesday showing the fatal police shooting of a 24-year-old man who family lawyers say was unarmed at the moment he was shot in the back.
One officer fired from a sidewalk on June 6 just as Maurice Granton Jr. grabs the top of a wrought-fence around a vacant lot to pull himself over. He falls, writhing on the ground, seemingly unable to move his legs. An autopsy later revealed he was shot in the back.
Officers earlier that evening tried to question Granton as part of a drug investigation, but he fled, authorities have said. Police said they recovered a gun Granton had been carrying and that there's evidence it had been fired before he reached the fence.
The Civilian Office of Police Accountability, or COPA, which investigates police shootings, posted the video on its website Wednesday. Other video showing officers chasing Granton earlier are also included, as is radio traffic between officers.
There's no sound for the first 30 seconds of the video of the shooting. When the sound comes on, the officer keeps his gun trained on Granton and tells another officer there's a weapon on the ground some 20 feet away.
"Go get the weapon. Get the weapon," he says.
Minutes later, a crowd can be seen beginning to gather in the Bronzeville neighborhood on the city's South Side, some people yelling at police and others frantically calling Granton's name.
Family attorney Andrew Stroth argued the video showing the shooting contradicts the initial police narrative that there was an armed confrontation right before the shooting.
"It shows an unarmed black man running away from police, and police don't have a right to shoot and kill in that situation," Stroth said. "We continue to have young black men unjustifiably shot by police. When is it going to stop?"
The police department issued a brief statement later Wednesday saying it is "fully cooperating" with the investigation of the shooting.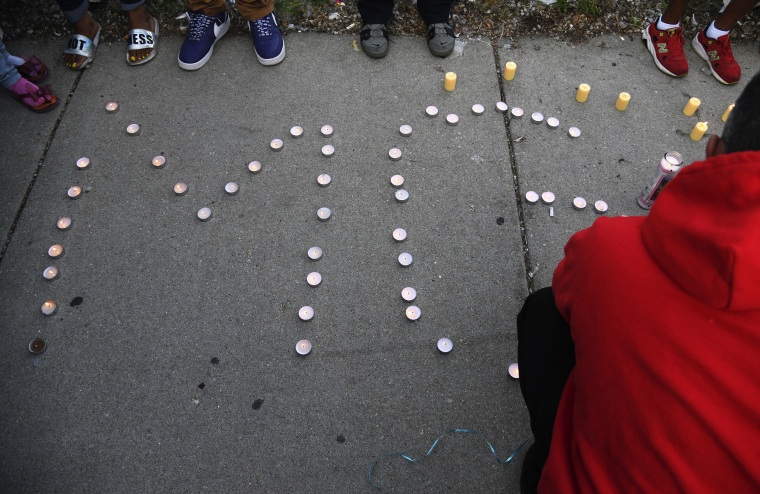 Chicago has a troubled history of police shootings. The city erupted in protest in 2015 after the release of a video showing white police officer Jason Van Dyke shooting black 17-year-old Laquan McDonald 16 times in 2014. Van Dyke was charged with murder.
McDonald's death led to the ouster of the police chief and a series of reforms designed to prevent future police abuses and to hold officers accountable.