Chicago Police Superintendent Eddie Johnson was unexpectedly fired Monday just weeks before he was set to retire, ending a rocky, three-year tenure as head of a department marked by controversial police shootings, court-supervised reforms and its handling of high-profile arrests.
But in announcing his firing, Mayor Lori Lightfoot suggested it was Johnson's personal failures when he was found asleep behind the wheel of his car on Oct. 17 and for what he told investigators that played into the decision to end his employment.
"Upon a thorough review of the materials of the Inspector General's ongoing investigation, it has become clear that Mr. Johnson engaged in a series of ethical lapses that are intolerable," Lightfoot said in a statement ahead of a news conference in which she rebuked Johnson for his conduct.
"Eddie Johnson intentionally lied to me several times even when I challenged him about the narrative that he shared with me," she later said. "He maintained that he was telling the truth. I now know definitively that he was not."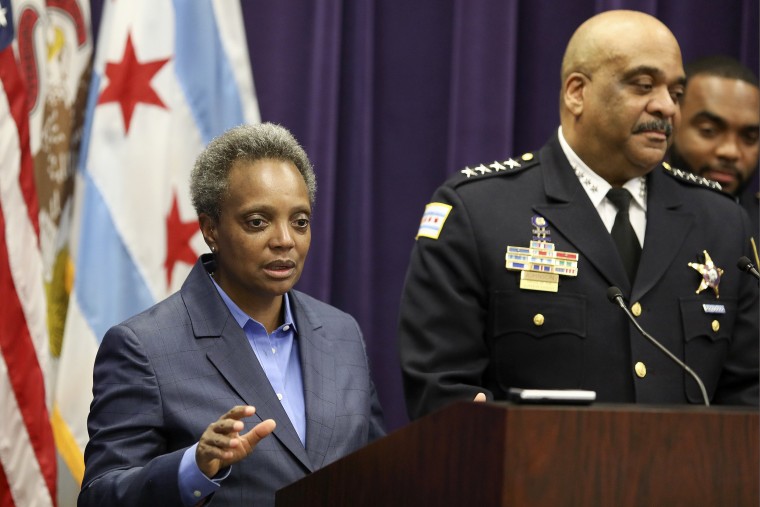 Lightfoot's scathing statements come nearly a month after Johnson, 59, said he planned to retire at the end of the year from the nation's second-largest municipal police force, a department where he began his career as a patrol officer in 1988.
Download the NBC News app for breaking news and politics
Chicago police said a driver had called 911 to report Johnson slumped behind his steering wheel after midnight in front of a stop sign near his home. A breathalyzer test was not administered at the scene, but according to the Chicago Sun-Times, Lightfoot said Johnson had told her that he had "a couple of drinks with dinner" before the incident.
"This job has taken its toll — taken a toll on my health, my family, my friends," Johnson said during a news conference in November to announce his retirement. "But my integrity has remained intact."
Lightfoot also seemed supportive of Johnson at the time, telling reporters, "These stars can sometimes feel like carrying the weight of the world."
But at a news conference Monday, the mayor pilloried Johnson, saying he misled the residents of Chicago and let down the 13,400 officers and department staff he was in charge of leading.
Lightfoot declined to give specifics about what Johnson supposedly did to make her lose trust in him, adding, "I don't feel like it is appropriate or fair to Mr. Johnson's wife or children to do so at this time." But she said she reviewed the inspector general's report and videotape evidence, which "makes it clear that the only choice that I had to take was the one that I've taken. There's no gray area here."
The inspector general's report has not been released, although Lightfoot said the details in it may eventually become public.
"A lie is a lie," the mayor added. "He told me something that happened that night that turned out to be fundamentally different than what he portrayed to me and what he portrayed to the members of the public."
Lightfoot added that officers "deserve a leader who they can believe in," and said she has confidence in former Los Angeles Police Chief Charlie Beck, who she previously announced would take over as interim superintendent following Johnson's retirement.
Johnson could not immediately be reached for comment Monday.
An initial police report after Johnson was found asleep in his car said he told investigators he was "feeling lightheaded" while driving. Johnson personally asked for an internal review of his actions, a department spokesman said.
Chicago police say they can't comment on an ongoing investigation.
The law enforcement veteran's health has been called into question in recent years after he was diagnosed with a kidney condition decades earlier. In 2017, Johnson fainted during a news conference; months later, he underwent a kidney transplant after receiving the organ from his son.
Following the incident in October, Johnson told reporters that his doctor had replaced his blood pressure medication, but he failed to obtain his new prescription. He didn't explain why he decided to drive home late at night, but said his body "kind of gives you a warning with the high blood pressure thing that you may pass out, so I pulled over, stopped and I just rested myself until that feeling passed."
Johnson was tapped to lead the Chicago Police Department in 2016 by then-Mayor Rahm Emanuel after the mayor fired the previous superintendent, Garry McCarthy, in 2015.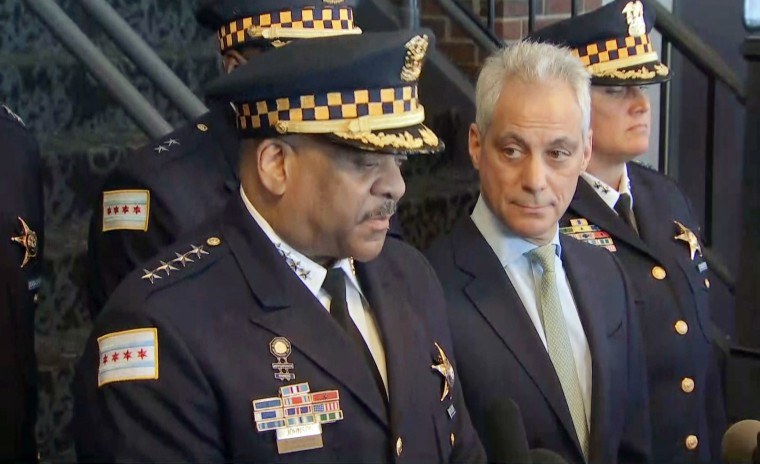 Johnson, a Chicago native, was tasked with getting a handle on the spate of violence gripping the city as well as correcting a department that had come under sharp criticism from federal officials under the Obama administration. The Department of Justice found repeated civil rights violations and a pattern of officer misconduct and use of force violations.
Chicago became a flash point for protests after the October 2014 shooting of black teenager Laquan McDonald by a white police officer, Jason Van Dyke. In January, Van Dyke was sentenced to almost seven years in prison for second-degree murder for the incident where he shot McDonald 16 times. The shooting led to accusations of a cover up by police and revelations that several officers committed numerous ethical and internal violations to help Van Dyke, according to an inspector general's investigation.
Under Johnson's leadership, the department entered into federal court-supervised reforms meant to address police use of force, recruitment, how investigations are conducted, and other key issues. This past spring, Johnson was optimistic with how the policy changes, which could take several years to fully implement, would affect the department.
"It's important that we cooperate with the monitor and we have embraced the consent decree because I think that it will make us better when we come out of it," he told NBC Chicago.
Johnson and his department were in the spotlight earlier this year with the arrest of former "Empire" actor Jussie Smollett, who police say filed a false police report claiming he was the victim of a hate-crime attack in Chicago. Smollett is black and openly gay.
The winding case drew national attention as the charges were later dropped by the Cook County State's Attorney's Office, drawing outrage from Johnson and Emanuel while Smollett maintained his innocence. The actor is currently countersuing the city, several officers and the men who were implicated in the alleged hoax.
Earlier this year, Johnson criticized how Smollett was able to avoid having to clear his name in the courts.
"When I came on this job, I came on with my honor, my integrity, and my reputation — if someone accused me of doing anything that would circumvent that then I would want my day in court to clear my name," Johnson said.
CORRECTION (Dec. 3, 2019, 9:35 a.m. ET): A previous version of this article misstated Johnson's age. He is 59, not 60.