Three years ago, then-Chicago Mayor Rahm Emanuel rejected three finalists offered by his civilian police board and plucked an insider — Eddie Johnson, a chief of patrol and 27-year veteran of the force — as the department's next superintendent.
It was a job that Johnson said he never sought, and his surprise ascension came as the city was still reeling from the fatal shooting of black teenager Laquan McDonald by a white officer and accusations of a police cover-up.
"He has the command and the character to lead the department at this critical juncture," Emanuel told reporters.
But the lofty expectations placed upon Johnson came crashing down this week, when Mayor Lori Lightfoot, a former police board president who was elected earlier this year, unexpectedly fired Johnson, saying he misled the people of the city and "intentionally lied to me several times" in connection with an incident in October in which he fell asleep behind the wheel of his car.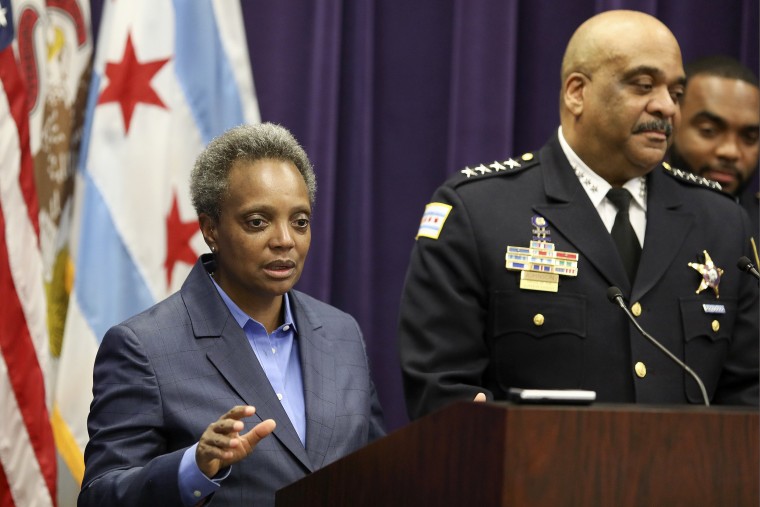 Johnson's dismissal, just weeks before his planned retirement, is a potential turning point for the nation's second-largest municipal police force, which in recent years has been defined by controversial use of force cases, some of the bloodiest weekends of violent crimes in recent years, strained community relations leading to court-monitored reforms, and a spike in officer suicides.
Some observers, however, say now's the moment for Lightfoot to step up and make fundamental changes in a scandal-plagued department.
Johnson's firing "is clearly ratcheting up the mayor's effort to fix the police department and to send a clear message to all city employees that more lying, corruption is grounds for firing," said Dick Simpson, a former Chicago alderman and professor of political science at the University of Illinois at Chicago. "It simply won't be tolerated."
On Tuesday, Johnson, 59, made his first public comments since his firing, saying in a letter that while "I made a poor decision," he "did not intentionally mislead or deceive the Mayor or the people of Chicago."
He offered no explanation about what occurred before officers found him slumped in his car after midnight Oct. 17, a few blocks from his home, or what the mayor has accused him of lying about.
Lightfoot alluded to Johnson's actions having an effect on his family, and didn't want to go into detail with reporters Monday because "I don't feel like it is appropriate or fair to Mr. Johnson's wife or children to do so at this time."
A source confirmed to NBC Chicago that Johnson had been out to dinner that evening with a female colleague of the police department.
Johnson has previously said he was feeling light-headed that night and hadn't taken his new blood pressure medication. He was not subjected to a sobriety test at the scene, according to the Chicago Sun-Times, something that would be required of other drivers.
The city's Office of Inspector General is investigating the incident, and Lightfoot said its report may eventually become public.
Simpson said Johnson's ouster calls to mind Chicago's long history of errant officers who believe they can act with impunity: "It's usually the lying and the cover-up that becomes the problem."
Johnson grew up in one of the most crime-ridden public housing projects in Chicago's Near North Side until he was 9. With his selection as the fourth African American in the city's history to head the police department, his supporters praised him as a man who could "build bridges to the community."
Johnson was replacing former Superintendent Garry McCarthy, who came to Chicago after decades in the New York Police Department. Emanuel fired McCarthy in the wake of his handling of the McDonald shooting.
On Johnson's first day on the job, however, he raised eyebrows and appeared out of touch when he told reporters that "I've actually never encountered police misconduct" during his nearly three decades in the department.
"It was highly offensive," said Lance Williams, a professor of urban community studies at Northeastern Illinois University who writes about violence in Chicago. "That was a sign that there wouldn't be any changes in the Chicago Police Department."
Williams said the desire for the city to bring down the rate of homicides, violent crimes and shootings, which has seen some positive results in recent months, has come at a cost to residents, particularly in the black community, who feel ignored.
When Johnson began his appointment, Chicago was experiencing one of its highest murder rates in two decades — prompting President Donald Trump to threaten he would "send in the Feds."
"When crimes are committed, people think there's no one there to help them get justice," Williams, who advocates for Chicago's inner-city youth, said. "They think, if I get robbed, detectives don't seem to follow up and don't communicate. People feel like they don't have any other way to get justice, so they might take justice upon themselves and retaliate."
He added that the intense law enforcement focus earlier this year on the case of "Empire" actor Jussie Smollett, who police say filed a false report claiming he was the victim of a hate-crime attack, only exposed the disparities within the criminal justice system.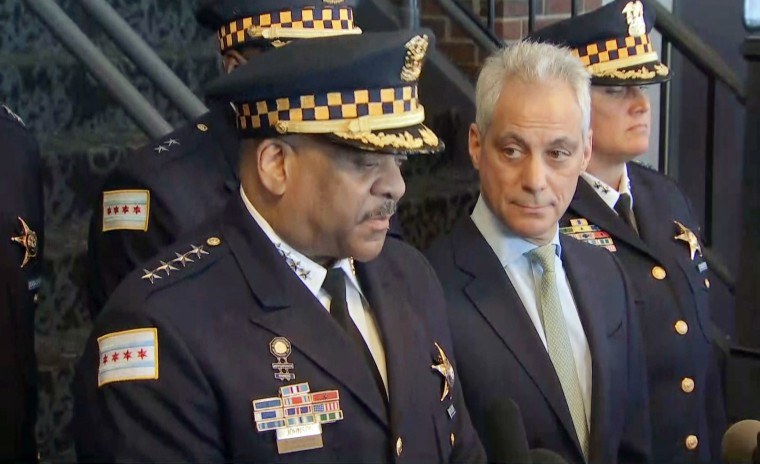 Charges were dropped against Smollett by the Cook County State's Attorney's Office, setting up dueling lawsuits between Smollett and the city, as well as criticism for how prosecutors handled the case.
Johnson at the time addressed complaints that the department had expended valuable resources and personnel, denying that other cases were shortchanged in favor of Smollett.
"It seemed like they were deploying massive amounts of resources to look into this celebrity complaint," Williams said. "Meanwhile, the average person was crying out for the same attention to be given to them."
A new superintendent
Williams believes Lightfoot, who campaigned on ridding Chicago's government of its stubborn corruption, will find a superintendent to lead the police department who is not simply trying to lock up more people.
Instead, he said, a new leader must have a greater sense of how neighborhoods grappling with high crime are also struggling with a lack of affordable housing, quality education and jobs — all circumstances that can feed into the larger cycle of poverty and violence.
Lightfoot's decision to fire Johnson, "shows how serious she is about wanting to clean up the department," he added.
Initially after Johnson's firing, Fraternal Order of Police President Kevin Graham said he understood that Lightfoot was seeking "transparency and accountability within the police department."
But on Wednesday, Graham told the Sun-Times that Johnson didn't get the due process deserved since the inspector general's report is not done and accused Lightfoot of "trying to make the case to bring in somebody from outside."
The mayor on Thursday defended her decision, telling reporters that "the superintendent, like all commissioners, serves at the will of the mayor ... I can remove commissioners for or without cause."
For now, the 13,400-member department is being led by interim Superintendent Charlie Beck, a former Los Angeles police chief. Whomever Lightfoot chooses permanently must also contend with a wave of high-ranking officers expected to retire in the coming months.
Alderman Anthony Beale, who represents the city's Far South Side and has been one of Lightfoot's most vocal critics, said looking outside of the Chicago Police Department, as has been done in the past, could prove to be a mistake.
He said what Johnson brought was an understanding of how the city operates, and he alone was never going to be able to soothe all of Chicago's ills.
"I've known Eddie for a very long time, and I think he said it best this week that you can't characterize a person's career in one day," Beale said.
"Chicago has a very unique scenario, and it requires a certain person to run the department," he added. "People felt Eddie's heart was in the right place."