Demonstrators planned a mass march along Chicago's ritzy Magnificent Mile on Friday to protest widespread problems in the police department that they said were directly to blame for the fatal police shooting of 17-year-old Laquan McDonald.
Chicago has been the scene of large but mainly peaceful protests since Tuesday, when authorities made public a disturbing dashcam video of the moment police shot Laquan 16 times last year in October 2014.
Related: Second Night of Chicago Protests After Shooting Video Released
Chicago police Officer Jason Van Dyke, 37, is being held without bond on a charge of first-degree murder.
Police released four more dashcam videos Wednesday in response to a Freedom of Information Act request by NBC Chicago. None of the videos show the shooting, but Laquan can be seen running from police before it and lying in the street afterward.
NBC Chicago: 4 New Videos of Laquan McDonald Shooting Released
The Rev. Jesse Jackson said the march up Michigan Avenue on Black Friday — generally considered the busiest shopping day of the year — would focus attention on Chicago and the issue of racism in the police department.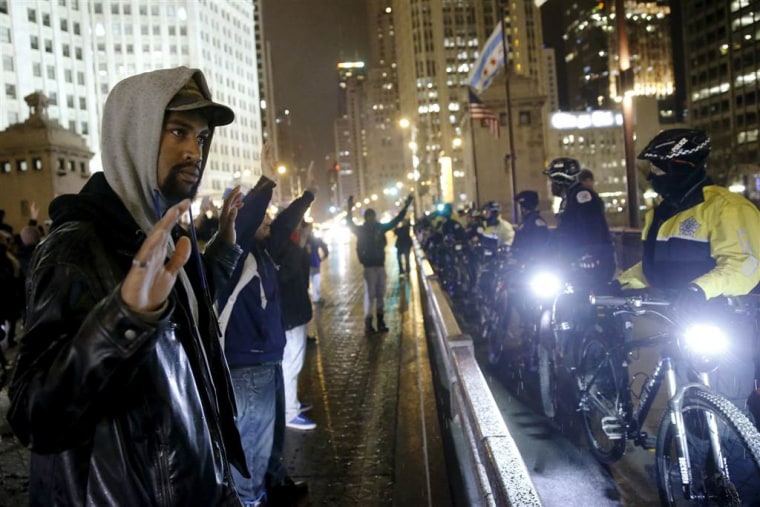 "It's not enough to focus on what brought us here today — the execution of this young man," Jackson said Wednesday.
"That takes the scab off a deeper sore, a deeper cancer," he said. "We want mass demonstrations, mass voter registration."
Jackson and other activists said Thursday that they would announce an emergency summit on police reform in Chicago in the coming days.
"Laquan McDonald was a ward of the state, killed by an officer of the state in a public place", said the Rev. Marshall Hatch, co-chairman of the Leaders Network of Chicago, a nonprofit activist group. "From this tragedy and crisis, we need fundamental police reform, as well as an urban policy that offers live options for our young people."