CHICAGO — As educators around the United States wonder whether a crackdown on immigrants will reach their schoolhouse doors, principals in Chicago have been given a simple order: Do not let federal immigration agents in without a criminal warrant.
The stand taken by Chicago Public Schools, the country's third-largest school system, is among the boldest of the districts that have announced measures to protect those who may be living in the country illegally.
It remains unknown how much interest U.S. Immigration and Customs Enforcement will show in schools under President Donald Trump, and there is little schools can do to thwart agents who show up with warrants, but they are acting at least in part to ease concerns of skittish immigrant communities. In districts like Chicago, where nearly half of the 381,000 students are Hispanic, there is concern that immigration authorities could grab parents outside the schools and their children inside.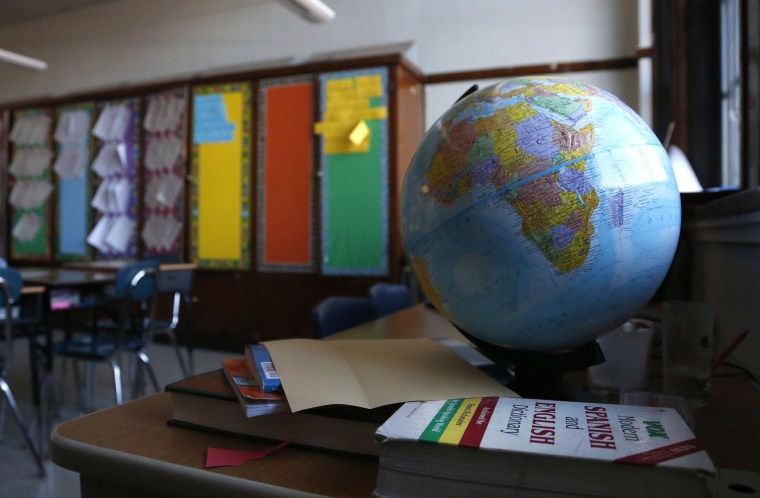 "My 9-year-old son gets upset because he knows some of his friends in school and his father are undocumented and he is scared, and asks 'Am I going to see them again,'" said Gabriela Barajas, who was brought to this country illegally as a child but is allowed to stay as part of a federal program launched in 2012. "When I told him about (what CPS was doing) he was clapping, he was so happy."
Alma Sigala, an immigrant who has a daughter in district, said the relief is not just for the children but for the parents. "Once the parents are inside the schools they'll feel more secure, that in some form they are protected," said Sigala.
Related: Trump Enforcement Plan Has Immigrants Bracing for Raids, Deportations
Trump's decision to target more people for deportation than had been targeted during the Obama administration has ratcheted up worries about families being torn apart all over the country.
In the note Tuesday to Chicago's principals, Public Schools Chief Education Officer Janice Jackson urged them to not only keep immigration agents outside and to avoid sharing any student records with the agents, but to also put plans in place for the possibility of parents being detained while their children are in school.
"To be very clear, CPS does not provide assistance to U.S. Immigration and Customs Enforcement in the enforcement of federal civil immigration law," Jackson wrote.
Principals around the country have been stepping up efforts to make students feel supported, said JoAnn Bartoletti, executive director of the National Association of Secondary School Principals.
In Syracuse, New York, the school board approved a policy this month requiring schools to deny access to ICE officials until they consult with the superintendent. In Salt Lake City, Utah, on Tuesday the school district discussed a resolution. Connecticut's governor on Wednesday advised school districts in that state to refer any ICE agents to the superintendent. And in New York City, principals there have been told that immigration officers many not be granted access without legal authority.
The latest Trump administration guidance leaves in place Obama-era policies limiting enforcement actions at "sensitive locations," including schools. While those policies say agents should generally avoid apprehending anyone inside those designated areas, they do not stop agents from obtaining records or serving subpoenas.
Jim Bever, an Indiana principal on the board of the National Association of Secondary School Principals, said he would try to discourage immigration officials from accessing students and records, but school administrators around the country are "a bit in the dark" and any agents would likely see a wide range of responses.
Some experts say it's unlikely administrators will be tested.
Mark Krikorian, executive director of the Center for Immigration Studies in Washington, D.C., which supports tighter immigration policies, said schools do not seem to have reason for alarm and Chicago Public Schools and others implementing similar policies mostly appear to be "showing off."
Among those prioritized for arrest under the new guidelines are immigrants who abuse public benefits, which Krikorian said could include free and reduced school lunches.
"It could well affect them, but again that has nothing to do with the school grounds," he said. "It's not like ICE goes in there and says, 'Drop that tater tot, kid.'"
Thompson reported from Buffalo, N.Y. Associated Press writers Collin Binkley in Boston and Hugh Dellios in Chicago contributed to this report.