The classrooms of over a quarter million students were full Tuesday as Chicago teachers reached a tentative agreement with the nation's third largest school district and Mayor Rahm Emanuel.
The Chicago Teachers Union hammered out a deal late Monday narrowly avoiding another impasse with Emanuel and Chicago Public Schools over budget cuts, layoffs, and changes in pay.
"It wasn't easy," said Karen Lewis, president of the Chicago Teacher's Union at a late night press conference. "What we ended up with was good for kids, for clinicians, for paraprofessionals, and for the community."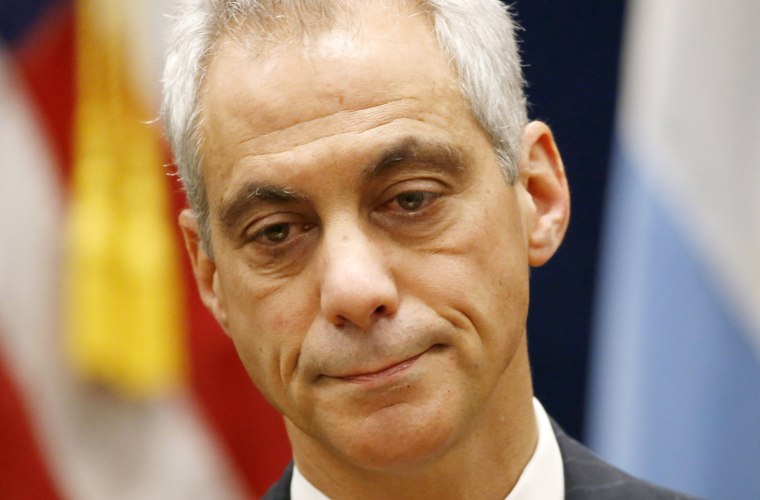 Chicago teachers demanded Emanuel release funds from a surplus development account and divert $200 million of to help schools. The city gave them $88 million. The agreement, which came about after a marathon series of talks Monday, must still be agreed to and voted on by members of the teachers' union.
"Both sides worked in good faith to reach a deal, and as a result Chicago's students are in class where they belong today, getting the education they deserve," said Chicago mayor Rahm Emanuel during a budget address on Tuesday. "Chicago Public Schools' finances will be on stronger, firmer ground because of this agreement."
This would have been the third time the city's teacher's union will have gone on strike during Emanuel's five year tenure.
Chicago teachers, who educate nearly 400,000 students, picketed for ten days in 2012 and again for one day earlier this year in the hopes of increasing funding for schools and educators. Prior to 2012, there hadn't been a teacher walkout in twenty-five years.
Read More: 95 Percent of Chicago Teachers Vote to Authorize Strike Amid Contract Battle: CTU
The school district laid off more than 1,000 teachers and supports staff earlier this year citing low enrollment numbers as the catalyst. Another 250 educators and staff were let go last week.
But Emanuel said he has been more than fair to teachers and that a strike would be "one of choice, and not of necessity," at a press conference.
As part of the agreement, Emanuel offered newly hired teachers a standard base pay increase in return for phasing out a long-standing practice of contributing to teachers pensions, as well as cuts to some health insurance benefits— which teachers would start having to pay for out of pocket. Veteran teachers would continue recieiving pension contributions by the city.
The district also promised $7 million for support staff in classrooms.
The agreement also promises to find positions for tenured teachers who were laid off.
Chicago teachers have been working without a contract since June 2015, when their existing contract expired.
"CTU members have worked without a contract for nearly 500 days as the Board of Education has intentionally stalled labor talks and rejected all contract proposals—including those with no costs associated with them, the teachers union said in press release.
Negotiations have been ongoing since.
The existing school board is not elected and instead has been appointed by Emanuel, which parents say is bound to Emanuel's bidding. However, new legislation is slated to reverse that rule, making school board positions elected.
Read More: Chicago Teachers Union Prepares for Possible Strike as Chicago Public Schools Set to Begin the School Year
Parents are standing in solidarity with their teachers.
"These cuts are physically painful to us," said Amy Ellison, a parent of children who attend public school, at a press conference. Thousands of children are put into school environments that Emanuel would never subject his own children to, she said. "The village into which we've entrusted our children is in need of help."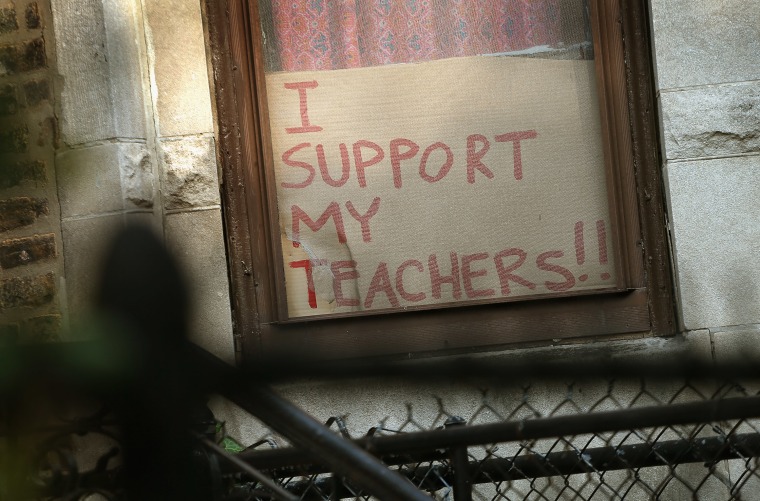 Parents and students rallied through the mayor's neighborhood on Monday, canvassing and handing out fliers in the hopes the mayor will hear their call.
"We don't want a strike, no one does," said Erica Hade, a Chicago Public school parent at an earlier press conference. "But if there is a strike, we are holding Mayor Emanuel accountable."