The shooting death of a 2-year-old Chicago boy and a 26-year-old man was streamed live on Facebook on Tuesday — a shockingly public display of the violence that has killed two children in less than a week in that city.
The killing happened around 1:30 p.m. CT, as the man, boy and the boy's pregnant aunt were driving through the city's west side. The woman, 20, was driving. Her boyfriend was in the passenger's seat and the toddler, identified as Lavontay White Jr., was sitting in the backseat.
The video begins innocuously enough. The couple can be seen bopping to music, before the sound of gunfire rattles through the frame.
At least a dozen shots can be heard as the woman screams out, tumbles from the car and runs to a nearby house. The entire incident was streamed over Facebook Live.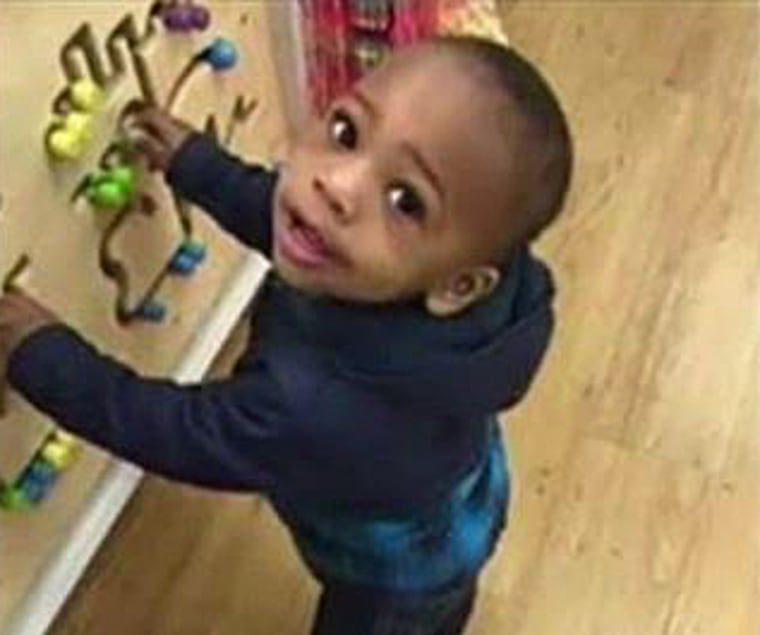 "Call 911! They killed him ... I have a bullet in my stomach," the woman is heard saying. "Please, please, I can't breathe ... Oh my God, please don't, Lord, I can't go. I can't go."
The woman's boyfriend and nephew were both shot in the head. The man, Lazarec Collins, was pronounced dead shortly after. Emergency medical personnel were able to revive the boy, for a time, before pronouncing him dead at a nearby hospital.
The deaths came just hours after 11-year-old Takiya Holmes, one of two children shot over the weekend, succumbed to her injuries. The other little girl, a 12-year-old, remains hospitalized in grave condition.
"These shootings must be a turning point for our city," Mayor Rahm Emanuel said in a statement on Tuesday. Emanuel called for "meaningful gun control and sentencing legislation to keep guns out of the hands of criminals."
Related: 11-Year-Old Chicago Shooting Victim Dies, Toddler Gunned Down Hours Later
Police on Wednesday afternoon arrested Antwan C. Jones in connection with Takiya's killing. They say Jones, a member of the Black Disciples gang, saw a group of rivals he suspected of selling weed on BD turf and opened fire.
He missed his targets but struck the girl in the head.
Johnson is being held without bond on first-degree murder charges. Police say Jones has an extensive criminal record, including a pair of domestic battery charges last November. Two months before that he was charged with aggravated assault of a teacher.
NBC Chicago: Man, 19, Charged With Murder in 11-Year-Old Girl's Shooting Death
On Monday, the mayor was in Washington D.C., meeting with new Attorney General Jeff Sessions discussing how the federal government might be able to work with the city to curb rampant gun violence.
The meeting follows a threat by President Donald Trump to "send the Feds!" if Emanuel can't find a way to get a grip on the situation.
Tuesday's video captured what appears to be the sheer randomness of violence in a city that has become the poster child for such violence. But on the heels of a very violent year, which saw more gun violence and bloodshed than any year since the early 1990s, the video only captures a narrow view of the very precarious state of crime control in the city.
Police said detectives are following"very good leads" in the investigation and that detectives are reviewing surveillance video from the area.
Related: Trump Offers to Send 'the Feds' into Chicago — but They're Already There
Police Superintendent Eddie Johnson lamented "another innocent child that's become a victim of gun violence" and that "children should not have to keep paying the price for repeat gun offenders."
Community organizer Ja'mal Green agrees.
"Just 2 years old, caught in the crossfire," he said. "I'm a father and my first born is almost 2 years old."
"We have to start preventing these guys from becoming killers and murders. That starts with the economics," Green added, noting the desperate and tenuous nature of life in some of the city's most depleted communities. But, he said, the criminal justice system needs to come down hard on those who shoot and kill.
"Our criminal justice system has to lay the book on those who do the killing," he said. "All we can do now is comfort the family and help them with the funeral expenses and hope that they can get through this."
While violence is down dramatically across the country, and even in Chicago compared to the bad old days decades earlier, the violence isn't so random.
There's a deep inequality of gun violence in the city that has seen steep declines in more wealthy communities and increases in a handful of much poorer neighborhoods on the city's south and west sides where the majority of the shootings and killings occur.
North Lawndale, where the boy was killed, has the second highest violent crime rate in the city, according to a rolling analysis of crime by the Chicago Tribune. The neighborhood has a per capita income of just over $12,000 and 44 percent of residents live below the poverty line. They employment rate is just 38 percent, all according to West Side Forward, an organization aimed at alleviating poverty on Chicago's West Side.
"Every parent, regardless of where they live, should be able to take their child for a walk to the park or a ride in the car. These are normal rites of passage of childhood," Mayor Emanuel said.
Yet, in less than a week stray bullets wounded or killed an 11-year-old sitting in a minivan filled with family and fresh groceries, a 12-year-old playing basketball at an elementary school and a 2-year-old driving with his pregnant aunt and her boyfriend, who police say is gang affiliated.
In Chicago, for the most vulnerable, this sort of violence has become as much a rite of passage as a day in the park or riding in a car.