Two African-American women, one, a former federal prosecutor, and the other, the Cook County board president and former teacher, are headed for a runoff election to become Chicago's next mayor, after the candidate in third place conceded Tuesday night.
Fourteen candidates were on the ballot, the highest number running for mayor in the city's history, according to NBC Chicago. With so many candidates, it had been expected to end in a runoff.
Lori Lightfoot, a former assistant U.S. attorney, and Toni Preckwinkle, the county board president who used to be an alderman, had the lead for the top two spots on election night, according to unofficial results posted online by the Chicago Board of Elections with 92.61 percent of precincts reporting.
Either would be the city's first black woman mayor. Lightfoot would also be the city's first openly gay mayor.
In third place was William "Bill" Daley of the famous political family, whose father and brother served as mayor for a total of more than 40 years. Lightfoot had 17.5 percent of the vote, Preckwinkle 16 percent, and Daley 14.7 percent, according to unofficial results at that time.
Daley conceded Tuesday night and congratulated Lightfoot and Preckwinkle. "One of them will have the honor of being the next mayor of Chicago," Daley said.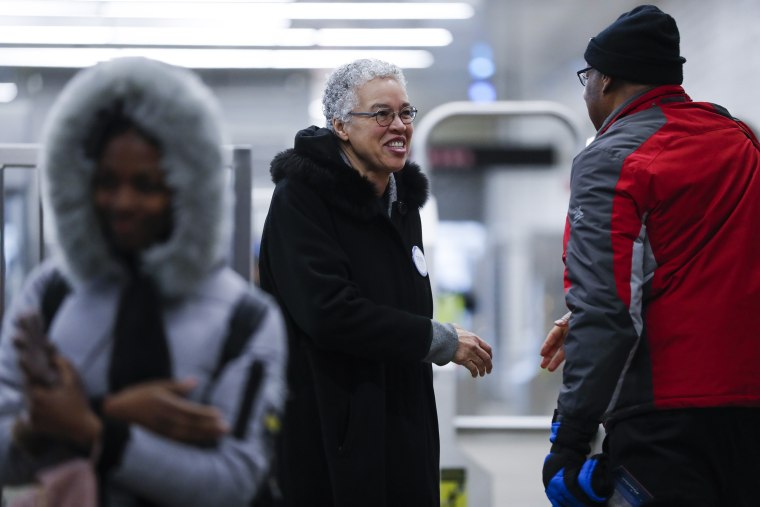 Lightfoot thanked her supporters, saying, "This campaign was powered by you." She said that she and her campaign have been saying "this is going to be a race that comes down to the inches" and thanked supporters for what she said was the courage "to stand with our campaign against the machine."
"It's time to bring it home," Lightfoot said.
Preckwinkle told supporters Tuesday night that "our fight is far from over, and there's a lot more work to do."
"We may not yet be at the finish line, but we should acknowledge that history is being made," she said. "It's clear we're at a defining moment in our city's history. But the challenges that our city faces are not simply ideological."
Under Chicago's rules, to avoid a runoff a candidate would need to get more than 50 percent of the votes. If no candidate reaches that threshold, the top two candidates will compete against each other in an April 2 runoff, according to the city's Board of Elections.
Incumbent Mayor Rahm Emanuel was not running. He has served as mayor since 2011 and in September announced he would not seek a third term.
Although a nonpartisan election, the candidates are all attached in varying degrees to the Democratic Party. The Republican Party has virtually disappeared from the city.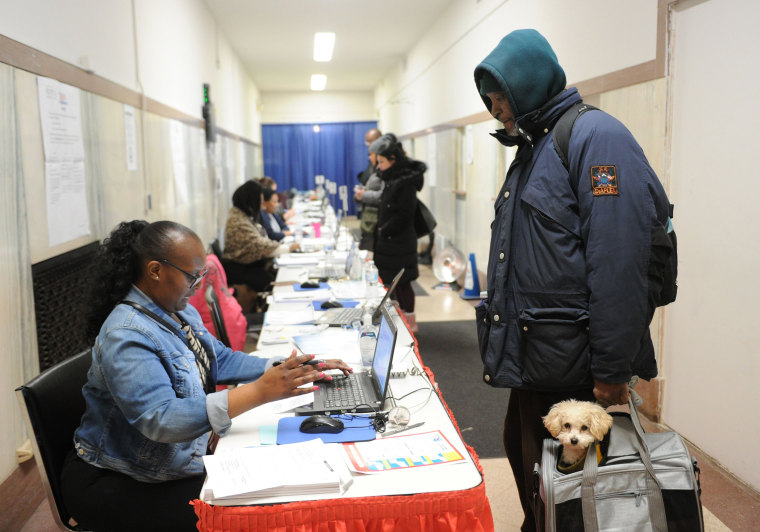 The 14 candidates included Daley, an attorney and former U.S. Commerce secretary in the Clinton administration and Obama's White House chief of staff. He is the son of former Mayor Richard J. Daley and the brother of former Mayor Richard M. Daley.
Richard J. and Richard M. Daley were mayor for a combined nearly 43 years out of a 55-year span before Emanuel took the oath in 2011, according to the AP.
Besides Lightfoot, Preckwinkle and Daley, the other candidates included Illinois Comptroller Susana A. Mendoza, who was elected in 2016, and Gery Chico, an attorney who was former Mayor Richard M. Daley's chief of staff, and who ran for the office in 2011 but came in second of six candidates behind Emanuel, according to NBC Chicago.
Among the other hopefuls were Jerry Joyce, a small business owner and attorney; Paul Vallas, a former CEO of Chicago Public Schools; Willie Wilson, who ran for mayor in 2015; former Chicago police superintendent Garry McCarthy, who was fired by Emanuel in 2015 following the police shooting of Laquan McDonald; and Amara Enyia, an attorney, community activist and former journalist.
Also running were La Shawn K. Ford, a Democratic Illinois state representative; startup founder Neal Sáles-Griffin; Robert "Bob" Fioretti, a former alderman who also announced he was running for mayor in 2015 but who dropped out and endorsed Emanuel's re-election bid; and John Kenneth Kozlar, who twice ran for alderman and who in 2015 forced a run-off with Patrick Daley Thompson, who won.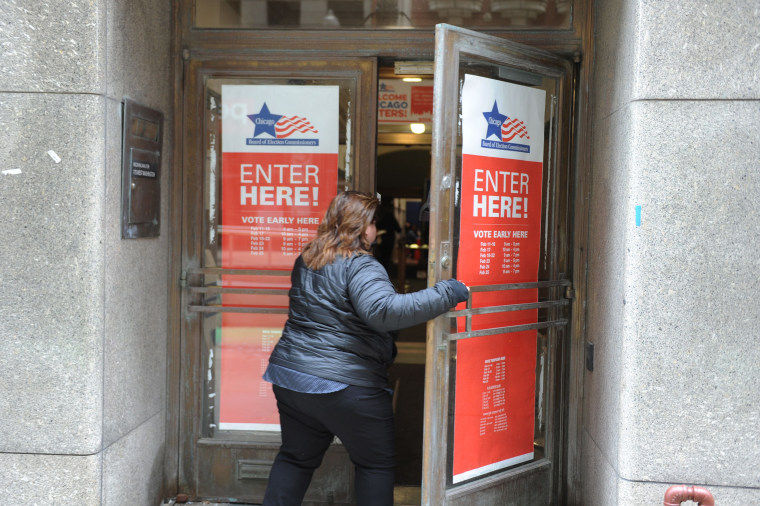 Chico, Mendoza, McCarthy, Enyia and Vallas delivered concession speeches Tuesday night, NBC Chicago reported. "Hopefully, we brought value to the debate," Vallas said.
Voting Tuesday had suggested that the day could end with a historically low voter turnout barring a late surge, officials said according to NBC Chicago.
But there was a surge at the end of polling, and approximately 500,000 people cast ballots, with the final turnout expected to be 34 percent — which would beat the record low in 2007 of 33.08 percent by one percent, according to NBC Chicago.