A condemned child killer and rapist testified from Ohio's death row Friday in a bid to get his execution postponed because the state plans to use an untested cocktail of drugs for a lethal injection.
Ronald Phillips, who is due to be put to death Nov. 14, told a judge via video hookup that prison doctors couldn't find veins in his arm during a checkup two weeks ago.
"I guess the Lord hid my veins from them," Phillips said, according to The Associated Press. He added that he had a lifelong fear of needles.
Phillips, 40, was sentenced to death for the 1993 rape and beating death of his girlfriend's 3-year-old daughter, Sheila Marie Evans, and he was recently denied clemency.
His lawyers say they have not been given enough time to investigate recent changes to Ohio's execution protocol that might violate Phillips' constitutional protection against cruel and unusual punishment.
Ohio is one of several states that have been forced to tinker with execution methods because a commonly used drug — pentobarbital — is in short supply after the manufacturer banned its sale to prisons for executions.
The initial plan was to secure pentobarbital from a specialty pharmacy that would make up the lethal dose without oversight by the Food and Drug Administration.
In court papers, Phillips' lawyers said that method was too risky because no one could guarantee the pharmacist would not tamper with the dose to make the execution painful.
"Phillips understands that reasonable people find his crime extremely repugnant, brutal and shocking. He is now learning that an ethically challenged individual may be tabbed to make his execution drugs from scratch," they wrote.
They said there were no precautions in place to stop the druggist from spiking the solution with an ingredient that would "cause excruciating physical pain to Phillips while he is still conscious.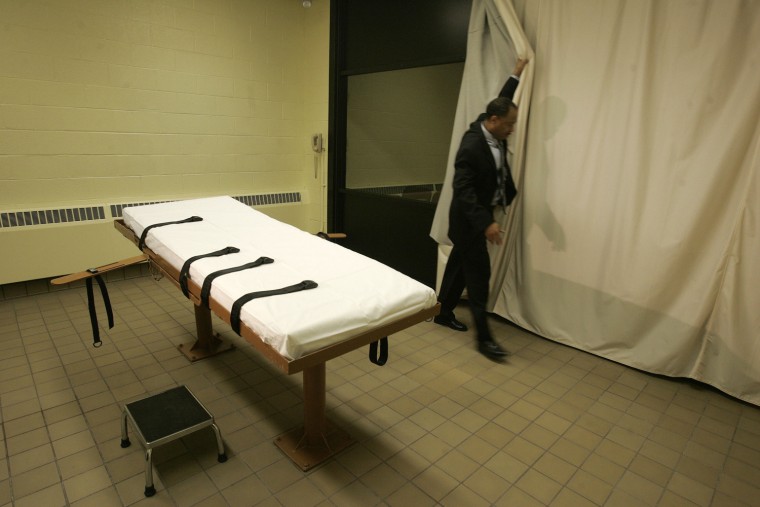 "The net result of this is that Phillips has an extreme fear — not just a substantial risk of that fear—that he will be chemically tortured if and when he is injected with compounded execution drugs."
As Phillips was mounting a challenge to the compounded pentobarbital, the state announced that it planned to use its backup method — the sedative midazolam with the painkiller hydromorphone — to kill him.
That two-drug mixture is untested, although Florida has used midazolam as the first drug in a three-drug protocol, according to the Death Penalty Information Center.
The state's medical expert says the cocktail will halt breathing within a few minutes, leading to irreversible brain and heart damage followed by death a few minutes later. Phillips' lawyers argued there could be side effects, including vomiting.
A state lawyer said Ohio officials know they have an obligation to carry out the execution in a humane and constitutional manner.
"The state will do what the state says it will do," Christopher Conomy, an assistant Ohio attorney general, said at the hearing.
The court has not yet ruled, but Phillips has lost several other battles to stay out of the death chamber.
Earlier this month, he asked the parole board for clemency on the grounds that he had been sexually and physically abused as a child and the jury that gave him the death penalty didn't hear about the abuse.
"Ronald Phillips is not and was not a monster," his attorneys said in their petition for mercy. "Ronald Phillips instead was a 19-year-old high school student, who had experienced nothing but violence, chaos, and abuse, and who learned through those life experiences that violence and abuse were the norm."
The parole board was unconvinced and decided to let the execution proceed.
"Phillips's crime is clearly among the worst of the worst capital crimes. Its depravity is self-evident," the panel wrote. "Words cannot convey the barbarity of the crime. It is simply unconscionable."
The Associated Press contributed to this report.