On the morning of March 26, child welfare authorities in Washington state tried to reach Sarah and Jennifer Hart, a married couple with six adopted children ranging from 14 to 19. It was a third attempt with no success.
A newly released 911 call reveals how a Child Protective Services investigator asked law enforcement to check in on the family as well: "I've been to the home Monday and Friday and knocked on the door just this morning, and I can get no response. Different cars have been moving in and out, I noticed, so I feel like someone is there."
But they were already too late.
About five hours later, a passerby off Highway 1 in Northern California would find the Hart family's GMC Yukon 70 feet upside down along the rugged shoreline of the Pacific Ocean. The bodies of five members of the family, including Sarah and Jennifer, both 38, were discovered.
As authorities in Mendocino County try to determine why the crash occurred — and locate three missing children who are presumed dead — the 911 call may help to shed light on why police believe the fatal plunge was no accident.
In the call, which was made public Monday, the dispatcher asked the investigator what the reason was for the welfare check on the family's home in Woodland, about 25 miles north of Portland, Oregon.
"Concerns that the children aren't being fed," the investigator responded.
After the crash, neighbors who spoke with NBC affiliate KGW and other media claimed that the children would come around asking for food because their mothers would withhold it as punishment.
"They were all small," Bruce DeKalb, who said he called Child Protective Services, told KGW. "The one girl, who was 12, looked like she was 7. Both of her teeth were missing, front teeth."
But the Harts "told us what we wanted to hear," DeKalb said. "Life went on for another eight months, and here we are today."
Other past child abuse allegations have surfaced from neighbors near the family's former home in Oregon. And while living in Minnesota in 2011, Sarah Hart pleaded guilty to a misdemeanor domestic assault charge in connection to one of the daughters, Abigail, court records show.
Police said they believe the Harts — known for taking random excursions — already left for their California trip on March 24. Jennifer Hart was seen on surveillance footage buying groceries at a Safeway in Fort Bragg, about 15 miles south of where the SUV was located, on March 25.
Still missing from the crash are children Hannah, 16, Devonte, 15, and Sierra, 15. Devonte, a black youth, gained national attention in 2014 in a photograph of him crying while hugging a white police officer during a Portland rally.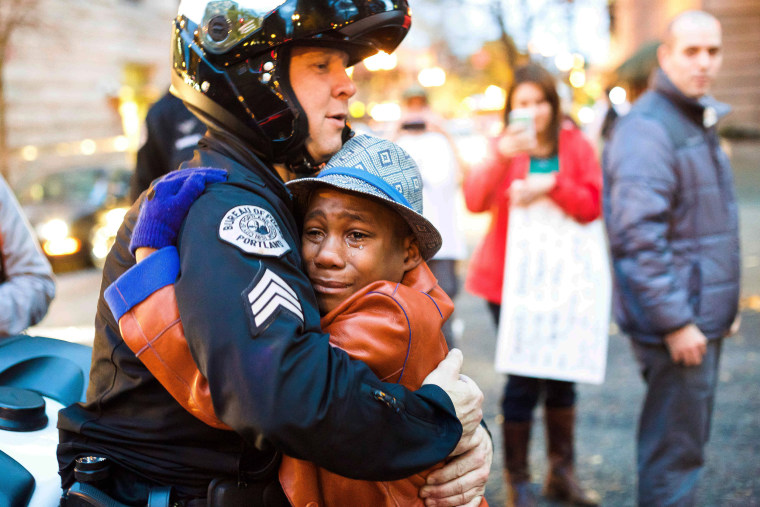 A search and rescue operation in the area of the crash continued this week to find the children.
Meanwhile, a body was found Saturday "in the vicinity" of the site that appears to be of a black female, the Mendocino County Sheriff's Office said in a statement. An autopsy is pending to determine the age and a positive identification.