Kiko, Tommy and other chimpanzees don't have the legal rights of human beings, a New York appeals court ruled on Thursday in a case seeking to grant the animals protections.
An appeals panel in Manhattan ruled 5-0 to uphold a lower-court ruling that denied habeas corpus relief for Kiko and Tommy — the two 30-something chimps who are the named petitioners in the 3½-year-long case.
Kiko, a former performing animal, lives at a primate sanctuary in Niagara Falls, New York. The Nonhuman Rights Project, the nonprofit animal rights group that brought the cases, alleges that the sanctuary is actually a private home. Tommy is alleged to live in a cement and steel cage behind a trailer sales park in Gloversville, New York.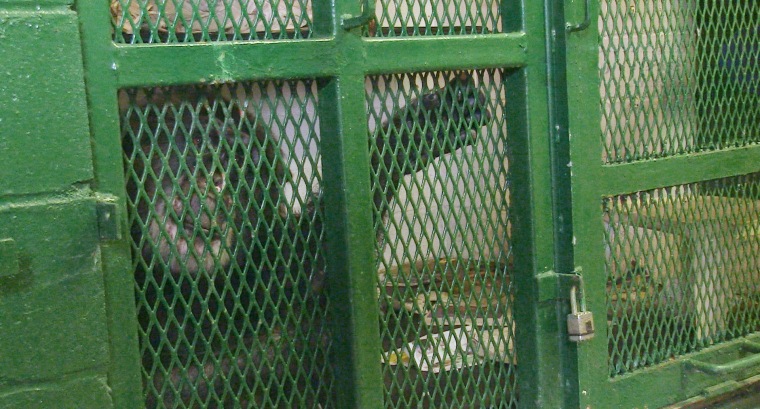 Neither location can be considered a chimpanzee's natural habitat, according to the group, which is seeking a declaration of "personhood" for the chimps. The group wants to move them to an animal sanctuary.
Writing for the court, Justice Troy Webber agreed that chimps and humans share many behavioral, cognitive and social abilities.
But those shared abilities "do not translate to a chimpanzee's capacity or ability, like humans, to bear legal duties," Webber wrote.
In other words, a chimp can't be prosecuted for a crime or considered legally able to defend itself in court — which is why, Webber wrote, "even chimpanzees who have caused death or serious injury to human beings have not been prosecuted."
"While petitioner's avowed mission is certainly laudable, the according of any fundamental legal rights to animals, including entitlement to habeas relief, is an issue better suited to the legislative process," he wrote.
Webber also cited procedural problems with the motion, finding that the Nonhuman Rights Project had filed almost identical motions in multiple New York courts "not warranted or supported by any changed circumstances."
Related: Do Apes Deserve 'Personhood' Rights?
Steven Wise, founder of the Nonhuman Rights Project, who argued the case before the appeals panel, said the group plans to take the case to the state Court of Appeals, New York's highest court.
"For 2000 years, all nonhuman animals have been legal things who lack the capacity for any legal rights. This is not going to change without a struggle," Wise said in a statement.
"That fight has begun, and we remain confident that Tommy's and Kiko's fundamental right to bodily liberty will be recognized as a matter of justice so that they too may experience the freedom they so desperately deserve," he said.