/ Source: Associated Press
BEIJING — The trade spat between the world's two largest economies worsened over the weekend with China hiking tariffs on a slew of U.S. goods in response to Washington slapping duties on Chinese aluminum and steel.
The measures announced Sunday matched a list of potential tariffs on up to $3 billion in U.S. goods published by China on March 23.
In a sign that China could further its retaliatory campaign against the White House, The Global Times, a newspaper published by the ruling Communist Party, warned that "American politicians better realize sooner rather than later that China would never submit if the U.S. launched a trade war."
"Even though China and the U.S. have not publicly said they are in a trade war, the sparks of such a war have already started to fly," the editorial added.
From Monday, U.S. products including fresh and dried fruits, nuts and sparkling wine will be subjected to an additional 15 percent tariff, while scrap aluminium and pork products will be hit with a 25 percent hike.
The move is in retaliation to the White House's decision late last month to impose a tariff increase on steel and aluminium, which "has seriously damaged our interests," the statement also said.
The American pork industry sent $1.1 billion in products to China last year, making the Asian country the No. 3 market for U.S. pork.
The tariff increase "is a proper measure adopted by our country using World Trade Organization rules to protect our interests," a statement from the Chinese Finance Ministry said.
The European Union and other U.S. trading partners — including South Korea but not Japan — were exempt from Trump's earlier tariff hike after warning they, too, could impose new tariffs. European governments had threatened to retaliate by raising duties on American goods such as bourbon and peanut butter.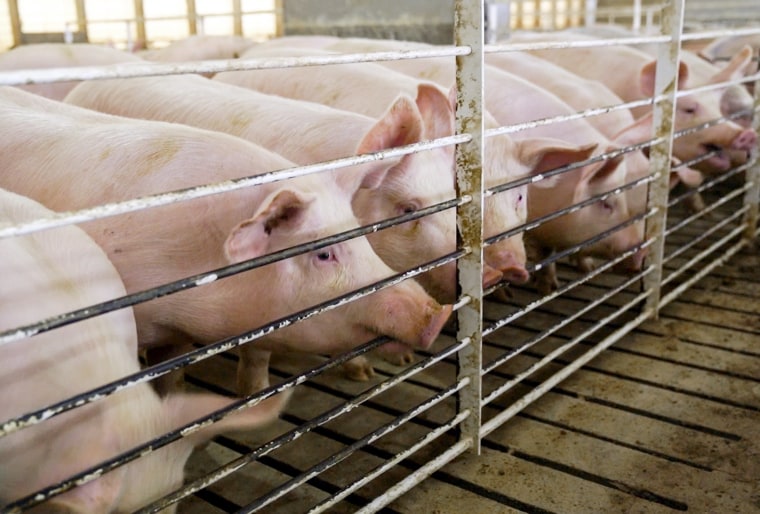 The tariff spat is one aspect of wide-ranging tensions between Washington and Beijing over China's multibillion-dollar trade surplus with the United States and its policies on technology, industry development and access to its state-dominated economy.
Beijing faces complaints by Washington, the European Union and other trading partners that it hampers market access despite its free-trading pledges and is flooding global markets with improperly low-priced steel and aluminum. But the E.U., Japan and other governments criticized Trump's unilateral move as disruptive.
Forecasters say the immediate impact should be limited, but investors worry the global recovery might be set back if it prompts other governments to raise import barriers. Those fears temporarily depressed financial markets, though stocks have recovered some of their losses.
Asian stock markets indexes closed lower on Monday with Tokyo and Shanghai ending down 0.3 percent and 0.2 percent respectively.
A bigger clash now appears to loom over Trump's approval of possible higher duties on nearly $50 billion of Chinese goods in a separate argument over technology policy.
Trump ordered U.S. trade officials to bring a WTO case challenging Chinese technology licensing. It proposed 25 percent tariffs on Chinese products including aerospace, communications technology and machinery and said Washington will step up restrictions on Chinese investment in key U.S. technology sectors.
Trump administration officials have identified as potential targets 1,300 product lines worth about $48 billion. That list will then be open to a 30-day comment period for businesses.
Beijing reported a trade surplus of $275.8 billion with the United States last year, or two-thirds of its global total. Washington reports different figures that put the gap at a record $375.2 billion.