A federal agency has sued Chipotle claiming religious harassment on behalf of a Muslim former employee who alleges an assistant manager ripped off her hijab at a Kansas location.
The lawsuit, which the Equal Employment Opportunity Commission filed Wednesday in U.S. District Court in Kansas, claims that Areej Saifan was harassed by an assistant manager, who several weeks, continually asked her to remove her hijab and show him her hair, even though she explained that his requests were inappropriate.
The harassment culminated in the assistant manager's grabbing and partly removing Saifan's hijab, exposing her hair, the court documents said. The assistant manager couldn't be reached for comment, and it's not clear whether has legal representation.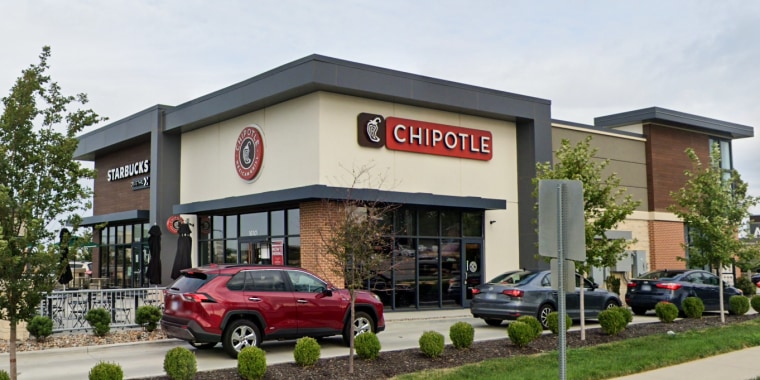 The harassment was alleged to have started in early July 2021 at a Chipotle in Lenexa, 20 minutes from Kansas City, Missouri, when Saifan was 19. The assistant manager, who supervised Saifan, "began asking her to remove her hijab, telling her he wanted to see her hair," according to the lawsuit.
Saifan explained that she wore the hijab because of her religious beliefs and said his requests to see her hair were inappropriate. The assistant manager continued to ask Saifan to remove her hijab, sometimes in front of other employees, about 10 to 15 times over a month, according to the lawsuit.
The employee complained to a shift manager, who at least once asked the assistant manager to stop but violated Chipotle's policies by not reporting the alleged harassment to higher management, the lawsuit says. 
The harassment came to a head on Aug. 9, 2021, when the assistant manager allegedly "advanced on Saifan, reached out, grabbed her hijab, and yanked," causing part of it to come off and her hair to be exposed. The shift manager Saifan had complained to witnessed the incident, according to the lawsuit.
Saifan reported the assistant manager's behavior to the store's field manager and store manager before she resigned the next day as a result of the harassment and management's failure to address it, according to the lawsuit.
In a statement, Chief Corporate Affairs Officer Laurie Schalow said Chipotle has "a zero-tolerance policy for discrimination of any kind" and had terminated the "employee in question."
"Chipotle's engaged and hard-working employees are what makes us great, and we encourage our employees to contact us immediately, including through an anonymous 800 number, with any concerns so we can investigate and respond quickly to make things right," Schalow said Sunday.
The Equal Employment Opportunity Commission alleges that the assistant manager was fired on Aug. 20, 2021, not for the harassment he subjected Saifan to but for having had a consensual relationship with another employee against company policy. The assistant manager continued to work at the same location until he was fired. 
Chipotle didn't respond to requests for comment about why the assistant manager was fired.
The lawsuit also claims that Chipotle retaliated against Saifan by not scheduling her for shifts during her two-week notice period and ultimately constructively discharged her because of her religion.
The Equal Employment Opportunity Commission is requesting a jury trial and for Chipotle to adopt policies that provide equal employment for employees of all religions.
The agency also requests that Chipotle compensate Saifan for financial losses, as well as nonfinancial ones, such as emotional distress, in an amount to be determined at trial.