Chris Cuomo, the CNN anchor, has been filmed in a heated exchange with a man he accused of calling him "Fredo" — a term Cuomo said was a slur for Italians.
"Punk-ass bitches from the right call me Fredo," said Cuomo in a video that surfaced on a right-wing social media account on Monday evening. "My name is Chris Cuomo. I'm an anchor on CNN. Fredo is from 'The Godfather.' He was a weak brother. And they're using it as an Italian aspersion."
"It's like the N-word for us," Cuomo went on to say in the clip that was uploaded to a right-wing YouTube channel called "That's the Point with Brandon."
The man talking with Cuomo responded that he thought Fredo was his name. Later in the exchange, Cuomo told the man he would "throw you down these stairs."
It was not evident from the video what happened before Cuomo's reaction.
Cuomo has said in Twitter posts that he views "Fredo" as an "Italian slur." The name refers to Fredo Corleone, a character in the Godfather saga who was viewed as the weakest brother in the mafia family; he was eventually murdered on orders of his brother, Michael Corleone. He was portrayed by John Cazale.
Conservative radio personality Rush Limbaugh has in the past described Cuomo as Fredo, both on his show and on social media.
CNN spokesman Matt Dornic tweeted the news network's support for the anchor on Monday evening.
"Chris Cuomo defended himself when he was verbally attacked with the use of an ethnic slur in an orchestrated setup. We completely support him."
"Italians," "Fredo," "Cuomo" and "The Godfather" were all trending topics on Twitter throughout Tuesday morning.
Cuomo responded to the attention with a tweet of his own at 11 a.m. Tuesday.
"Appreciate all the support but - truth is I should be better than the guys baiting me," he wrote. "This happens all the time these days. Often in front of my family. But there is a lesson: no need to add to the ugliness; I should be better than what I oppose."
Earlier Tuesday morning, posts on That's the Point with Brandon's Instagram and Twitter accounts said that the video was taken down from YouTube, along with a screenshot of a notice that it violated the site's guidelines, without providing more details.
The video was reinstated later Tuesday morning. A YouTube spokesperson said the video had been removed "mistakenly."
"With the massive volume of videos on our site, sometimes we make the wrong call," the spokesperson said.
NBC News reached out to That's the Point with Brandon to request an interview with the person who took the video, but was told that "the source of the video prefers to remain anonymous." The account said the video was taken on Sunday in Shelter Island, New York.
The president weighed in on the video Tuesday morning, tweeting that he "thought Chris was Fredo also. The truth hurts. Totally lost it! Low ratings @CNN."
"Would Chris Cuomo be given a Red Flag for his recent rant? Filthy language and a total loss of control. He shouldn't be allowed to have any weapon. He's nuts!" Trump said in a subsequent tweet, referring to proposed legislation that would allow law enforcement to temporarily take guns away from people who are thought to be a danger to themselves or others.
Trump has frequently criticized CNN, repeatedly calling it "fake news" and accusing it of bias against him and his administration.
Earlier this year, the president struck out at the CNN anchor, saying that "Chris Cuomo was rewarded for lowest morning ratings with a prime time spot."
Not long after the video was posted on Monday evening, the president's son Donald Trump Jr. posted more than a dozen tweets and retweets about the video, and told Cuomo to "take it from me, 'Fredo' isn't the N word for Italians, it just means you're the dumb brother."
Dornic, the CNN spokesman, went on to throw the insult back at the Trump family, tweeting, "Speaking of dumb brothers... cc: @EricTrump."
Before the video was reinstated, Trump Jr. criticized YouTube.
"Unbelievable: @Youtube has taken down the viral video showing @chriscuomo threatening to assault a heckler and then grotesquely comparing "Fredo" to the N word. Youtube/Google literally covering up his racism and violent threats. You can't make this stuff up. #StopTheBias," he wrote.
Cuomo is the son of former New York Gov. Mario Cuomo and the brother of current New York Gov. Andrew Cuomo, both Democrats.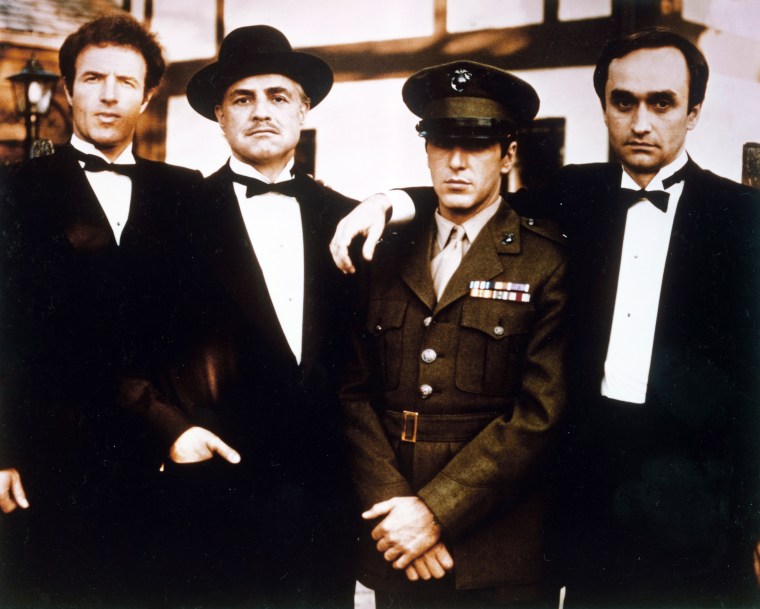 WABC's Curtis Sliwa noted Tuesday that Cuomo had referred to himself as Fredo in a 2010 interview.
"There is a group of people, politicos, who always hint they might run but not necessary plunge all the way and they are members of la Cuomo Nostra," Sliwa had joked on air then.
Cuomo responds, "Who am I then, Fredo?"
"Yes, exactly," said Sliwa. "So you better be careful that your brother Andrew doesn't kiss you on both cheeks and then all of a sudden they take you out into the middle of the lake, and then: 'Where's Chris?'"
"He kisses me plenty but because he's a great big brother," Cuomo quips.
"I guess in 2010 to call yourself Fredo, that was ok?" Sliwa asked his co-host, Juliet Huddy, on Tuesday.
Huddy said she didn't think the name-calling was what set Cuomo off. "The issue was this guy was getting into his face and trying to start trouble, and Cuomo reacted," she said.
Conservative social media accounts criticized Cuomo's reaction, with some pointing out that he didn't say anything when pundit Ana Navarro used the word Fredo to describe Trump's son, Donald Jr.
"Daddy kept Fredo back home," said Navarro on Cuomo's show, in a clip that "Cuomo Prime Time" tweeted in January.
However, some right-wing commentators were supportive of the anchor, including Fox News host Sean Hannity and short-lived former White House communications director Anthony Scaramucci.
"Very proud of @ChrisCuomo this happens all the time. It's quite racist," wrote Scaramucci, while Hannity said that "Cuomo has zero to apologize for. He deserves the apology."
Many of Hannity's followers however, didn't agree, with some telling him it was a "bad take."
Rachel Elbaum reported from London, and Kurt Chirbas and Elisha Fieldstadt reported from New York.