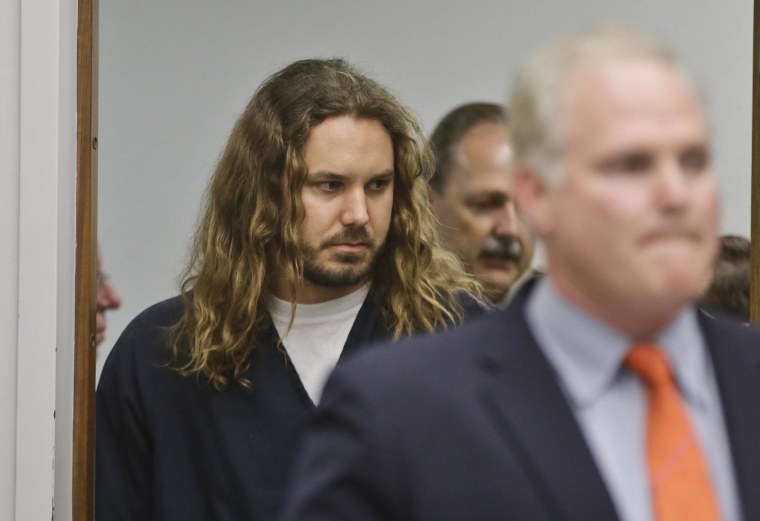 The singer of the Grammy-nominated Christian metal band As I Lay Dying pleaded guilty to his role in a murder-for-hire plot.
Carlsbad, Calif., resident Tim Lambesis entered the change of plea in court Tuesday, admitting that he hired a hit man to kill his estranged wife.
As a result of his change of plea, Lambesis will serve nine years, according to a court clerk.
The Carlsbad resident was arrested in May 2013 on charges of solicitation of another to commit murder and conspiracy to commit a crime.
Prosecutors alleged that Lambesis approached a trainer from his gym and asked if the person knew anyone who could kill his wife, Meggan Lambesis of Del Mar.
"He wanted to know if maybe I could find someone to do it for him," personal trainer Brett Kimball testified at a pretrial hearing.
Lambesis provided the undercover agent with an envelope containing $1,000 cash for expenses, his wife's address and gate codes, pictures of her and specific dates when he would have the children and thus, an alibi.
Lambesis explained he wanted his wife dead because she was going to get up to 60 percent of his income and would not allow their children — ages 4, 8, and 10 — to go on tour with him, the deputy testified.
Court documents reveal Meggan Lambesis had filed for divorce in September 2012 to end the couple's eight-year marriage.
In the divorce records obtained by The Associated Press, Meggan Lambesis claims the rocker had become "obsessed with bodybuilding" and was distracted with the children, even falling asleep once while watching them.
She also claimed he has spent thousands of dollars on tattoos.