The black Texas teen shot dead by police Friday openly expressed fears about his safety and questioned law enforcement on social media, tweeting last week, "I don't wanna die too young."
Christian Taylor, 19, was shot and killed in the Dallas suburb of Arlington during a struggle with an officer after crashing his car through a Buick dealership around 1 a.m. Friday, authorities said.
The Arlington Police Department said officers were responding to a burglary call when they shot the unarmed Taylor.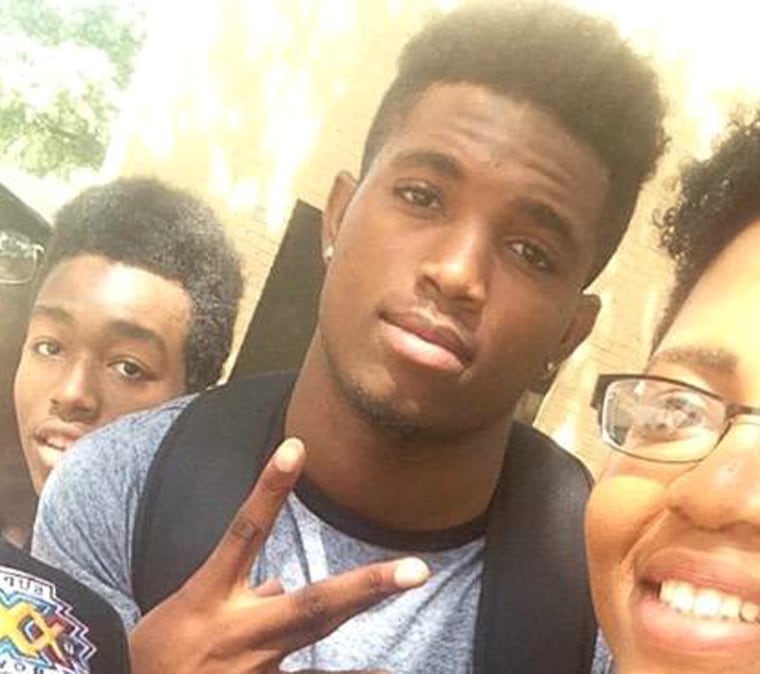 Before his death, Taylor sent thousands of tweets, many of which were rooted in his spirituality or musings about his future. He also commented on police prejudice, an issue that has sparked debate nationwide amid a rash of high-profile police killings of black suspects.
A friend confirmed to NBC News that the Twitter account that bears his picture and references Isaiah 54:17 — "No weapon formed against you shall prosper, and every tongue which rises against you in judgment, you shall condemn" — belonged to Taylor.
RELATED: Police Shoot And Kill Unarmed College Football Player
Barely a week before his fatal encounter, Taylor tweeted, "I don't wanna die too younggggg." Similarly, last April, he also tweeted, "I don't wanna die too young."
The college football player, a sophomore at Angelo State University in San Angelo, Texas, expressed skepticism about law enforcement in multiple tweets as well. "I don't feel protected by the police," he tweeted on Aug. 12, 2014.
On Dec. 24, 2014, a month after 12-year-old Tamir Rice was shot by police while holding a fake gun in Cleveland, Taylor tweeted, "Our police system is a joke, when will we ever be protected?" and "Police taking black lives as easy as flippin a coin, with no consequences."
He also shared thoughts on religion, tweeting two days ago: "True Peace can be found within yourself and only thru yourself. Believing something is bigger than you and me as a person. Give it the glory."
Brad Miller, the 49-year-old officer who shot Taylor, has been placed on administrative leave, a routine move in cases like this, Arlington police said in a statement.