An evening of intense and competitive bidding in New York set fifteen records for American painters at Christie's Tuesday night, bringing in more than $317,801,250.
The artworks sold were all from the private collection of Barney Ebsworth, a former travel company executive and art collector who built what would become one of the finest private collections of 20th century American art.
Edward Hopper's iconic 'Chop Suey' sold for a staggering $91,875,000, a new auction record for the category of American Art. Chop Suey, an oil on canvas painted in 1929, is believed by experts to be inspired by Chinese restaurants Hopper visited, both in New York and on his travels.
It was considered the greatest Hopper in private hands.
A uniquely American place in the early 20th century, the chop suey joint personified the spirit of the modern melting pot. Hopper's painting portrays two women in conversation and, according to some art scholars, one striking detail is that its female subject is facing her doppelgänger. While they are seated across from each other, they don't appear to be talking to each other. The brilliant effects of light on the canvas are uniquely Hopper.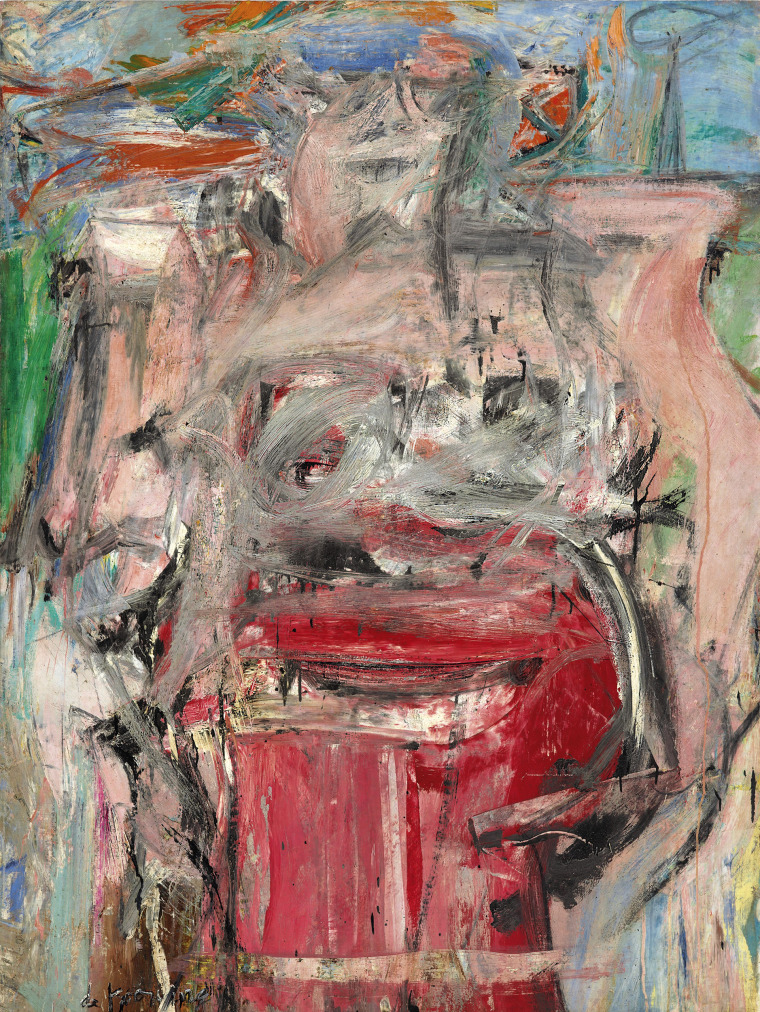 A Willem de Kooning work, his tour de force, "Woman as Landscape," set a record for the artist, selling for $68,937,500.
Other artists setting records included Alexander Calder, for his standing sculpture woodwork, "Hen," which sold for $8,412,500,
Other records went to artists Arshile Gorky, Francis Criss, Joseph Stella and George Tooker, for his "A Game of Chess," which sold for $432,000. All the evening's sales were to anonymous buyers.
Marc Porter, Christie's chairman, said Tuesday's auction was special for its irony. The reason Barney Ebsworth began collecting American paintings was because he was told European paintings were too expensive. Ebsworth's collection ended up as one of the top five collections ever sold at auction.
"There has been a groundswell of interest in American Modernism. One of the most interesting of this collection is that it explored all elements of American painting and sculpture in the 20th century from magic realism to abstract expressionism and beyond," Porter said.
Eighty percent of the works sold went to American buyers, according to Christie's. Porter said despite the high prices the market isn't overheated, "it's exactly the right temperature."
Eric Widing, deputy chairman of Christie's, knew Ebsworth for decades. "He was passionate about art, he was a student, he knew artists in depth. He bought low at times and he also bought high at times and sold high as we saw tonight," Widing said.
A statement from the Ebsworth family read: "We are delighted with the results tonight at Christie's which paid tribute to my father's eye and focused on quality. The works that gave him so much pleasure will now do the same for their new owners."
Ebsworth purchased a small travel company in 1959, which would grow into INTRAV, an international travel company. As an early pioneer in the cruise industry he founded and was chairman for Royal Cruise Line and Clipper Cruise Line. Ebsworth was named one of the World's 200 Greatest Collectors by Art News Magazine in 2012.
CORRECTION (Nov. 14, 2018, 8:56 a.m.): An earlier version of this article misstated the first name of the private collector whose paintings were sold at Christie's. He is Barney Ebsworth, not Barnaby.