Alabama resident Morgan Cochran still remembers shelling peas as a child while watching movies at the drive-in theater. In the small town of Gu-Win, more than an hour outside Birmingham, Blue Moon Drive-In Theater was a popular destination for people from surrounding communities to come together under the stars.
This Sunday, Blue Moon Drive-In will transform its big screens and parking lot into an outdoor church, creating a makeshift spiritual community in the age of coronavirus.
Cochran said she will be among those attending services from the safety of her car.
"Last week, the seriousness of it all took a toll on me," said Cochran, 33, a nurse. "I really needed church."
As the COVID-19 outbreak continues to prompt stay-at-home orders throughout the country, churches are finding new ways to reach their communities. Some faith leaders whose churches were forced to close are streaming their services online. Others host gatherings outside where people can feel connected while maintaining a safe distance.
In a time of uncertainty, fostering community can feel like a lifeline, said Harry Saylor, senior pastor at Faith Fellowship Church of Winfield, which will host church services this weekend at Blue Moon Drive-In.
"People want to connect to something stable," Saylor said. "From our wealth to our health, everything is shaky right now."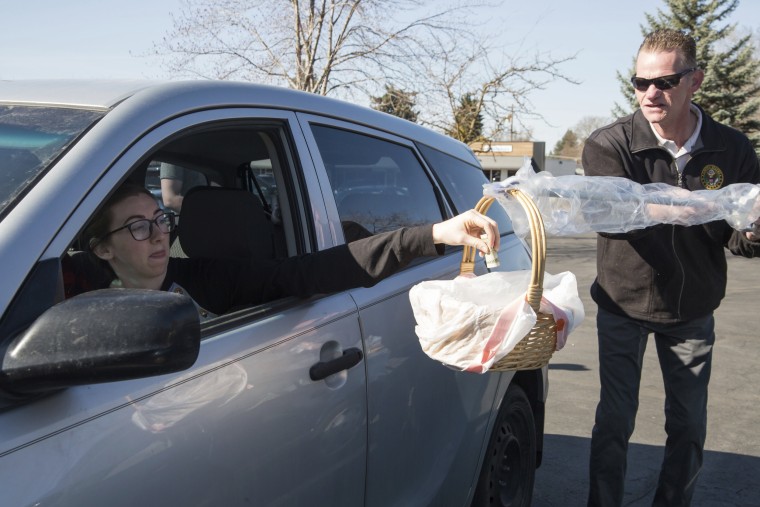 When coronavirus took hold in the United States earlier this month, drive-in movie theaters experienced a brief revival. The outdoor big screens offered a remedy to social distancing while providing a much needed distraction from the worsening public health crisis.
But the outbreak continued to spread, infecting more people in the United States than any other country. In an attempt to stem the tide, public officials across the nation issued strict stay-at-home orders and closed non-essential business, including all entertainment venues. Outdoor movie theaters in states like California and Texas were forced to close.
Some faith leaders have remained defiant despite warnings from public officials to remain home as much as possible. A Baton Rouge, Louisiana, pastor said he intends to offer church services Sunday for his 1,000-person congregation. The state has been closely watching as coronavirus cases spike, and some experts have warned that New Orleans will become the country's next infection hot spot.
Louisiana state police said the community cannot "enforce" its way out of the COVID-19 pandemic and is instead "dependent upon the responsible actions and cooperation of our citizens, businesses, and local community leaders."
In states that have not issued stay-at-home orders like Alabama, which has fewer than 600 coronavirus cases, deciding whether to attend or offer church services can be tricky. Chris Curtis, who owns Blue Moon-Drive In, didn't feel comfortable keeping his business open despite not being forced to close. Still, the theater can accommodate 400 cars at full capacity, and he worried about people crowding the concession stands and bathrooms.
He closed Blue Moon last week but saw an opportunity to utilize his space for a different purpose. Churches have used the drive-in theater to host events in the past, so it seemed like a natural fit to do so again.
"I wanted to give people something where they feel safe," he said.
There are just 305 outdoor theaters remaining in the country, according to the United Drive-In Theater Association, yet Curtis is one of several drive-in theater owners in his family. His cousin, John York, owns Birdsong Drive-In Theater in Camden, Tennessee, about 90 minutes outside Nashville. A different cousin owns several more drive-ins in Mississippi and other parts of the South. The family has been in the business for decades, York said.
Birdsong theater is still showing new releases, but York must limit customers to 10 inside the office or bathroom. Benton County, where the theater is located, just announced its first case of coronavirus Thursday. York worries that it's just a matter of time before his business is affected by the outbreak.
In the meantime, he is preparing for the future. Assuming county officials continue to allow gatherings of any kind, York will offer Easter Sunday services at Birdsong Drive-In. His initial test run will be next weekend when Benton First Baptist Church will bring its congregation to his outdoor theater.
"So many people are wanting to do something. They're all stuck in their homes," he said. "I'm a Christian and I know that without God, I wouldn't be able to deal with it."
Hundreds of miles away in a suburb of Houston, Todd Pendergrass is also preparing for Easter. He is the executive pastor of administration at Kingsland Baptist Church, which has a congregation of 3,000 and two campuses. The county is under a stay-at-home order through at least April 3. To accommodate the large congregation, Kingsland church has streamed Sunday services online for nearly two weeks. Last week, more than 6,500 people tuned in via Facebook or through the church's smartphone app and website, Pendergrass said.
In preparation for Easter, Pendergrass plans to turn Kingsland into a makeshift drive-in movie theater. With its sprawling campuses, the church will rent outdoor big screens and radio transmitters so people can attend services from inside their cars.
"They are looking for somebody to tell them it's OK, and nobody can really say that yet," he said. "But we can express that the person we trust in Christ is unchanging."
This isn't the first time his congregation has faced uncertainty, Pendergrass added. Many Kingsland church members work in the oil and gas industries and must frequently weather economic storms, he said. In 2017, when Hurricane Harvey bettered the region, Kingsland was forced to close for several weeks. When services resumed, the aisles were packed.
"In times of disaster, people start to right themselves," he said. "People are looking for a sense of hope."