CIA Director Mike Pompeo blistered WikiLeaks in a speech Thursday, calling WikiLeaks a "hostile intelligence service" aided by Russia and accused WikiLeaks founder Julian Assange of making "common cause with dictators."
The former Kansas congressman was speaking at the Center for Strategic and International Studies in Washington, D.C., his first public address since becoming director. He lamented the leak of classified materials, and criticized Chelsea Manning and Edward Snowden, but levelled his harshest criticism at Assange and his organization.
"It is time to call out WikiLeaks for what it really is," he said, "a non-state hostile intelligence service often abetted by state actors like Russia. In January of this year, our Intelligence Community determined that Russian military intelligence — the GRU — had used WikiLeaks to release data of U.S. victims that the GRU had obtained through cyber operations against the Democratic National Committee. And the report also found that Russia's primary propaganda outlet, RT, has actively collaborated with WikiLeaks."
Pompeo did not mention that U.S. intelligence also found that Russia was using its cyber operations against the DNC as part of a campaign to harm candidate Hillary Clinton and aid Donald Trump, who appointed Pompeo to his current job after winning the presidency.
"I am quite confident that had Assange been around in the 1930s and 40s and 50s, he would have found himself on the wrong side of history."
"WikiLeaks walks like a hostile intelligence service and talks like a hostile intelligence service. It has encouraged its followers to find jobs at CIA in order to obtain intelligence. It directed Chelsea Manning in her theft of specific secret information. And it overwhelmingly focuses on the United States, while seeking support from anti-democratic countries and organizations.
RELATED: CIA Pick Pompeo Defies Trump, Says He Won't Waterboard
Pompeo said he and his colleagues at the CIA found the celebration of WIkiLeaks "to be both perplexing and deeply troubling. Because while we do our best to quietly collect information on those who pose very real threats to our country, individuals such as Julian Assange and Edward Snowden seek to use that information to make a name for themselves."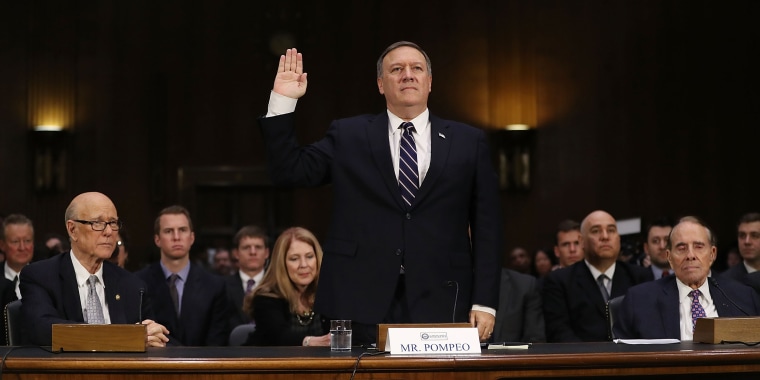 "Assange and his ilk make common cause with dictators today. Yes, they try unsuccessfully to cloak themselves and their actions in the language of liberty and privacy; in reality, however, they champion nothing but their own celebrity. Their currency is clickbait; their moral compass, nonexistent."
"I am quite confident that had Assange been around in the 1930s and 40s and 50s, he would have found himself on the wrong side of history."