Fearing a repeat of the deadly march by white nationalists in Charlottesville in 2017, Virginia Gov. Ralph Northam on Wednesday declared a state of emergency and temporarily banned people from carrying guns and other weapons on the grounds of the state Capitol, where thousands of gun rights activists are expected to rally next week against stricter gun control laws.
Northam said he made the call after hearing "credible intelligence" from law enforcement that armed militias and hate groups, some from outside Virginia, planned to disrupt the event. He said the threats of violence, picked up on the internet and on dark web channels by state intelligence analysts, included "conversations fueled by misinformation and conspiracy theories" similar to talk that preceded the "Unite the Right" march in August 2017, at which white nationalists clashed with counterprotesters, one of whom was killed when a man drove into a crowd.
"They are not coming to peacefully protest. They are coming to cause intimidation and to cause harm," Northam, a Democrat, said at a news conference.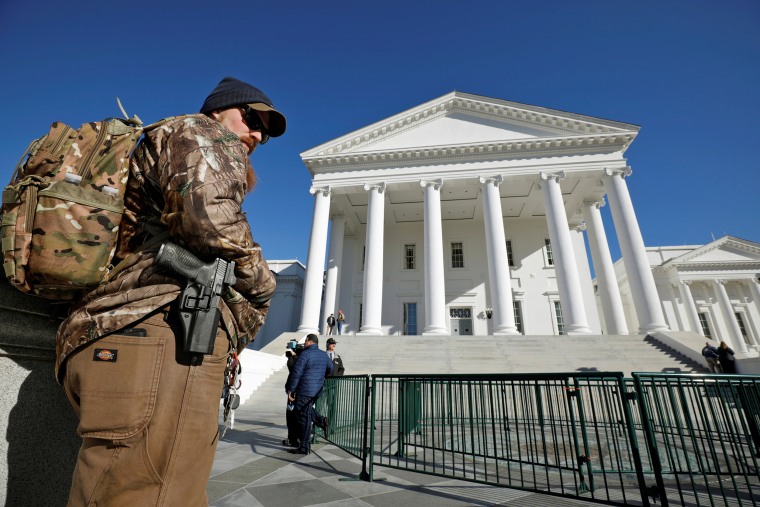 The temporary weapons ban and the state of emergency will be lifted Tuesday, he said.
The event on Monday, called Lobby Day, is part of an annual Martin Luther King Jr. Day tradition in which citizen activists, including those on both sides of the gun debate, converge on the Capitol to press issues directly to lawmakers. The rallies have usually been peaceful and orderly. But in November's elections, in which Democrats took control of both chambers of the statehouse after campaigning on gun control, has changed the dynamic of this year's event.
The looming confrontation has put Virginia, whose government is under majority Democratic rule for the first time in a quarter-century, at the center of the national gun debate, with both sides portraying the state as a harbinger of where the rest of the country might be heading.
"This shows that if you can do it in Virginia, you can do it anywhere," Christian Heyne, vice president of policy for the Brady Campaign to Prevent Gun Violence, said of implementing stricter gun laws.
Gun rights advocates proclaim the same thing, but as a call to resist.
"If they take our guns here in Virginia, then what's to keep them from coming to every other state and taking guns there?" asked state Sen. Amanda Chase, a Republican who will speak at the gun rights gathering. When Democrats took over the Legislature, Chase said, "our predominantly freedom-loving government changed into a tyrannical one overnight."
Download the NBC News app for breaking news
Expectations for the gun rights rally, organized by the Virginia Citizens Defense League, grew more intense as Democrats in the Legislature flexed their new power to seek wider curbs on firearms. Days after taking office this month, the Democratic majority approved a ban on guns at the Capitol and introduced eight bills to regulate gun ownership, including universal background checks, a ban on military-style rifles and a bill that would allow authorities to temporarily take guns from people deemed dangerous to themselves or others.
Gun control supporters say they are acting on desires expressed by the voters who gave them the majority in the statehouse.
Gun rights groups have used the developments to stir opposition. More than 100 counties and municipalities have passed resolutions declaring themselves "Second Amendment sanctuaries," in which they vow not to enforce "unconstitutional" gun laws ─ although the measures are largely symbolic and, according to an opinion from Attorney General Mark Herring, a Democrat, do not carry legal weight. Meetings on the resolutions have drawn hundreds of people, some of them driven by online rhetoric warning of government oppression.
The Virginia Citizens Defense League has urged participants in the rally Monday to avoid confrontations with authorities, gun control advocates and the media. In an online statement, the group's president, Philip Van Cleave, asked militia groups not to try to provide security, saying police have that covered.
"With a large Capitol, Richmond, and State police presence, not to mention enough citizens armed with handguns to take over a modern mid-sized country, we have the security base covered nicely," Van Cleave wrote. He said participants should not take long guns, which are difficult to conceal.
"Lobby Day is a peaceful event about gun rights and NOTHING ELSE," he wrote.
But the event has also attracted militias and anti-government groups warning of a conspiracy to disarm law-abiding citizens and of a brewing civil war. Some of those warnings have come with calls for violence, and some have accused Northam of planning to cut off electricity to make "gun confiscation" easier, of assembling a team of "anti-gun cops" and of planning to outlaw children's right to hunt.
Several participants in the Charlottesville rally who have been banned from protesting in the city have indicated that they plan to march on Richmond on Monday, according to The Daily Beast.
Northam said he respected the Virginia Citizens Defense League's right to gather peacefully, but he said the group had "unleashed something much larger, something they might not be able to control."
"I call on them to disavow anyone who wishes to use Monday's rally to advance a violent agenda," the governor said.
The Virginia Citizens Defense League did not respond to requests for comment. The group sent a message to supporters early Thursday saying it believed the ban was illegal, and was discussing with its legal team how to proceed. The group advised rally participants that they could still carry guns in some areas of Richmond near the Capitol without violating the ban.
Howard Graves, a senior research analyst at the Southern Poverty Law Center, which monitors hate groups, said it had found evidence online ─ mostly from public Facebook pages ─ that members of about two dozen militia and anti-government groups planned to attend the rally. One is the Oath Keepers, who have said they will help sheriffs train armed posses.
"A lot of the people attending will be your average right-leaning gun owner. But that group almost certainly has extremists inside of it, and given that extremist groups are glomming onto the hubbub around this event, that gives us concern," Graves said.
The National Rifle Association, which is headquartered in Virginia, has not played much of a role in Monday's event. It organized its own rally against the Democrats' gun control measures this week.
Heyne said gun control activists ─ probably a much smaller number ─ would be rallying at the Capitol on Monday, as well.
He said the proposed measures would not get in the way of Virginians' Second Amendment right to carry firearms.
But that's exactly what gun owners fear will happen, Chase said.
"The Second Amendment is the most foundational freedom we have," she said, "and if we don't protect the Second Amendment, we could lose other freedoms."