PAHRUMP, Nev. — Just minutes from the California border sits a sun-drenched town in Nevada that wants nothing to do with its neighbor to the west. 
Located about 60 miles from Las Vegas, Pahrump was once home to the Southern Paiute Indians and didn't install telephone service until the 1960s. Many current residents moved to the unincorporated town to get away from the traffic and pollution that plague much of California. 
Residents now find themselves at odds with Candela Renewables, a San Francisco-based renewable energy company that hopes to build a large-scale solar field across some 2,300 acres. 
"It seems illogical to me to destroy the environment to protect the environment," said Pahrump resident Jeannie Cox-King, who helped organize a protest Saturday against the Rough Hat Nye County solar field. "We should keep our public lands public."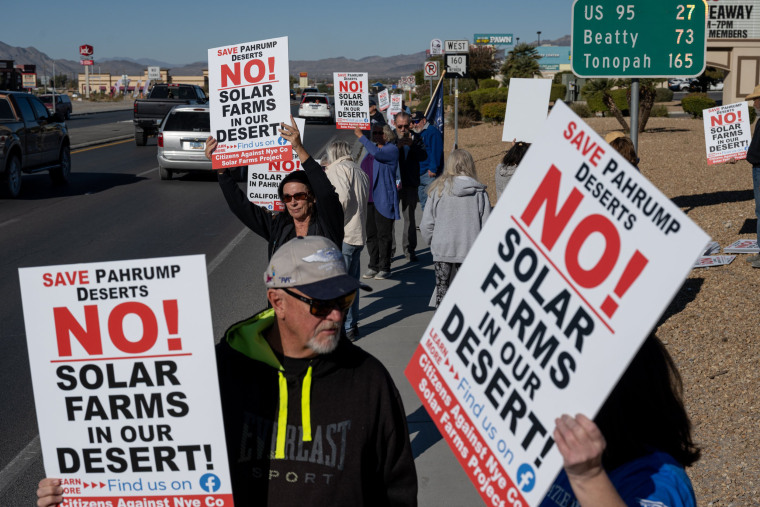 As climate change ravages the country with droughts, wildfires and heat waves, Nevada is making a push to become a leader in renewable energy. About 80 percent of the state is public land, much of it maintained by the Bureau of Land Management. The nearly year-round sunshine and abundance of space make it an attractive option for solar companies.
But community members and conservationists worry that green energy projects are not entirely clean and could destroy thousands of miles of untouched land. They are part of a growing chorus of people who say they support clean energy, including solar, but not at the expense of local ecosystems. 
Large-scale solar fields run the risk of displacing native plant and animal life, contributing to ferocious dust storms, and disturbing fragile desert soil capable of capturing much-needed moisture from the air.
"We need to recognize that any form of energy is going to have some impacts," said Nels Johnson, North American director for renewable energy at The Nature Conservancy. "The question is how do we try to avoid and minimize those impacts?"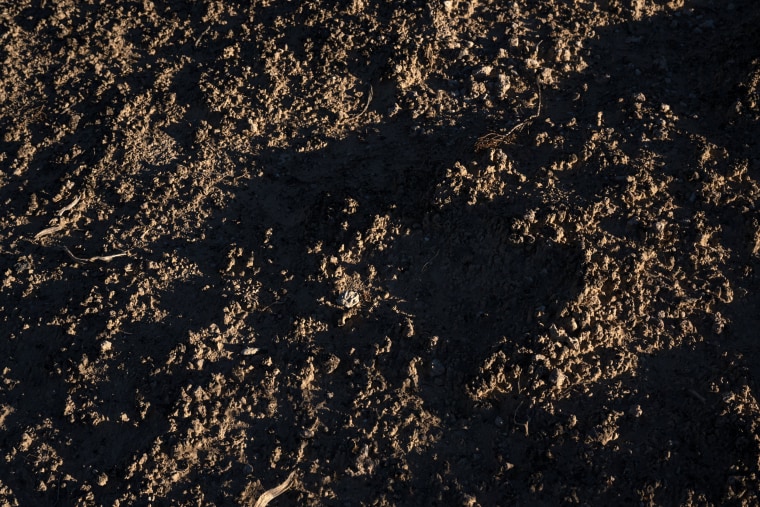 Among those impacts is damage to the desert's crust, a thin layer of soil on the surface that acts like a seal, trapping both carbon and nutrients underneath. Removing the crust can contribute to powerful dust storms that release particles and carbon into the air, Johnson said. Those particles can be unhealthy, especially for people with existing respiratory conditions.
Last week, a solar company was fined almost $220,000 for failing to control dust during construction and blowing some 70 tons of excess dust into the air, The Associated Press reported. 
Native animal species are also at risk. Last year, a team of biologists moved 139 Mojave desert tortoises, a threatened species, off the site of the 3,000-acre Yellow Pine Solar Project 10 miles south of Pahrump. Thirty of the tortoises were killed, possibly by badgers, conservationists said. And across the border in California's Mojave Desert, the Ivanpah Solar Electric Generating System killed some 6,000 birds annually in 2016.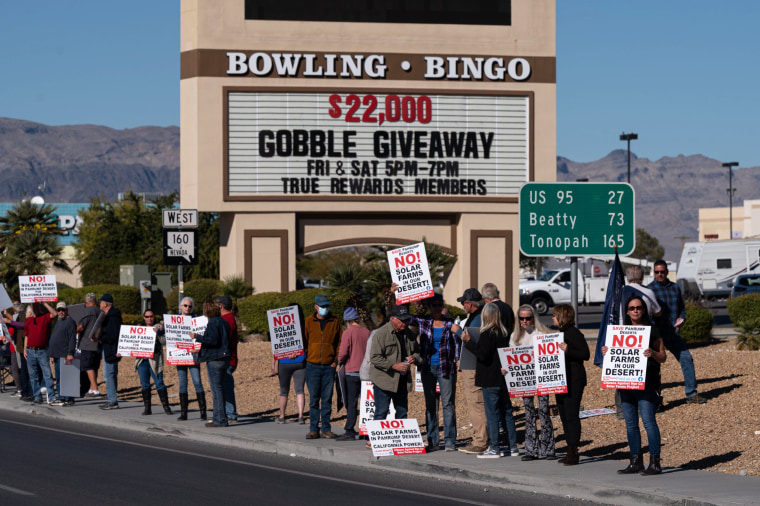 Johnson and other conservationists say installing solar panels on pre-existing buildings or land previously developed for other uses, including abandoned mines, could mitigate some of the ecological concerns surrounding large-scale solar farms. But experts say that approach is expensive and ultimately insufficient compared to the rapidly increasing threat of climate change.
"The idea that these projects are saving us from climate change is, at the very least, questionable," said Kevin Emmerich from the Nevada conservation group Basin and Range Watch. "We're not really thinking about true conservation."
A spokesperson for Candela Renewables said that although the company is in very early planning stages for the Rough Hat Nye County project, environmental and ecological concerns remain a high priority. 
"We hear the Pahrump community's concerns loud and clear. We, too, see the area we're considering as more than a site for a clean-power facility. We appreciate that this land already supports an ecosystem, schools, trails and homes," the spokesperson said in a statement. "Candela believes that over time we can show that balance is possible."
The company estimates Rough Hat Nye County would create roughly 400 local jobs and help support the Biden administration's goals of permitting 25 gigawatts of new solar, wind and geothermal power projects by 2025.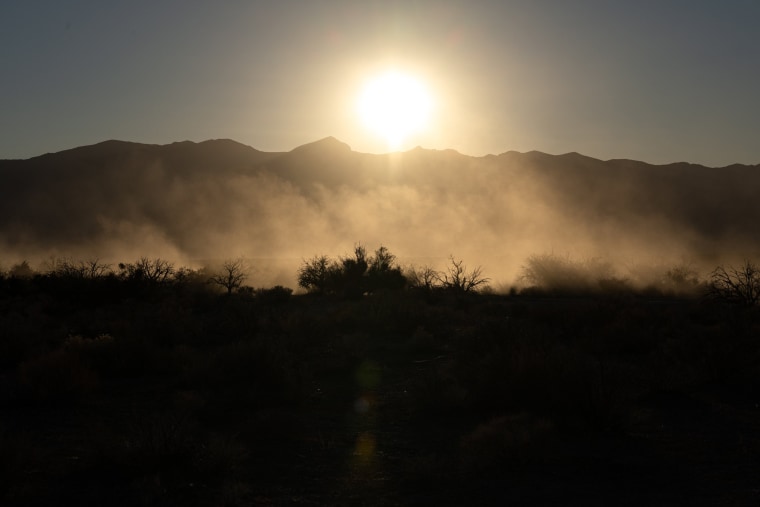 The Rough Hat Nye County solar farm project would produce 500 megawatts of electricity and a neighboring project in Clark County would produce 400 megawatts. Combined, the two projects would power more than half a million homes.
This is part of a national push away from fossil fuels amid a deepening climate emergency, caused in part by the burning of energy sources such as coal, oil and gas.
Nevada Gov. Steve Sisolak, a Democrat, has set the goal of requiring 50 percent of the state's power to come from renewable energy by 2030 and 100 percent by 2050. The state is on track to meet those goals, according to the Nevada Governor's Office of Energy.
There are currently nine solar projects operating in the state and another five approved and pending construction, according to the Bureau of Land Management.
"Nevada has long been known for its renewable energy potential," David Bobzien, director of the Nevada Governor's Office of Energy, said in a statement. "Any energy produced in the state is going to be renewable energy, and with abundant solar and geothermal resources and 80 percent federally-owned public lands, there is enormous potential for leveraging those resources to reduce our greenhouse gas emissions from the electricity sector."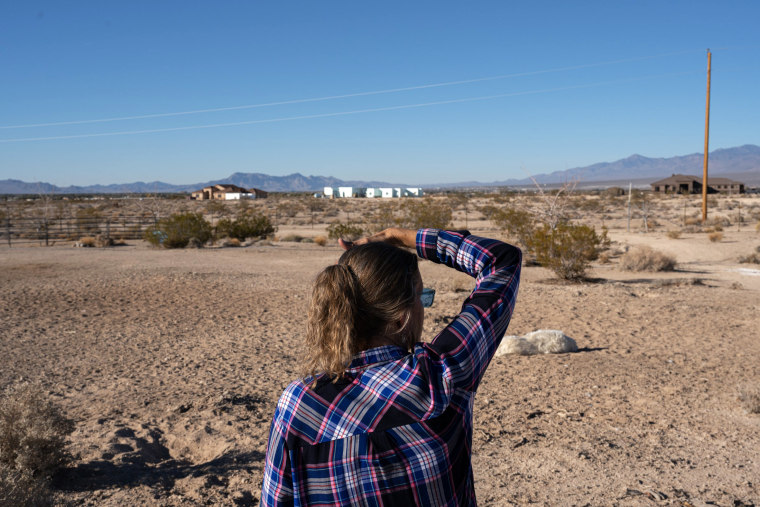 Solar power could provide nearly half of America's electricity by the middle of this century, the Biden administration said in a study released earlier this year. The study, by the Energy Department's National Renewable Energy Laboratory, found that meeting the administration's climate change goals would require increasing the solar share of energy production to at least 37 percent by 2035 and then to 44 percent or more by 2050. 
As of now, just 3 percent of the current national electricity supply comes from solar power. 
"We are just in the early stages of a huge transformation in the way energy is produced and used. It is going to generate the biggest infrastructure development era, maybe in the history of the United States," Johnson said.
Scale is what concerns Pahrump resident Dee Mounts, who described her community as an "old Wild West town" where deals are still made with handshakes. 
At least six solar projects have been proposed in Nye County and neighboring Clark County, including two by Candela Renewables. The Yellow Pine solar farm in Pahrump Valley, developed by NextEra Energy Resources LLC, has been targeted by activists for some time, but construction is expected to start in the coming months.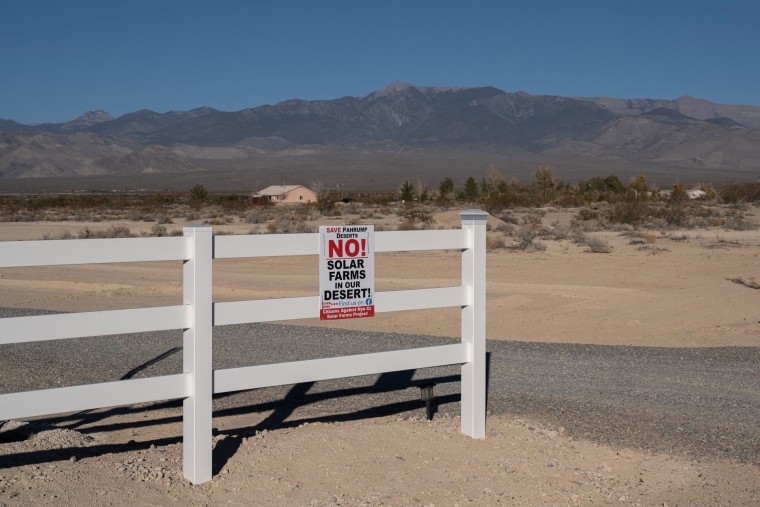 "That's what really makes people upset," Mounts said. "It's going to be a town of solar instead of what we're known for — the land and the trails."
Barbara Callihan uses many of those trails for her Happy Hoof Beats equestrian business. A 22-year resident of Pahrump, she survived lung cancer and getting one lung removed. She spent most of the pandemic practicing social distancing and spending time outside, but now fears that if the Rough Hat solar project is approved, construction could mean blinding dust storms and valley fever, or coccidioidomycosis, an infection caused by fungus found in soil in the southwestern United States and parts of Mexico.
"I am absolutely on board for green energy, but not at the expense of the community this is being put on top of," she said. "I don't know if I can be happy if I'm going to be enduring a fungal infection that could kill me."
At a recent meeting of the Pahrump Public Lands Advisory Committee, Dewey Klurfield, Candela Renewables manager of development, shared plans for the Rough Hat Nye County solar project with community members. Dozens of residents lambasted the company for encroaching on their land. 
During one especially tense exchange, Nye County Commissioner Debra Strickland warned: "This is not going over well with my community."
"We need to come to some understanding that we can't see this in our backyard," she added.
"I'm not a fool," Klurfield responded. "I can read a room."