Six Cleveland cops were fired Tuesday and six others will be disciplined following an internal police review over the 2012 shooting death of two unarmed people that led to a high-profile trial against one of the officers.
Among those dismissed was patrolman Michael Brelo, who stood trial last year for the killing of 43-year-old driver Timothy Russell and his passenger, 30-year-old Malissa Williams.
Brelo, 31, was acquitted of voluntary manslaughter, sparking street protests in a city already on edge over the fatal police-involved shooting of 12-year-old black boy Tamir Rice in 2014.
Police shot at Russell and Williams 137 times in under 20 seconds, prosecutors said, with both of them found with about two dozen bullet wounds.
Brelo had fired the last 15 shots of the barrage, which occurred following a chase that began when Russell's 1979 Chevy Malibu passed by police headquarters. Officers standing outside the building mistook the sound of the backfiring car as a gunshot.
Related: New Charges Against Cleveland Cop Michael Brelo
The high-speed chase involved 62 police cruisers and more than 100 officers.
Brelo was the only officer to face criminal charges. Prosecutors said he stood on the vehicle's hood and fired inside repeatedly after the car had stopped and its occupants were no longer a threat.
His attorneys said during the trial that he feared for his life.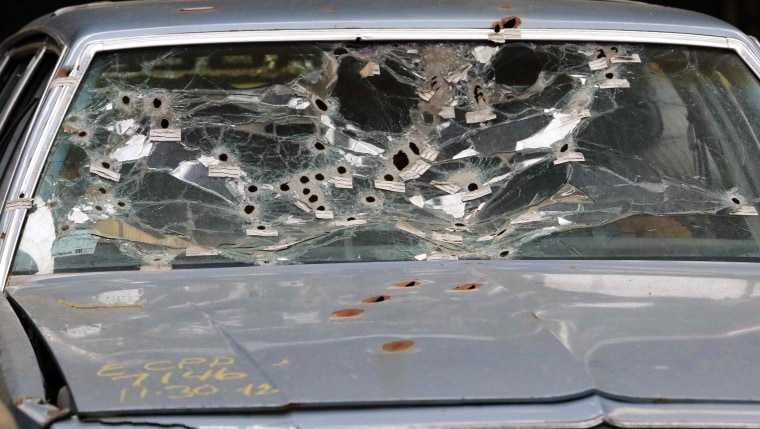 Six officers who fired during the barrage face suspensions ranging from 21 to 30 days, said Public Safety Director Michael McGrath, the former police chief. A total of 13 officers had been notified they faced administrative discipline, and one of them has retired, McGrath said.
The president of Cleveland's largest police union, Steve Loomis, vowed to fight the discipline and said grievances appealing the firings were filed with the city Tuesday.
Related: Cleveland Protests Over Michael Brelo Acquittal Lead to 71 Arrests
"It's tragic that it went down this way, but at the end of the day, two people high on crack cocaine, high on marijuana, one of them intoxicated, made the decisions that they made and we responded to them," Loomis said, according to The Associated Press.
The officers had been cited for joining the chase and leaving the city without permission. More seriously, some were accused of endangering other officers by creating a crossfire situation.
McGrath said officials reviewed hundreds of pages of related documents and multimedia to reach decisions on discipline.
The shooting preceded a monthslong U.S. Department of Justice investigation that concluded Cleveland police engaged in a pattern and practice of using excessive force and violating people's civil rights. The city negotiated an agreement to make changes overseen by an independent monitor.