The Cleveland police officer who fatally shot Tamir Rice in 2014 has been fired — but not for his role in the death of the 12-year-old, officials announced Tuesday.
Former officer Timothy Loehmann was fired "effective immediately" Tuesday after facing administrative charges that he gave false information on his job application to the Cleveland Division of Police, city officials said at a press conference.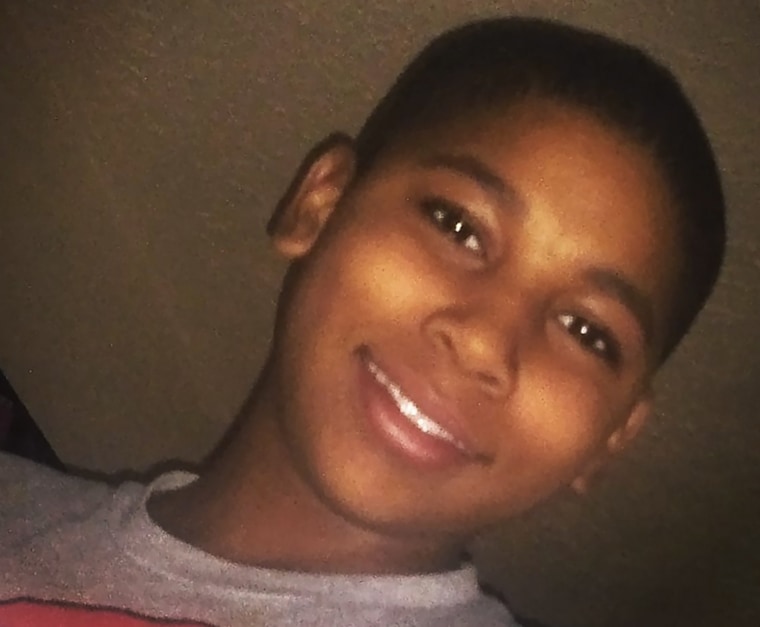 Officer Frank Garmback, who was driving the patrol car when Rice was killed, was suspended for 10 days, officials said. Garmback is also required to take additional tactical training, for rules violations related to tactics used during the November 2014 incident, where Rice was killed by police outside of a Cleveland recreation center while apparently playing with a pellet gun.
Cleveland Mayor Frank Jackson offered condolences to Rice's family, and said Tuesday's announcements followed an "extensive process."
Chief of Police Calvin Williams said the incident had been "tough on the entire community."
"When this happened in 2014, I made the comment that this is an unfortunate tragedy, but more unfortunate that it happened at the hands of a Cleveland police officer, and we would do everything in our power to ensure an event like this wouldn't happen again," Williams said.
The announcement was the result of a review by the department's critical incident review committee, Williams said.
Tamir's mother, Samaria Rice, said she was "relieved" that Loehmann was fired at a press conference later Tuesday, according to NBC affiliate WKYC.
"They fired him for lying on his application, which I wish they would've fired him for killing Tamir," she said of Loehmann.
"He should have never been an officer in the first place and shame on the city of Cleveland for taking so long to handle this situation" she said.
The grieving mother added that Garmback should have also been fired, for "pulling up so close to Tamir, to create the murder of Tamir."
"Now we all must get involved to create a safer community," she said.
The administrative charges against the two were first announced in January.
According to documents published by NBC affiliate WKYC at the time, Loehmann had omitted from his application that that he had an "emotional breakdown" during a state qualification course, and that his former employer, the Independence Police Department, concluded he was unable "to emotionally function."
In December 2015, a grand jury declined to bring criminal charges against the officers.
At the time, prosecutors said Rice's death was "an absolute tragedy," but that it was "reasonable" for the officers to believe they were in danger when Rice appeared to be playing with what turned out to be a pellet gun.
And in March, the 911 dispatcher who took the call leading to Rice's death was suspended for eight days for failing to provide all available information to the responding officers.
Hollinger was charged with violating protocol for failing to tell the dispatcher who sent the officers that the man who called 911 about a " guy" pointing a gun at people also said it could be a juvenile and that the gun might be "fake," according to the Associated Press.
On Tuesday afternoon, the Cleveland Police Patrolmen's Association (CPPA) said in a statement to NBC News that it was "dismayed, but not surprised" by the city's decision and that it had already filed grievances on behalf on both officers in order to appeal the disciplinary actions.
"There is simply no factual basis on which an unbiased decision-maker could conclude that either Officer should be administratively disciplined," the CPPA said in its statement. "This discipline has been imposed merely to appease segments of this community who have demanded their heads."