SIDNEY, Iowa — David Lieth has farmed about 600 acres near this southwest Iowa town for more than 30 years, but he won't harvest a single ear of corn this year because flooding on the Missouri River covered his fields and didn't allow him to plant any seed.
The loss of the corn and soybean in his grain bins and his inability to plant meant the longtime farmer had lost nearly two years of income. With levee protections destroyed and more rain on the horizon, like many farmers in the region, he feared he would never recover and might see these same floods regularly.
But on an early September morning, Lieth and a roomful of farmers still dutifully gathered at the local USDA office to find out how much money they would receive for the crops that never made it out of their grain bins and to consumers.
The $2.70 per bushel offered through Congress's disaster bill was devastating for many: It was better than nothing, but below the cost of production. Many were still angry with the Army Corps of Engineers, which they claimed had mismanaged the river — but few were willing to suggest that the flooding had anything to do with climate change. Or that global warming could trigger a food crisis in the next 30 to 40 years.
"There is some science I do believe we can look at but to setup a new government agency or more government regulation? I'm still wondering if that's feasible," Lieth said before the meeting. "I think we can be stewards best by ourselves."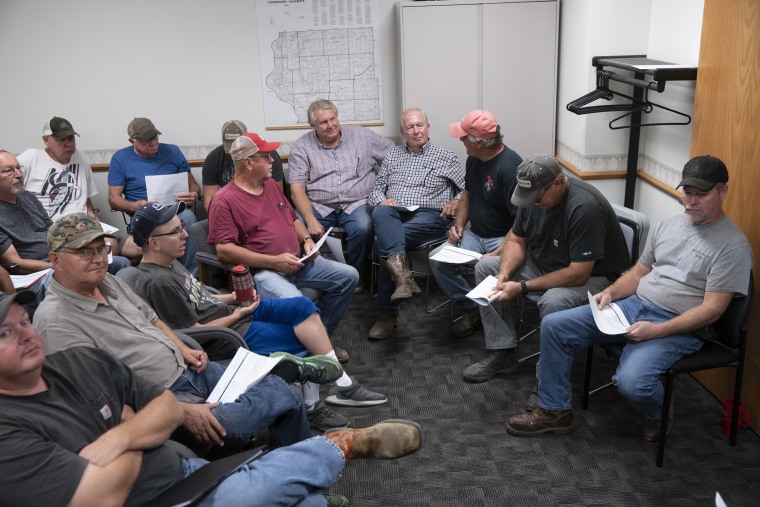 Mike Woltemath, 46, who farms 2,100 acres along the Missouri River, agreed, but he said something needed to change.
This year he was only able to plant 200 acres and lost 150,000 bushels of corn and soybeans to the floodwaters, and he said it happens with a regularity that is becoming concerning.
"Flooding doesn't just happen here in the Midwest," he said. "It's happening in the Dakotas. It's happening in California. It needs to be addressed. Congress needs to do something about it. It's happening on rivers, and it's happening on our coastlines with these hurricanes."
Woltemath said that Congress could make the most immediate impact by changing how the Army Corps of Engineers controls waterways in the United States, but he said moving Congress was like herding cats.
While many farmers here pin the blame on the Army Corps of Engineers' flood management and hang their hopes on a weather cycle that will come to an end, experts say those who work in agriculture need to prepare for climate change because they will be some of the first affected.
Farmers should expect wetter springs, delays in the growing season, changes in crops that can be planted, crop yields and flooding during harvest. The Midwest can expect to see more flooding, as well, said Bryan Peake, a climatologist at the Midwestern Regional Climate Center.
Many of these changes could occur within the next 30 to 40 years, Peake said.
He also noted that farmers aren't entirely wrong about the Army Corps of Engineers not managing the water correctly, but he explained that it is because the Corps has not changed its standards to account for the added precipitation from climate change.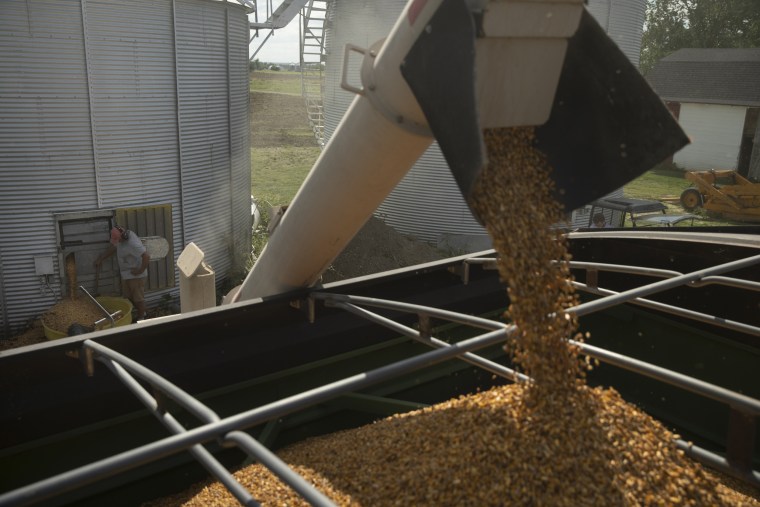 "We're talking about updating and getting a better understanding of what probable flood levels would be rather than the current 100-year or 1,000-year flood," Peake said. "Really it's a probability of that happening any given year. We need to update those standards to more current precipitation levels to better understand how to build infrastructure."
With the agriculture industry serving as a potent member of Iowa's economic engine, climate change is increasingly becoming an important political issue as the state inches closer to the Democratic primary and the 2020 presidential election.
Farmers should expect wetter springs, delays in the growing season, changes in crops that can be planted, crop yields and flooding during harvest.
That again became apparent earlier this month as Iowa stepped into the spotlight on the issue with a visit from Greta Thunberg, the young climate activist who has brought the issue to the international stage and decided to join students for a climate strike at the University of Iowa.
But even in a college town, the apparent tension over climate change was felt when a university professor attempted to advertise that the young activist was coming to speak through the school's social media channels. The university refused to promote the event, citing its policies against supporting policy change.
"We're in a red state right now," Michelle Scherer, the university professor who tried to promote the event and teaches a class on designing climate solutions, said. "I think it was viewed as a partisan issue, and I think the university is trying to play nice with the state and not draw attention to issues that will potentially defund them. I appreciate that, but this to me is a bit of stepping over the line."
The university emphasized that they are actively engaged in climate change research and said that, as is stated within their own policies, Scherer "was advised against using university channels to publicize or promote policy change and instead recommended posting about university climate change research."
Nevertheless, students, Scherer said, were disappointed by the university's line. Those within the Environmental Engineering and Science department at the school were particularly dejected.
To them, the issue isn't political or partisan, but thoroughly documented science.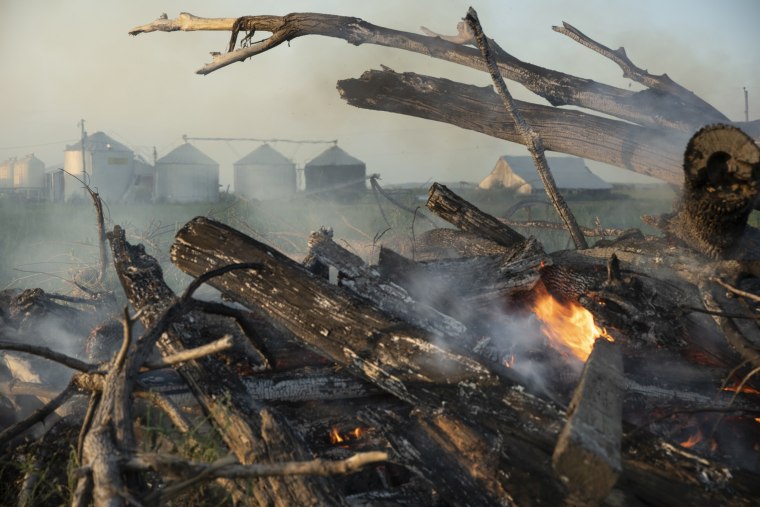 "That's what's really confusing to us in the department because we're scientists who look at this data regularly," said Jessica Ewald, a fourth-year PhD student. "It's not political: It's the data."
Despite that disappointment, however, Ewald said she believes that a dialogue around climate change is developing in Iowa — especially in rural communities.
Ewald lives on a 200-acre farm in a small town outside of Iowa City that was impacted by the flooding from the Mississippi River. She said people don't mention climate change specifically but farmers and locals do express a growing concern about a severe shift in weather and the way it has caused flooding and delayed planting in a state known for its agricultural economy.
"These are tangible changes that people are experiencing, and though they don't call it climate change, I think we're all aware of the same problem," Ewald said. "It's hard to deny a lived experience."