"You never want a serious crisis to go to waste," Rahm Emanuel, former President Barack Obama's first chief of staff, once said.
The spirit of the now-mayor of Chicago's words live today among climate change researchers and activists, who are using a string of emergencies around the globe to draw attention to human-driven global warming.
With deadly wildfires scorching Greece and California, drought throwing Capetown, South Africa, into a water crisis and deadly heat searing Japan, just days after flooding killed 150, the signs of an over-stressed planet seem everywhere.
For many who study such calamities, the moment cries out for an explanation and offers an opportunity.
"Obviously, the first order of business in extreme events like these is protecting public safety and coping with the tragedy," said Ben Strauss, CEO of Climate Central, a Princeton, New Jersey-based non-profit that helps educate the public about global warming. "But it's also important to understand why these things are happening and why we can expect more and more of them. And the reason is climate change."
Experts previously have been hesitant to attribute specific extreme weather events, or wildfires, to climate change. But there is now a developing consensus that scientists can be more precise and forceful in connecting some extreme weather events to a warming planet.
A feature article in the journal Nature Monday suggested that "attribution" research is allowing scientists to connect more weather anomalies — particularly heat waves, droughts and wildfires — to global warming. The article said that scientists had completed "attribution" studies on 190 extreme weather events between 2004 and the middle of 2018. In about two thirds of those cases, the researchers concluded the events had been made more likely, or more severe, because of humanity's role in warming the Earth.
The toll in Japan hit me and told me ... this is a new era for extreme weather and climate change.
Last year, for the first time, studies suggested that three weather anomalies — a string of Asian heatwaves, record temperatures around much of the world and ocean warming in the Gulf of Alaska and Bering Sea — wouldn't have happened were it not for climate change.
"We have more confidence scientifically than in the past," said Corinne Le Quéré, director of the Tyndall Centre for Climate Change Research at the University of East Anglia in Norwich, England. "I feel more brave personally to say to people, 'How was it in the past and how has it changed now?' There are cases — especially with extreme heat and drought and fires — where the logic in everyone's mind is correct: It's connected to climate change."
Americans alarmed about climate change often describe events close to home — bigger and more frequent hurricanes in the South or freakish torrential rains and flooding in the Northeast — as their personal "wake up" call.
Past weather crises have prompted umpteen questions about how Earth is changing, said Frank Niepold, climate education coordinator for the National Oceanic & Atmospheric Administration (NOAA). "With these situations people really start looking at the underlying issues," said Niepold, whose agency oversees Climate.gov and other global warming websites. "We see that and we try to create that exchange with them so they can learn."
Strauss found sobering testimony in the one-two wallop of flooding and record heat that hit Japan early in July — killing nearly 200 people.
"Japan knows disaster and how to handle disaster, better than any other country in the world," said Strauss. "If even they were not prepared, then none of us are. The toll in Japan hit me and told me . . . this is a new era for extreme weather and for climate change."
Strauss's organization, Climate Central, updates its online educational materials tied to climate news. A recent posting shows how the number of extremely hot days is increasing across the U.S. A chart shows that the number of 90-plus-degree days in Miami climbed from about 40 in 1970 to more than 100 in 2017.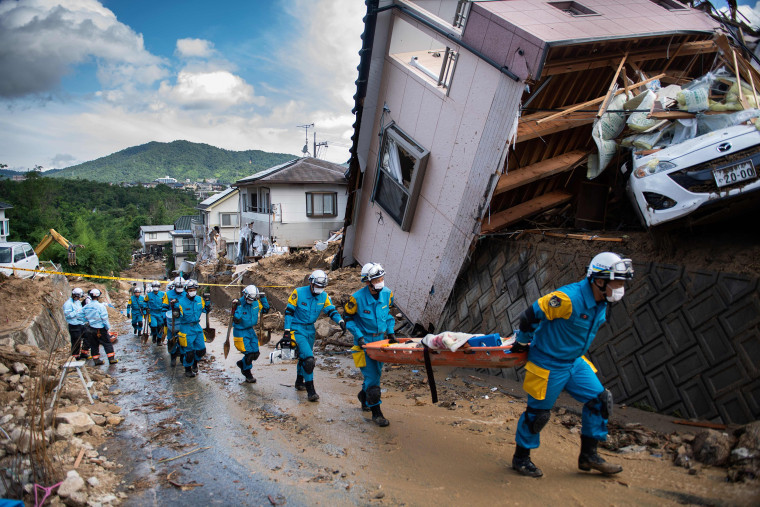 Emanuel suggested in 2008 that crises offered opportunities for leaders to advance important new initiatives. He said the energy crisis of the 1970s provided an opportunity for important changes that did not happen. And Tony Leiserowitz, who measures public opinions on climate issues as director of the Yale Program on Climate Change Communication, said media outlets should be much more forceful, and persistent, in drawing connections.
"When we have these horrific wildfires ripping apart California, or devastating droughts and all the rest, each one of these events is a teachable moment," Leiserowitz said. "We are not having this conversation nearly enough or on the scale it urgently needs."