A mountain climber stranded for three days on Washington's Mount Rainier revealed that the group was gripped by "breakdowns" and "panic attacks" during their ordeal.
"We kind of just had to be there for each other," Yevgeniy Krasnitskiy told reporters from a Seattle hospital Thursday, hours after being rescued near the summit of the 14,410-foot mountain.
The four men set out last Friday and were spotted signaling for help Monday afternoon by a helicopter. They were unable to continue the climb up the mountain, about 75 miles southeast of Seattle, due to high winds when bad weather came earlier than expected. One member of the group also struggled with altitude sickness.
By Wednesday, Krasnitskiy said they were all "pretty weak" and were running out of supplies and gas.
"We got hit by this gale for about four hours," said Krasnitskiy, who lives in Portland, Oregon. "We just sat there hunkered down with our two sleeping bags that we had left over. And that's when, I remember it really hit me: How there are so many people out there who are right now thinking about us, and have no idea what's going on with us."
He added: "I kept yelling out to my friends that, 'We have to get there, we have to finish this — because we have to let them know that we're still around.'"
They were rescued from Mount Rainier by a helicopter on Thursday morning, three days after calling 911 reporting they were stranded at 13,500 feet.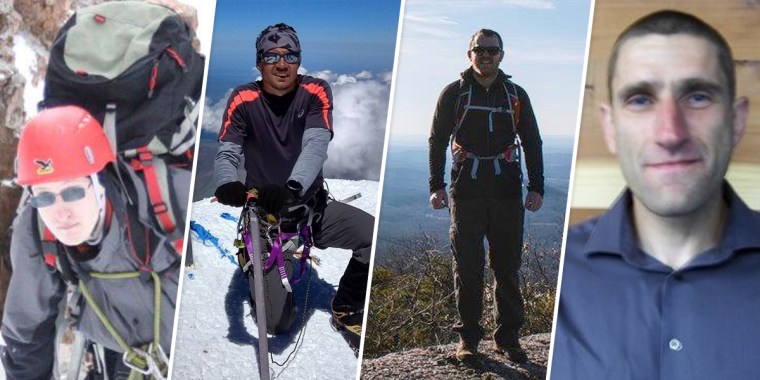 They all suffered exposure and frostbite, and some showed signs of being injured by falling ice, Harborview Medical Center emergency medical physician Dr. M. Kennedy Hall said. All four climbers were described as being in satisfactory condition.
Hall said that actions the climbers took, including sleeping with their helmets on, as likely life-saving. "I think it is remarkable what these individuals overcame," Hall said.
Bad weather with high winds repeatedly thwarted rescue attempts, authorities said.
Krasnitskiy said the group had been planning on climbing Mount Rainier since December via the Liberty Ridge route, which is described as one of the more technical routes on the mountain.
But after a climber was killed in a rockfall where that group had camped last week, Krasnitskiy's group planned to make a quicker ascent and skip that site, and to camp near the summit.
They set out from a low camp Saturday night, but things did not go as anticipated, he said. One of the climbers got severe mountain sickness, there was snow and they got slightly off route, and on Sunday evening they camped in an outcropping in a place they did not plan on.
"At night the storm hit," Krasnitskiy said. High winds ripped the tent, and in the morning he discovered his backpack had slid down the slope.
They were all suffering from hypothermia by Monday morning. They found a spot with cellphone reception and called 911. Within 10 minutes, a helicopter appeared, Krasnitskiy said.
"They tried to swoop in and land, but they just couldn't get in there because the wind was just blowing in that direction," he said. The group moved down the mountain where it might be calmer, but again the helicopter could not get through because of the wind, which the park service said were around 50 mph.
On Tuesday a Chinook military helicopter appeared but again could not reach the climbers due to the weather, he said. The group settled in for the night, amid wind and snow, and rocks or ice and snow fell and hit them, partially burying the tent.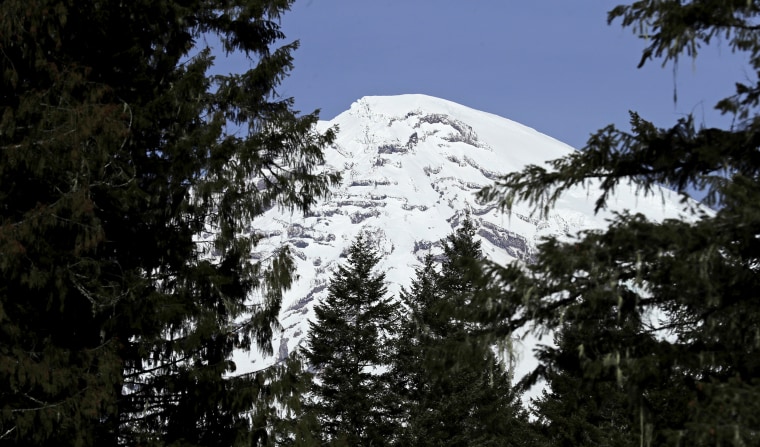 Running low on supplies, they ascended further up the mountain and the four climbers shared the two sleeping bags they had left as a gale battered them for four hours. Wednesday night they stayed in a crevasse that was filled in and which resembled an ice cave, which sheltered them from the wind.
The group was spotted by a park helicopter at around 9:15 a.m. while flying during a brief window of good weather, and they were seen between Liberty Cap and Columbia Crest, Mount Rainier National Park said in a statement.
Krasnitskiy, 39, said he kept thinking about "the people who are waiting for you."
"I wanted to see my friends. I wanted to see all of their faces, I wanted to hang out with them, I wanted to have beer with them, I wanted to have conversations and jokes, and get in trouble and out of trouble — you know, not as severe," he recalled.
Krasnitskiy added: "You have to go until you can go no more. That's just life: You just have to keep going."