A clinic that was accused of pushing bogus "pray away the gay" therapy — and is owned by former Rep. Michele Bachmann's husband — was cited by Minnesota health inspectors for failing to properly keep patient records.
Inspectors going through the paperwork at the Counseling Care clinic in Lake Elmo found last month that "developmental condition" and other legally-required information was missing in the records they perused, a Minnesota Department of Human Services correction order dated March 20 states.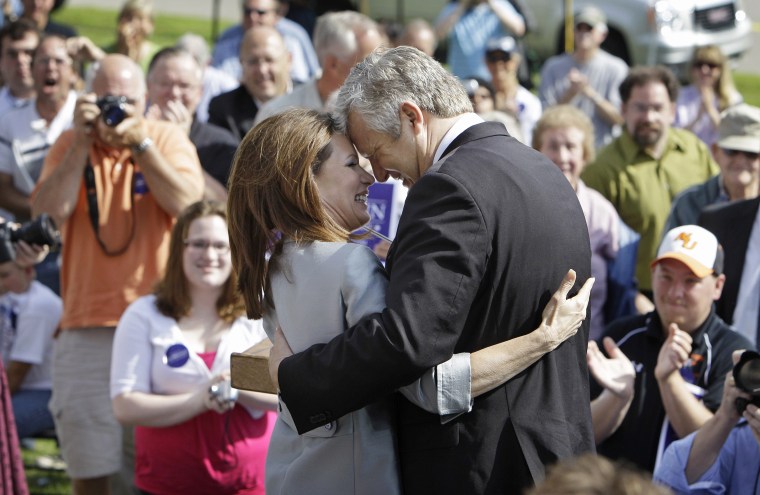 Marcus Bachmann said they were guilty of making "minor clerical errors."
"We are taking the necessary steps to correct them," he told NBC News in a telephone interview from Florida, where he said he and the former congresswoman "are on vacation." "We were told that compared with other facilities reviewed we did very well."
The Counseling Care clinics in Lake Elmo and Burnsville became an issue during Bachmann's failed presidential bid in 2012 when her husband was accused of practicing "conversion therapy" — a widely-debunked method for turning gay people straight that critics lampooned as "pray the gay away."
Marcus Bachmann's clinics were also found to have taken $137,000 from Medicaid — a federal program the Republican congresswoman claimed was swelling "welfare rolls."
In the telephone interview, Marcus Bachmann insisted again that they don't offer gay reversal therapy.
"We never have and we have absolutely no intention to ever do that," he told NBC News, adding that his operation would not be getting this much attention if his name wasn't Bachmann. "There's no question that this is intentional."
State officials agreed that the citations aimed at Counseling Care "are common for clinics."
"The clinic has 20 days to ask the DHS legal department to reconsider the order," the agency said in a statement. "If the clinic does not request reconsideration, it has 30 days from the time of correction order issuance to correct the items. DHS has no reason to believe that the clinic will not comply."
But this is not the first time that Marcus Bachmann's outfit was caught violating state rules governing patient record keeping. It was cited for the same kind of violations in 2005 and 2009, the papers state.
Bachmann, who represented the Twin Cities suburbs from 2007 to 2015, is a Christian conservative who became well known for her opposition to same-sex marriage and her frequent appearances on cable TV news programs.
In 2011, a gay rights group called Truth Wins Out sent an activist named John Becker undercover into the Lake Elmo clinic and recorded a therapist quoting Bible verses and assuring him that homosexuality could be reversed.
Counseling Care makes no secret of its orientation and neither does Marcus Bachmann in a videotaped interview on its site.
"We are a Christian-based counseling agency," he said. "We are sincere people interested in a practical approach toward helping people that have goals in life of wanting to change their lives."
The company employs 25 counselors who deal with family and grief therapy along with things likes pornography addiction, anger management and other issues.
Bachmann stressed that while they are primarily focused on patients interested in the "integration of faith" in their counseling, they're also open to people who aren't.