This piece was originally published by MapLight.org, a non-profit research and advocacy group that works to "reveal money's influence on politics."
Throughout the 2016 presidential campaign, Hillary Clinton has faced scrutiny over her paid speeches to Wall Street banks and other corporate interests. Her family's philanthropic foundation has also been criticized for raising millions of dollars from companies and countries with business before the State Department during her tenure as Secretary of State.
In February, Clinton rejected the idea that "anybody who ever took donations or speaking fees from any interest group has to be bought," and asserted that "you will not find that I ever changed a view or a vote because of any donation that I ever received."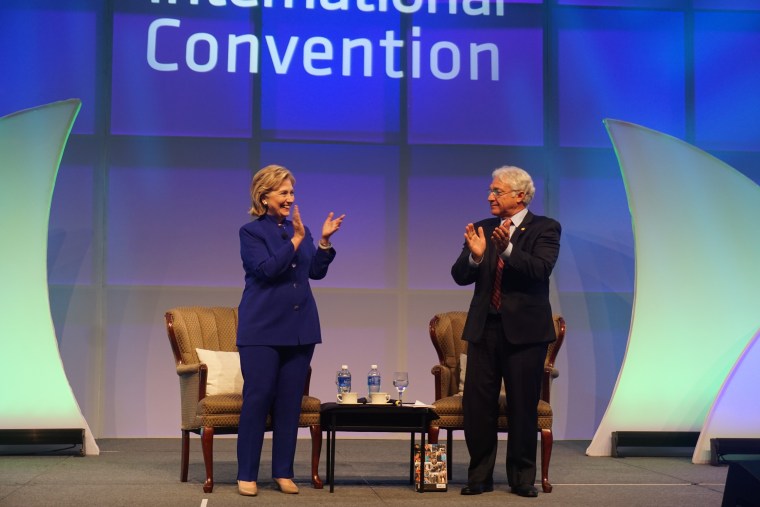 A MapLight review of documents and financial disclosures found that Clinton has expressed very different views on genetically modified (GMO) foods to voters than to diplomats and major players in the industry who lobbied the State Department, paid her family speaking fees and contributed to the Clinton Foundation.
The agricultural industry and consumer groups have long battled over whether products made with GMO ingredients should be labeled. Industry groups say labels are unnecessary, because genetically modified seeds pose no health risks, can increase crop yields and help combat the effects of climate change. Activists argue the industry is overstating the benefits of GMO seeds, and that the planting of such seeds has led to an increase in the use of toxic herbicides. They want labels on GMO products so consumers can make informed choices.
Click Here to Read MapLight's Version of This Article
Publicly, Clinton has expressed support for GMO labeling. "Hillary Clinton's position has not changed," Josh Schwerin, a spokesperson for her presidential campaign, told MapLight. "She has been supportive of GMO labeling," Schwerin said, noting that Clinton "strongly opposes" a bill passed by Congress on Thursday that would implement a national labeling standard, while prohibiting states from instituting their own stricter GMO labeling rules. In March, she wrote that "Congress shouldn't block states from giving families information about their food."
In the past, Clinton has expressed support for a federal voluntary labeling program. During her 2008 presidential bid, Clinton endorsed a mandatory GMO labeling proposal from the Campaign to Label Genetically Engineered Foods, according to a report from the Des Moines Register in Iowa.
In other settings, Clinton has sounded a more pro-industry tune. At the State Department, Clinton sought to promote the biotech industry abroad, writing: "Agricultural biotechnology has great potential to help address the challenges of food insecurity and mitigate climate change." She urged diplomats to "pay particular attention" to countries "that have key biotech legislation pending or are at a cross-roads on the technology." Clinton's message to diplomats was part of a trove of State Department cables released by WikiLeaks.
Clinton participated in a paid forum with the Biotechnology Innovation Organization (BIO), an advocacy group that has helped lead the fight against labeling laws, in 2014. She told the group's president, "I stand in favor of using seeds and products that have a proven track record that you say and I agree is scientifically provable," and spoke of her efforts to promote GMO seeds in Africa while serving as Secretary of State.
"The question of genetically modified food or hybrids has gone on for many, many years. There is again a big gap between what the facts are and what the perceptions are," Clinton said, before offering the industry some public relations advice.
"'Genetically modified' sounds Frankensteinish," she said. "'Drought-resistant' sounds really something you want. So how do you create a different vocabulary to talk about what it is you're trying to help people do. And that I would urge the association and companies working in this area to try to be more thoughtful about so that you don't raise that red flag immediately."
The San Diego Convention Center, where Clinton's BIO event was held, was instructed not to release information related to her forum to the media or public, according to a document obtained by MapLight through a public records request. A video recording of Clinton's appearance was posted by the Times of San Diego on YouTube.
BIO paid Clinton $335,000 for speaking at its convention in 2014, after she left the State Department. The group had previously paid former President Bill Clinton $175,000 for a speech in 2010, while Hillary Clinton was Secretary of State. BIO told the Wall Street Journal last year that its payments to the Clintons for speeches were not related to its lobbying.
Under an agreement with the Obama administration, Bill Clinton's speeches were reviewed by ethics officials at the State Department for possible conflicts of interest. In Sept. 2009, officials cleared him to speak at BIO's annual convention at the same time the group was lobbying his wife's State Department to oppose possible foreign regulations on GMOs. BIO is one of ten organizations that paid former President Bill Clinton for speeches around the time they were lobbying Hillary Clinton's State Department.
"Generally speaking, the mere fact that an entity has some business before the department would not necessarily have created a conflict of interest for Secretary Clinton if former President Clinton interacted with such an entity, or gave a speech sponsored by such an entity," John Kirby, a State Department spokesperson, told MapLight. "The proposed speaking engagement was reviewed at the time by career lawyers in the department's ethics office and was cleared."
Emails obtained by Judicial Watch -- a conservative watchdog group suing the State Department for documents related to Hillary Clinton's time there -- show that an official raised at least one issue about Bill Clinton's speech to BIO, but most details related to the ethics review were redacted before they were released.
"The department's actions under Secretary Clinton were taken to advance administration policy as set by the president and in the interest of American foreign policy. The State Department is not aware of any actions that were influenced by the speech honoraria or consultancies of former President Bill Clinton," Kirby said.