Months after she left her post as Secretary of State, Hillary Clinton used her private server to send an email to high ranking staff and members of the diplomatic corps about a nuclear energy-related deal with the United Arab Emirates, NBC News confirms.
The email was one of over 800 pages of emails, provided to the Republican National Committee in response to a Freedom of Information Act request for documents sent the years following Clinton's tenure as Secretary to top aides still at the State Department.
As was first reported by the New York Post, the email was heavily redacted for containing information that is now considered classified.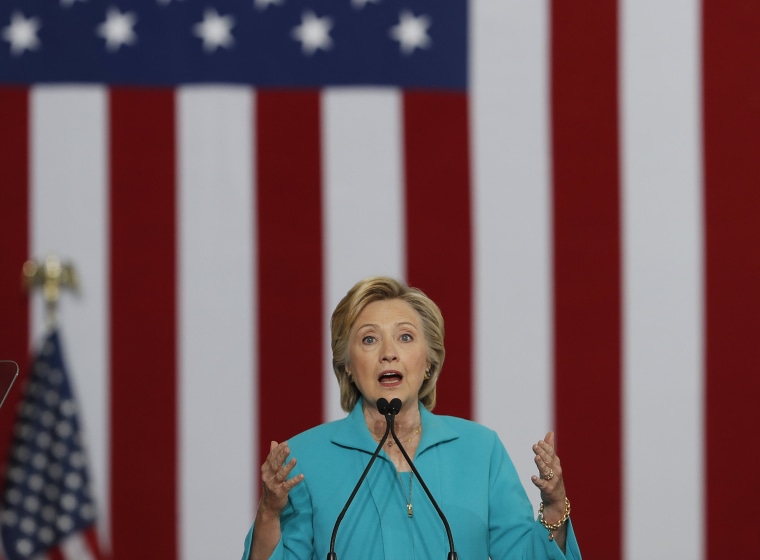 State Department Spokesman John Kirby told reporters on Wednesday that while the email was retroactively classified, "As we have previously explained, our FOIA process is focused on whether information needs to be protected today, not on whether an email was classified at the time it was sent."
Related: State Department Will Give Up Additional Unreleased Hillary Clinton Emails
In the email dated May 28, 2013, Clinton recalls "remember how after US signed 123 deal (with) UAE and we were in Abu Dhabi".
The deal referenced was a 2009 pact between the U.S. and UAE to share nuclear energy information and materials. The United Arab Emirates also agreed not to pursue potential routes to crafting an atomic weapon such as enriching uranium or extracting plutonium.
Clinton sent the email to former deputy Secretary of State William Burns, Jeffrey Feltman (a diplomat who is now the U.N. Under Secretary General for Political Affairs), Jake Sullivan (then a policy director and deputy chief of staff and now top foreign policy advisor to the Clinton campaign), Kurt Campbell, (a diplomat who was once an assistant Secretary of State), Cheryl Mills (who was a then a counselor and State Department chief of staff), and Huma Abedin (then deputy chief of staff who remains one of Clinton's top aides on the campaign).
Related: State Dept: FBI found 15,000 more Clinton emails
The Trump campaign criticized the move.
"Hillary Clinton's secret server jeopardized our national security and sensitive diplomatic efforts on more than 2,000 occasions, and shockingly, it now appears her reckless conduct continued even after leaving the State Department. Hillary Clinton's terrible judgment shows she cannot be trusted with our national security," Jason Miller, a senior communications advisor to the Trump campaign said in a statement.
Although more emails are expected to be provided to the RNC by the State Department in response to this FOIA request, this was the only email sent or received by the former secretary which was upgraded to classified and was done so at the lowest level of "confidential."
"I am not going to speak to the content but I would point you to that one of the FOIA exemptions here we used was 1.4B which is foreign government information," said Kirby. "And as we previously explained, while foreign government information may be protected from public release, both the executive order on classification and the foreign affairs manual acknowledge that foreign government information can often be maintained on unclassified systems."