Nevada Rancher Cliven Bundy on Wednesday again claimed that states hold authority over federal land in the West. He also defended the armed 2014 standoff over grazing fees that resulted in a trial, which ended this week with the high-profile case being dismissed.
Bundy, 71, was accused along with his sons of leading an armed uprising against federal authorities who sought to seize his cattle over unpaid grazing fees. Bundy claimed he was a political prisoner when he was jailed for nearly two years. The case was dismissed by a judge Monday.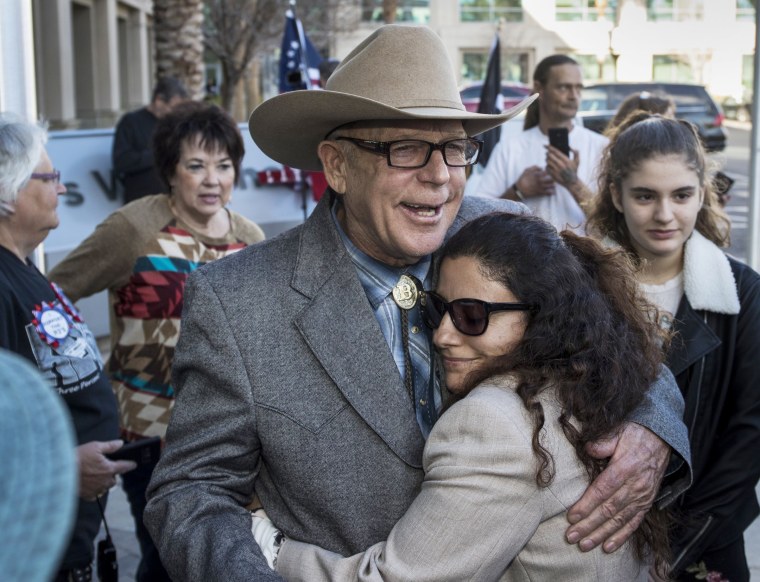 "I just spent 700 days in their damn jail. I'm a little bit upset about that sometimes," Bundy told a crowd of media and supporters in Las Vegas.
"Now I've got to make the decision whether I'm going to be bitter the rest of my life, whether I'm going to forgive them," Bundy said. "But one thing's for sure: I'm going to go back and ranch."
Bundy did not say if he would file a lawsuit in the matter, but suggested he is considering it. He said he was in Las Vegas to try and meet with the county sheriff, but was told the sheriff did not have time. Bundy said that in 2014 "we stood for freedom and liberty" and that "we stood for the sovereignty of the state of Nevada, we stood for statehood."
He also questioned whether the federal government is allowed to own most of the land it does in the West under the Constitution, and portrayed ranchers like himself as protecting it. Environmental groups have said federal land already belongs to the people, and federal control ensures they are accessible to the public.
The armed standoff between supporters and the federal government, and Bundy's subsequent arrest and trial, galvanized those who accuse the government of overreach.
Chief U.S. District Judge Gloria Navarro on Monday dismissed criminal charges against Bundy and his sons, and severely criticized prosecutors for what she called "willful" violations of due process rights of defendants, including failing to properly turn over evidence to their lawyer.
Prosecutors said Bundy failed to pay grazing fees for more than two decades. When federal agents tried to seize 400 of his cattle over the illegal grazing Bundy allegedly vowed a "range war" against the federal Bureau of Land Management, according to court documents. The government claimed Bundy and others recruited armed supporters to come and oppose the seizure.
Government agents eventually backed down in the face of armed people who took up sniper positions, the government said in court documents. No shots were fired.
Bundy was arrested in February 2016 for the 2014 standoff after he arrived in Portland, Oregon, to visit his jailed sons Ammon and Ryan. They were in prison for the armed occupation of a wildlife refuge in that state that lasted six weeks. A jury in Oregon acquitted Ammon and Ryan Bundy in that case in October.
Cliven Bundy, asked about grazing fees Wednesday, said "I graze my cattle only on Clark County, Nevada, land and I have no contract with the federal government." He said that the land belongs to the states.
Among the protesters, several gunmen who had assault-style rifles in the 2014 incident were acquitted of criminal charges in two trials last year, the Associated Press reported.
President Donald Trump in December announced cuts to the amount of land protected by monument status at the Bears Ears and Grand Staircase-Escalante national monuments in southern Utah from 3.25 million acres to a total of 1.23 million acres.
They will now be five smaller monuments, named Indian Creek, Shash Jaa, Grand Staircase, Kaiparowits and Escalante Canyons.
Trump said his action was designed to reduce what he said had been a massive overreach by previous Democratic presidents and to return more control over the rugged, sparsely populated region to local officials. Opponents have said the reduction will open the scenic land to incursions by oil and gas drillers and off-road vehicles.