Renegade rancher Cliven Bundy is, in many ways, the father of the anti-government resistance that spawned a deadly standoff at an Oregon wildlife refuge.
And now, like his two sons and many of his proteges, he's facing prison.
Bundy, 69, was arrested in Portland Wednesday night after flying from Las Vegas to see his jailed sons — and visit the Malheur National Wildlife Refuge, where four protesters were holding out against federal authorities in a simmering land-rights dispute. He was charged with an array of crimes, including assault on a federal officer, related to his own armed standoff with authorities near his Nevada ranch in 2014.
A few hours later, on Thursday morning, the last of the holdouts at Malheur surrendered, bringing the 41-day siege to an end.
With the three Bundys behind bars and the occupation over, their movement — rooted in the belief that the federal government is trying to force Western ranchers off their land — is in crisis.
But the Mormon cowboy who embodies it, along with his family, remain defiant.
Briana Bundy, one of the patriarch's daughters-in-law, compared federal agents to Nazis.
"This time, they're rounding up the patriots instead of the Jews," Briana Bundy told The Associated Press.
Bundy, a father of 14, considers himself a custodian of the 150 acres of desert scrub where generations of Bundys have raised cattle.
Related: Remaining Oregon Occupiers, Surrounded by FBI, Surrender
But the land is owned by the U.S. Bureau of Land Management — and Bundy has refused to pay grazing fees for more than two decades. He says the government is plotting to take "his" land and put others out of business through over-regulation.
Two years ago, Bundy, along with a posse of armed supporters, faced down federal rangers trying to execute a court order to confiscate 500 of his cattle for illegally grazing on public land. He vowed a "range war" against the government, according to court documents.
Critics called them domestic terrorists. Supporters called them patriots. Bundy was called a racist for questioning in an interview whether whether black Americans were "happier" under slavery.
With Bundy's supporters taking sniper positions around them, the outnumbered agents left. The apparent victory burnished Bundy's legend. He became the face of the fight over 300 million acres across 13 Western states, and the federal government's attempts to protect the land from development.
But the federal government, which says Bundy now owes more than $1 million, didn't forget.
On Jan. 2, two of Bundy''s sons, Ammon, 40, and Ryan, 43, followed in his footsteps, leading armed protesters into Malheur, about 300 miles southeast of Portland, to support local ranchers accused of setting fires that spread to public land.
Three weeks later, the brothers were among five occupiers arrested during a traffic stop as they drove to a public meeting. A sixth member, 54-year-old Robert LaVoy Finicum, was shot dead.
Ammon Bundy, through his lawyer, appealed for the remaining protesters to go home. Some refused.
This week, as authorities began to circle the holdouts, Cliven Bundy flew to Oregon. The family's blog announced Wednesday that he was headed to Malheur.
But when Bundy arrived in Portland, sometime after 10 p.m. Wednesday, he was surrounded by authorities, according to his family's Facebook page.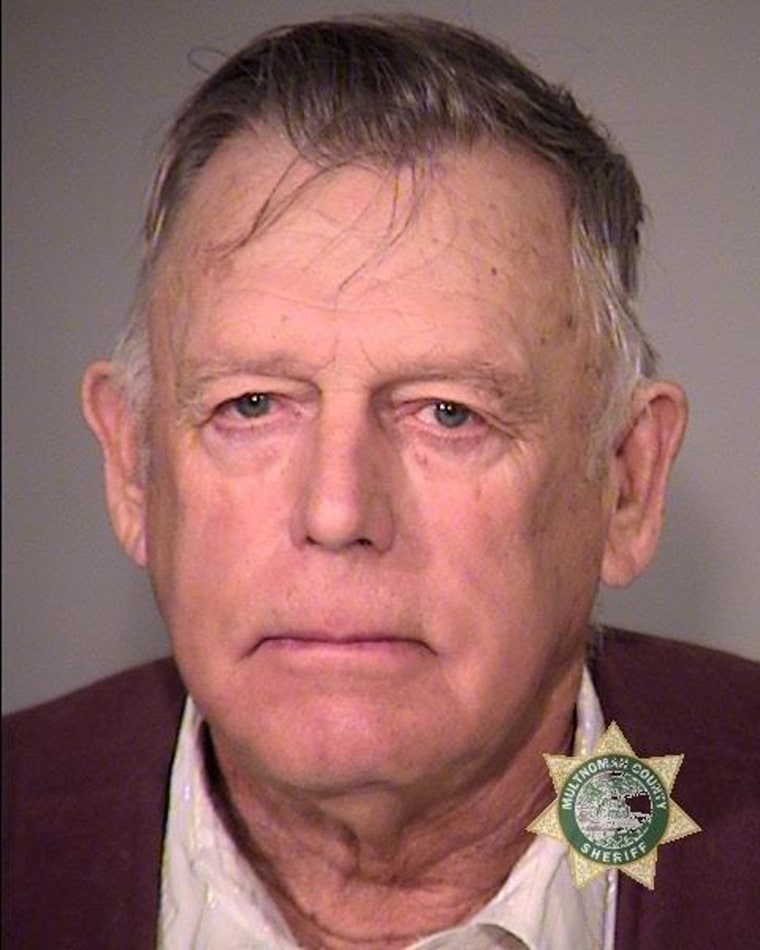 On Thursday, federal authorities in Nevada filed a criminal complaint related to the April 2014 standoff, charging Bundy with leading "a massive armed assault" on government agents "in order to extort the officers into abandoning approximately 400 head of cattle that were in their lawful care and custody."
He was charged with conspiracy, assault on federal agent, illegal use of a firearm, obstruction of justice and interference with commerce.
He remained in the Multomah County Jail in Portland with his sons — while the resistance's future remained unclear.