A federal grand jury on Wednesday indicted Nevada rancher Cliven Bundy, his two sons and two other men in connection with a 2014 armed standoff, nearly two years after the confrontation that thrust them into the national spotlight.
The indictment of Bundy, 69, his sons Ammon and Ryan and two other men, Ryan Payne and Peter Santilli, in the Nevada standoff comes three weeks after the collapse of another armed protest over federal land management in Oregon led by the Bundy sons.
"The rule of law has been reaffirmed with these charges," U.S. Attorney for the District of Nevada Daniel Bogden said in a statement.
"Persons who use force and violence against federal law enforcement officers who are enforcing court orders, and nearly causing catastrophic loss of life or injury to others, will be brought to justice," Bogden said.
Related: Cliven Bundy, Father of Rancher Resistance, Faces Prison
Cliven Bundy and the others are charged with conspiracy to commit an offense against the United States, assault on a federal officer, obstruction, extortion and other counts in connection with the Nevada standoff.
Cliven Bundy became the face of resistance to the federal government when he and hundreds of supporters, many armed, faced down government agents who seized his cattle over unpaid grazing fees and trespassing on public land.
Rather than risk a firefight, the agents abandoned the approximately 400 head of cattle. Bundy continued to graze the cattle illegally on public land, according to the indictment.
"Today marks a tremendous step toward ending more than 20 years of law breaking," Bureau of Land Management Director Neil Kornze said in a statement. "The nation's public lands belong to all Americans."
Ammon and Ryan Bundy and Payne and Santilli were previously arrested in connection with the recent armed protest over public lands in Oregon.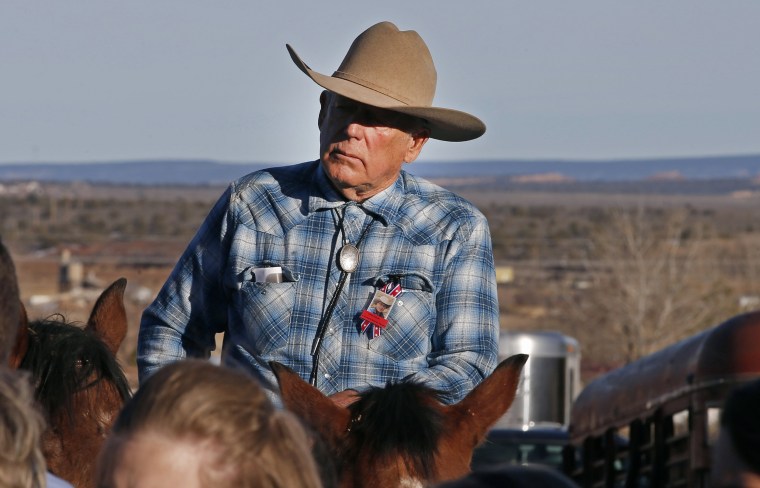 Ammon and Ryan Bundy led an armed group that took over the Malheur National Wildlife Refuge on Jan. 2 and stayed there for more than three weeks, calling for the release of two local ranchers convicted of burning public lands, and for the federal government to turn over public lands to local control. The Bundys and others were arrested Jan. 26, and the last four holdouts surrendered last week.
The Nevada indictment accuses the five men of playing key roles in what it called "a massive armed assault" against federal agents on April 12, 2014, to retake the seized cattle.
Ammon Bundy is accused of leading a group of around 200 armed protesters to confront the federal agents holding the cattle.
During the confrontation over the cattle, some of the protesters took up sniper positions on a bridge overlooking federal officers.
Ammon Bundy's attorney, Mike Arnold, said Wednesday, "the Nevada indictment is no surprise."
"It's important for the public to remember that there is a constitutional presumption of innocence in America, Arnold said. "A government charge is proof of nothing."
Related: Refuge Occupiers Dug Trenches near Artifact Sites, Feds Say
The government took Cliven Bundy's cattle after he grazed the animals on public land for decades without obtaining permits or paying fees, prosecutors say. He owes more than $1 million in unpaid grazing fees.
More than 300 million acres of land in 13 Western states is public land managed by the federal government.
Santilli, 50, an internet radio host, allegedly broadcast messages encouraging others to come to Nevada and support the armed protest, federal prosecutors said, and helped lead what the government termed assault on officers. Payne, 32, allegedly recruited others and played a lead role in an armed assault, the government said.

The most serious charges in the Nevada indictment, interfering with interstate commerce by extortion and interstate travel in aid of extortion, carry maximum sentences of 20 years in prison each. Each man faces four counts of using and carrying a firearm in an act of violence, which carry a minimum sentence of 5 years each.
And the indictment charges allow prosecutors to seek the forfeiture of at least $3 million in property upon conviction of some of the charges.
All five are currently being held without bail at the Multnomah County Detention Center in Portland, according to jail records.