A series of military aviation crashes in three states left seven people dead during the first week of April, including an elite Air Force pilot, four Marines and two soldiers. Two more nonfatal incidents involving Marines on April 3 — a crash and a rough landing — prompted a "safety stand-down" and the cancellation of a training exercise, the Navy said.
While the crashes do not appear connected, they come just weeks after a helicopter crash in Iraq killed seven airmen on March 15.
According to military data, these and other incidents are a grim uptick in what the Pentagon describes as "class A mishaps," or the most serious accidents that end in death, permanent disability, the destruction of an aircraft or more than $2 million in damage.
In the first two and a half months of this year, there were six such crashes resulting in five deaths across all branches of the armed services. Between March 15 and April 6, 14 people died in seven incidents.
The military is still investigating the most recent crashes and declined to comment on them, though a Marine spokeswoman told NBC News that every "mishap was unique."
"We have not found a causal, statically accurate link" between these crashes and "readiness" — or the military's ability to handle its missions, said the spokeswoman, Sarah Burns. "The Marine Corps conducts thorough investigations to learn and attempt to prevent future mishaps."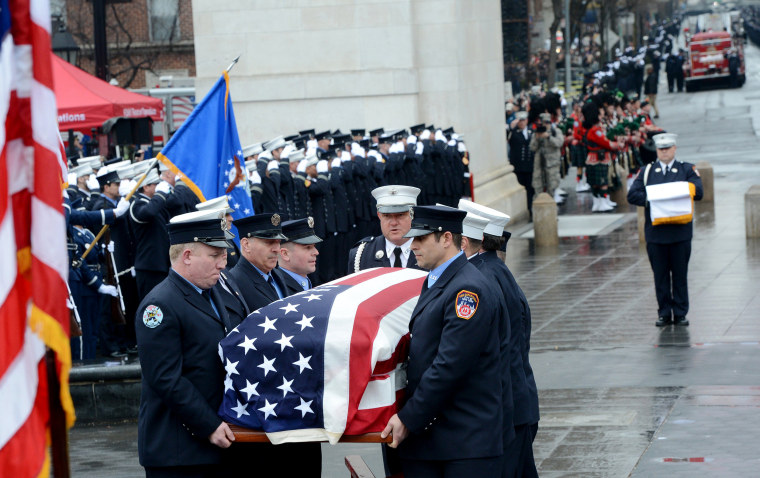 Still, William Angelley, a former Navy pilot and lawyer who's handled aviation crashes for more than two decades, said that he couldn't recall a time when so many things seemed to go wrong in such a short period of time.
The recent string of crashes began on the afternoon of March 15, when an Air Force helicopter used for combat search and rescue crashed in Iraq near the Syrian border, killing all seven airmen on board. Military officials said at the time that the HH-60 Pave Hawk did not appear to have been struck by enemy fire.
Two more nonfatal incidents involving helicopters — an Air Force Osprey and a Marine CH-53 Super Stallion — occurred on March 19 and March 23. On April 3, another CH-53 with four Marines on board crashed 15 miles west of El Centro, California, just over the Mexican border, while conducting squadron training. All four service members, aged 24 to 33, were killed.
On the same day, a Marine pilot taking off from Ambouli International Airport in Djibouti ejected from an AV-8B Harrier, the Navy said in a statement. The jet crashed and the pilot was injured. Two hours later, another Marine CH-53 suffered structural damage while landing on a beach west of the airport — forcing U.S. Naval Forces to cancel the remainder of a training event. (This rough landing was not considered a class A mishap.)
On April 4, a pilot with the Thunderbirds — the Air Force squadron that performs aerobatic formations during military ceremonies — died after crashing his F-16 during a routine training flight in Nevada.
Two days later, two soldiers on routine training at Fort Campbell, Kentucky, died when their Apache helicopter crashed.
Angelley said a number of factors could be to blame, including problems with training, maintenance issues and having "fewer resources and more deployments."
"They're making more out of less resources. When you do that, you can run into problems like this," he said.
Rick Nelson, a former Navy official who directed the homeland security and counterterrorism program at the Center for Strategic and International Studies, a bipartisan think tank based in Washington, described this problem as a "big cyclical loop" in which maintaining or replacing helicopters and jets has lost out amid long, costly wars in Iraq and Afghanistan. Funding for those aircraft hasn't kept pace with the country's operational commitments, he said.
"You're spending your money on wars instead of parts and supplies," he said.
According to fact sheets prepared by the House Armed Services Committee this year, less than half of the Navy's aircraft were unable to fly due to maintenance issues and problems with spare parts, while 80 percent of the Marine Corps' aviation fleet lacked jets and helicopters that were ready to use. The average Air Force plane is nearly three decades old, the committee said, and the Navy and Marines had only 50 percent of the aircraft needed for training and operations.
The war-time mantra of doing more with less led the military to stretch out the life spans of its aircraft through "service life extension" programs, said Jerry Hendrix, a defense expert at the Center for a New American Security, a bipartisan think tank based in Washington.
An F-18 fighter jet may have been intended to last for 6,000 hours, he said, but these programs sought to give them thousands more hours of flying time.
"We determined we could do it, but as you fly the wings off some of these birds, you have a smaller" fleet, he said. "You're using the remainder birds more and more. You're burning them out faster and faster."
This — in combination with funding cuts — led to decreased flying hours for pilots "in a significant way," he said.
Hendrix pointed to an analysis by a researcher at the conservative Heritage Foundation that found Air Force pilots, who once averaged 200 flying hours a year, were down to just over half that by 2014. ("They have been trying to get those numbers up," he said.)
Hendrix added that helicopters, which were involved in all but two of the recent crashes, would experience maintenance problems far more acutely than their fixed-wing counterparts.
"Helicopters are much more difficult to maintain," he said. "We always talk about them as 50,000 parts moving in formation."
After the Apache crashed at Fort Campbell on April 6, the chairman of the House Armed Services Committee, Rep. Mac Thornberry, R-Texas, called the string of recent incidents "heartbreaking" and said the military's readiness was at a "crisis point." But in a statement, he said the spending bill President Donald Trump signed last month — which included a $60 billion increase in the military's budget — could "begin turning this crisis around."
"There can be no higher priority for the Department of Defense than ensuring that our aircraft are safe and that pilots get the training they need," Thornberry said.