The Time Warner Center in New York, which houses CNN's office, was evacuated Wednesday morning after a suspicious package containing a pipe bomb arrived, authorities said.
The package was similar to suspicious packages found near the New York home of Bill and Hillary Clinton and another sent to former President Barack Obama in Washington, D.C., earlier in the week, law enforcement officials said. Another package was addressed to former Attorney General Eric Holder and but sent back to the fraudulent return address, that of Rep. Debbie Wasserman Schultz, D-Fla.
The devices in the packages appear to be pipe bombs, said the New York Police Department's Deputy Commissioner of Intelligence & Counterterrorism John Miller.
The package sent to CNN, which also contained a white powder, was addressed to former CIA Director John Brennan, who doesn't work for CNN but is a senior national security and intelligence analyst for NBC News and MSNBC.
President Donald Trump has repeatedly attacked CNN and Brennan. In July, Trump revoked his security clearance and has called him "the worst CIA Director in our country's history."
"There is a total and complete lack of understanding at the White House about the seriousness of their continued attacks on the media," CNN Worldwide President Jeff Zucker said in a statement Wednesday afternoon. "The President, and especially the White House Press Secretary, should understand their words matter. Thus far, they have shown no comprehension of that."
Miller said following the discoveries of the packages sent to the Clintons and Obama, NYPD officers were deployed to media companies in New York to show them what kind of packages to be suspicious of. NYPD personnel was doing just that with CNN staff when the device there was discovered.
A source with knowledge of the situation who was not authorized to speak publicly said that CNN had steadily increased its security in the past two years, and that the company's security team regularly evaluated threats against the company and its journalists.
The source added that the company had turned over several threats to law enforcement in recent months.
Mayor Bill de Blasio said Wednesday afternoon that NYPD presence would be increased all over the city, especially at the offices of media organizations.
"Don't encourage violence, don't encourage hatred, don't encourage attacks on media," de Blasio said. "Unfortunately, this atmosphere of hatred is contributing to the choices people are making to turn to violence, there's no question about it."
New York Gov. Andrew Cuomo said the increased security was not the result of a specific threat, but out of precaution.
"Terrorism only works if you let it work," he said "We are New Yorkers. We are smart, we are tough, we are resilient, and we will not allow these terrorist thugs to change the way we live our lives."
Rep. Maxine Waters, D-Calif., was also the target of a suspicious package intercepted at a Maryland mail processing facility, according to three congressional leadership sources. The FBI is now investigating whether it is tied to the other packages.
During a briefing on the package sent to CNN, Cuomo said a package had also been sent to his Manhattan office. The package was cleared and unrelated to the others, J. Peter Donald, the assistant commissioner for communications with the NYPD said later.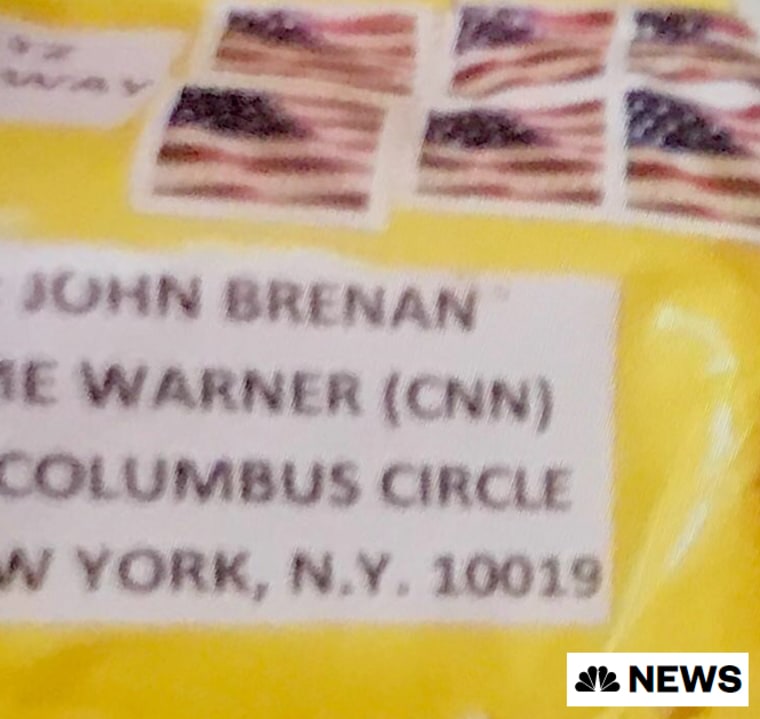 Earlier, the New York Police Department urged people to avoid Columbus Circle, where the Time Warner Center is located. New Yorkers also received an emergency alert on their phones urging the entire block to shelter in place immediately.
Zucker said in a noon statement that the device had been removed from the building, and police were doing another sweep of the building. CNN staffers returned to the building just before 4 p.m.
Zucker said the building had been evacuated "out of an abundance of caution." He said CNN's other bureaus have been checked and found to be safe, but extra security was being set up at Atlanta's CNN Center, which is open to the public.
"As you communicate via social media, out of an abundance of caution, please refrain from sharing any images or geo tags that would reveal your location," Zucker said. "We have no particular reason to be concerned, but just think it would be the most cautious approach."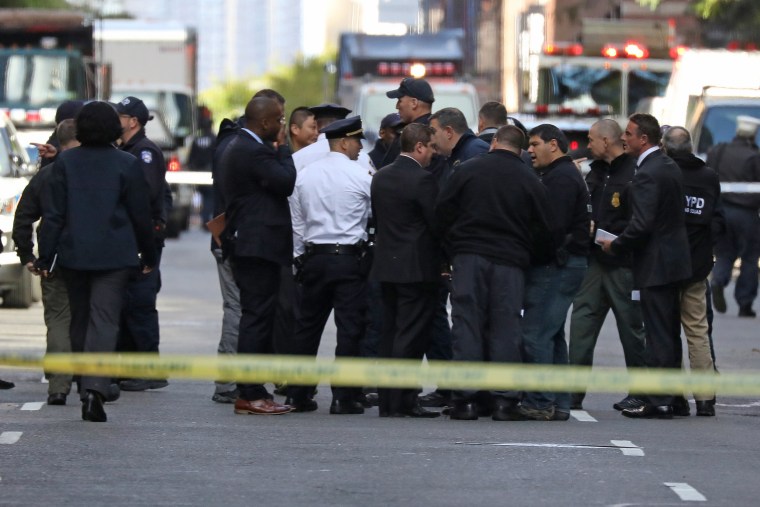 Jim Sciutto, a CNN correspondent, tweeted that the bomb squad responded. "We're told of explosive device received," he wrote. Sciutto and Poppy Harlow were on air at approximately 10:09 a.m. when a fire alarm went off. The two continued to report from their cellphones in the midst of the evacuation.
Sciutto reported that police had delivered a containment vessel used to transport explosive materials, and posted video of it being transported on W. 57th street, a block away from the CBS Broadcast Center.
Zucker said CBS News, whose offices are less than three blocks from CNN, had offered assistance to those evacuated.
The White House condemned the "attempted attacks."
"We condemn the attempted attacks against fmr Pres Obama, the Clintons, @CNN & others. These cowardly actions are despicable & have no place in this Country. Grateful for swift response of @SecretService, @FBI & local law enforcement. Those responsible will be brought to justice," Vice President Mike Pence wrote in a tweet. At an event in Scranton, Pennsylvania, he said the "cowardly acts are despicable."
The president retweeted Pence's tweet, adding, "I agree wholeheartedly!"
"In these times, we have to unify. We have to come together and send one very clear, strong, unmistakable message that acts or threats and political violence of any kind have no place in the United States of America," Trump said later at an event. "It's a very bipartisan statement I can tell you from both sides. We both agree on that."
"This egregious conduct is abhorrent to everything we hold dear and sacred as Americans," he added.
Donald Trump Jr., Ivanka Trump and Eric Trump each condemned whomever sent the packages.
"As someone whose family has directly been the victim of these mail threats I condemn whoever did this regardless of party or ideology. This crap has to stop and I hope they end up in jail for a long time," Donald Trump Jr. tweeted.
Before reports of the package at CNN, White House press secretary Sarah Sanders said in a statement: "These terrorizing acts are despicable, and anyone responsible will be held accountable to the fullest extent of the law."
The package sent to Hillary Clinton was addressed to the former presidential candidate and discovered Tuesday near the Clintons' home in Chappaqua, New York, a suburb of New York City. A second was addressed to Obama and intercepted in Washington, D.C., the FBI and Secret Service said in a statement.
"The packages were immediately identified during routine mail screening procedures as potential explosive devices and were appropriately handled as such. Both packages were intercepted prior to being delivered to their intended location. The protectees did not receive the packages nor were they at risk of receiving them," the statement said.
This comes days after an explosive device was found in the mailbox of George Soros' home in New York, which is about 10 miles away from the Clinton's home.
The packages sent to Clinton, Obama and Soros, which appeared to contain working explosives, were in manila packages that included stamps and signatures on them with a return address belonging to Rep. Debbie Wasserman Schultz, D-Fla, according to three senior law enforcement officials. Wasserman Schultz is not suspected of sending the devices.