WASHINGTON — Two of the nation's top intelligence officials refused to address questions Wednesday about allegations that they had been asked by President Donald Trump to interfere in the FBI's Russia investigation, infuriating Senate Democrats who repeatedly pressed them for answers.
Adm. Michael Rogers, the director of the National Security Agency, and Daniel Coats, the director of national intelligence, each said they had never felt pressured to do anything inappropriate. But they refused to confirm or deny allegations that Trump asked them to state publicly that they saw no evidence of Trump campaign collusion with Russia.
"I have never been directed to do anything I believe to be illegal, immoral, unethical or inappropriate," Rogers said at a Senate Intelligence Committee hearing Wednesday, under questioning from Sen. Mark Warner of Virginia, the ranking Democrat.
Related: Coats Faces Senate Amid New Claims of Trump Interference
But Rogers declined to directly address what the president asked of him, as did Coats.
"I have never felt pressured to intervene or interfere in any way with shaping intelligence in a political way or intervene in an investigation," Coats said.
Warner responded, "You may not have felt pressured, but if he is even asking, to me that is a very relevant piece of information. At some point these facts have to come out."
Coats declined to address a Washington Post report Tuesday that Trump urged him to ask FBI Director James Comey to back off the Russia investigation.
"At some point these facts have to come out."
He told Sen. John McCain, R.-Ariz., that he hoped to discuss it in a closed hearing, out of public view.
NBC News has reported that Trump asked Coats and Rogers on separate occasions to state that they had seen no evidence of collusion between his campaign and Russia. Both men believed the request was inappropriate, and Trump's conversation with Rogers was documented in a memo, a former senior intelligence official said.
Lawmakers took their refusal to comment as confirmation that such conversations did indeed take place.
"If you could say" the reports weren't true, "you would say that," said Sen. Jack Reed, Democrat of Rhode Island.
The hearing came a day ahead of what promises to be a dramatic day of testimony before the same committee by former FBI Director James Comey, who will discuss what he felt were inappropriate requests made to him by Trump, sources close to him say.
As Wednesday's hearing proceeded, Democrats appeared to grow increasingly frustrated and angry about refusal by the two intelligence officials to answer questions about the conversations with the president.
Sen. Angus King, a Maine independent who caucuses with the Democrats, asked Rogers whether he was invoking executive privilege, a legal doctrine that shields some presidential conversations from disclosure. He said he was not.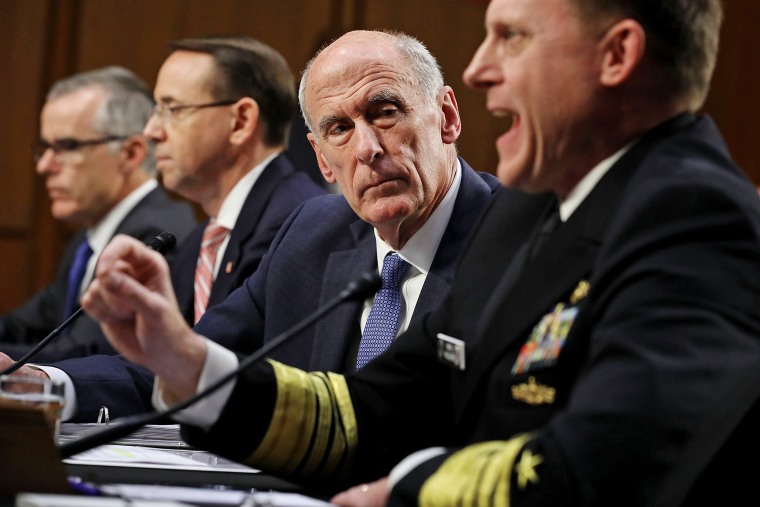 "Then why are you not answering the question?" King asked.
"Because I feel it is inappropriate, Senator," Rogers replied.
"What you feel is not relevant, Admiral, what you feel isn't the answer," King interjected.
Rogers said he stood by his refusal, but he did not mean it in "a contentious way."
"Well I do mean that in contentious way," King replied.
Later in the hearing, Republican Sen. McCain said it would be "more than disturbing, obviously. If it's true that the president of the United States is trying to get the director of national intelligence and others to abandon the investigation into Russian involvement, it's pretty serious."
"What you feel is not relevant, Admiral, what you feel isn't the answer."
Senators also expressed frustration with FBI Acting Director Andrew McCabe, who refused to discuss conversatiions he had with former director James Comey about Comey's interactions with Trump.
McCabe said he couldn't discuss anything that could fall within the purview of the special counsel's investigation.
"You don't think the American people deserve an answer to that?" asked Sen. Martin Heinrich, D.-New Mexico, who pointed out that Trump discussed the firing of Comey in an interview with NBC Nightly News anchor Lester Holt.
Senators and witnesses also spent considerable time discussing the stated purpose of the hearing, reauthorization of a key surveillance law known as Section 702. All of the officials and many of the senators expressed support for the reauthorization, though some, including King, suggested that some new privacy protections would be needed.
Section 702 was passed as part of the FISA Amendments Act of 2008, when Congress decided to essentially legalize what had been known as the warrantless wiretapping program.
The provision allows the U.S. to eavesdrop on the communications of foreigners outside the U.S. even when those communications traverse the U.S., including on networks run by big American tech companies, something that previously required a FISA warrant. In the process of targeting foreigners, the NSA sweeps in the communications of many Americans who are in communication with those foreigners.
Then-Sen. Barack Obama voted for the provision, much to the chagrin of civil liberties activists who saw it as compromising the Fourth Amendment's protections against unfettered government searches.
In 2013, leaker Edward Snowden exposed how the law was being used. Under the PRISM program, the government was ordering U.S. tech companies to turn over huge swaths of data. The targets were foreigners, but the data of many Americans was also being captured.
However, the program was considered so valuable by counterterrorism officials and their elected overseers that the Snowden disclosures resulted in no substantial changes to it. That's in contrast with the other major disclosure, the collecting of U.S. domestic calling records under Section 215 of the 2008 act. That program, which wasn't particularly useful, was completely overhauled in the wake of Snowden.
But Section 702 survived unscathed until recently, when the government announced that it would no longer collect American-to-American communications about a foreign intelligence target.
Section 702 must be reauthorized by the end of this year by Congress, or it expires.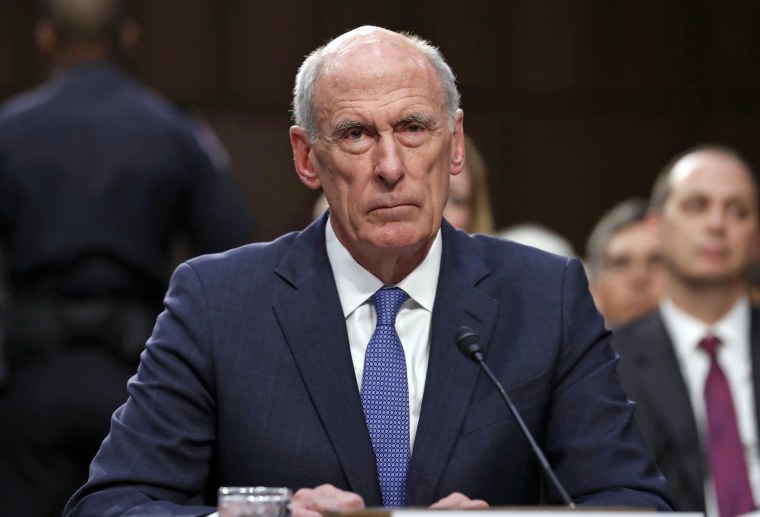 Many lawmakers have growing misgivings about it. The controversy over "unmasking" the names of Americans in intelligence reports, which many officials believe is bogus, has fueled those concerns. Republicans are increasingly concerned about whether the privacy of Americans is being sufficiently protected.
One of the main things that bothers civil libertarians about how 702 is used is that once data on Americans is collected and deemed relevant intelligence, it is stored for five years, and the FBI can search it for nearly any reason without a warrant.
That means information collected without a warrant, and queries without a warrant, can be used to prosecute an American.
"It strikes me as bootstrapping to say we collected it legally under 702 and then we can go look at these American persons," King said during the hearing. "I believe that the Fourth Amendment imposes a warrant requirement."
But when a presidential commission recommended that Obama change that provision, he declined. The FBI told him the warrantless searches were extremely useful.
Now, a coalition of conservative Republicans and liberal Democrats has banded together to seek to hold up reauthorization as it presses for more privacy protections.
Related: Ex-CIA Director: 'Interactions' Between Trump Campaign and Russia
If the provision expires, it would cause huge problems for the intelligence agencies that rely on it to hunt terrorists and spy on China and Russia, the intelligence officials told lawmakers.
The federal Privacy and Civil Liberties Oversight Board concluded in 2014 that Section 702 data has led to "well over 100 arrests on terrorism-related offenses," and stopped about 15 plots in the U.S. and 40 in other countries.
More than a quarter of the NSA's reports about international terrorism include information based in whole or in part on Section 702, the board said.