Millions of Americans were set to shiver in the coldest weather so far this fall over the weekend, with some parts of the Northeast likely to get their first dusting of snow.
From the Great Lakes through to the East Coast, overnight minimum temperatures were forecast to drop as low as the 30s or even 20s in an icy spell starting Friday night and lasting until Tuesday.
"It is going to be very chilly," Weather Channel lead forecaster Michael Palmer said. "There will be a little snow that comes off the Great Lakes Friday night into Saturday and a little but in the higher terrain of New England. Most accumulation will be less than an inch except for a few isolated areas of 1-3 inches but it will be nothing significant overall."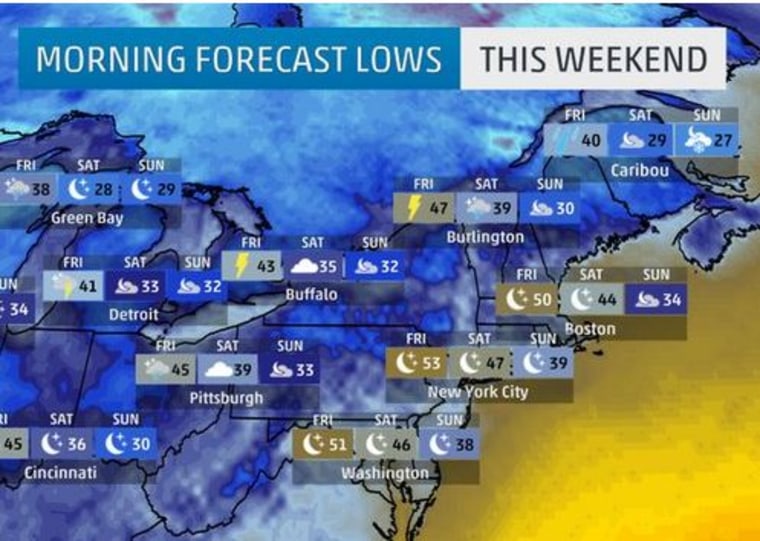 Much of the Eastern half of the country will see overnight temperatures fall into the 40s, he said. In Chicago, highest temperatures will not climb beyond the 50s Friday through Sunday. In New York City, 50s are possible this weekend, with early morning lows dipping into the 30s.
"It will be the first frost and freeze for lots of people, and the coldest air of fall so far," he said.
Meanwhile, a severe storm that caused flash flooding near Palmdale, California, on Thursday was set to weaken and move inland during Friday, putting Las Vegas and southern Utah under a flood watch.
"Localized areas could see 1-2 inches of rain in a short time and that could cause some problems," Palmer said.