NEW YORK — Hundreds of demonstrators gathered at the NFL's Manhattan headquarters on Wednesday evening to show their support for Colin Kaepernick, the former quarterback who drew controversy last season for kneeling during the national anthem in protest of police brutality and racial disparity.
Kaepernick, who took his San Francisco 49ers to the Super Bowl in 2013, has yet to be signed by an NFL team ahead of the 2017 season. His supporters believe the reason is the political stance he chose to take rather than his ability to play the game.
Many in the large crowd outside the NFL's offices on Wednesday evening wore Kaepernick jerseys and some held signs calling for a boycott of the NFL or reading "Black Lives Matter."
"We are here because we believe that Colin Kaepernick, deserves a job," said Democratic strategist and political commentator Symone Sanders at the start of at the "United We Stand" rally. "And we also believe that the Nation Football League has been complicit in the [ostracizing] of Colin Kaepranick and today it's time for the NFL to take a stand."
Kaepernick opted out of his 49ers contract in March and with the NFL pre-season underway, protests have continued in his absence. On Monday, about a dozen Cleveland Browns players knelt and prayed in silent protest during the national anthem — only one white player, Seth DeValve, was among those kneeling.
"We know that Kaep has been taking a knee for reverence and the memory of those who have lost their lives to the police, others are now taking a knee and sitting down for all the victims of white supremacy and white nationalism — even white players are doing it now," said reverend and radio host Mark Thompson at the Manhattan rally.
Several attendees heralded Kaepernick for taking a stand from such a high profile position and risking millions of dollars in the process — and some even likened him to boxer and civil rights champion Muhammad Ali, who famously refused to serve in the Vietnam War in protest.
Related: Thousands Rally Around Kaepernick With Pledge to Boycott NFL Season
"We have a modern-day Muhammad Ali," said Es-pranza Humphrey, 22, of the Bronx, referring to the legendary boxer's stance on fighting in the Vietnam war and other social issues. "This is someone who is really standing up for something."
Humphrey said the NFL should "not condemn what he did, but praise what he did and say 'we promote free speech.'"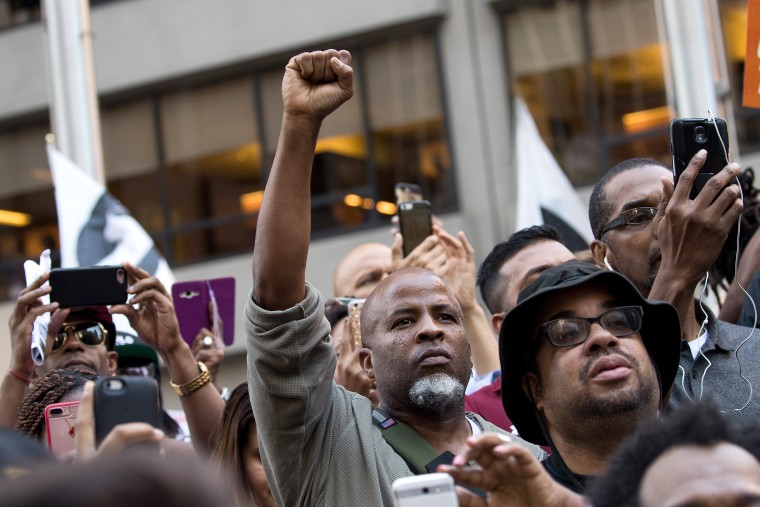 Andrew DeSilva, 32, said he felt it was unfair that Kaepernick was out of a job while other players who were involved in other more serious scandals, such as those accused of domestic violence, still got to play.
"I don't like the stance the NFL has taken on him," said DeSilva, of New York. "I appreciate the things that he has stood for."
Wearing a Kaepernick jersey and holding a sign calling for an NFL boycott, J.J. Senior, 44, said he has been a 49ers fan since he was a child and when Kaepernick came off the bench "I fell in love with his game play."
Senior, who came from New Jersey, said he did not understand Kaepernick's protest at first "but, now that I do, I fully support it."
"He's bringing attention to this really ugly issue," he said, also likening Kapernick to Ali.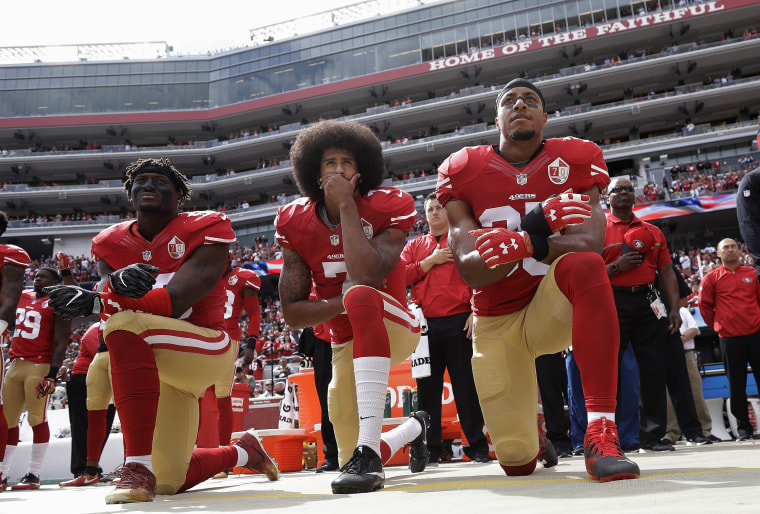 "It's evident — knowing he might be giving up millions to do what he is doing, to bring issues like this into the forefront," he said.
"All I'm asking is I want him to get a fair shot, like everybody else is," he added.
Earlier Wednesday, the NAACP sent a letter calling for a meeting with the NFL to discuss the issue of free speech and Kaepernick's position in the debate.
"Last season, Mr. Kaepernick chose to exercise his first amendment right by protesting the inequitable treatment of people of color in America," said NAACP interim President and CEO Derrick Johnson in the letter. "By quietly taking a knee during the national anthem, he was able to shine a light on the many injustices faced by people of color, particularly the issue of police misconduct toward communities of color."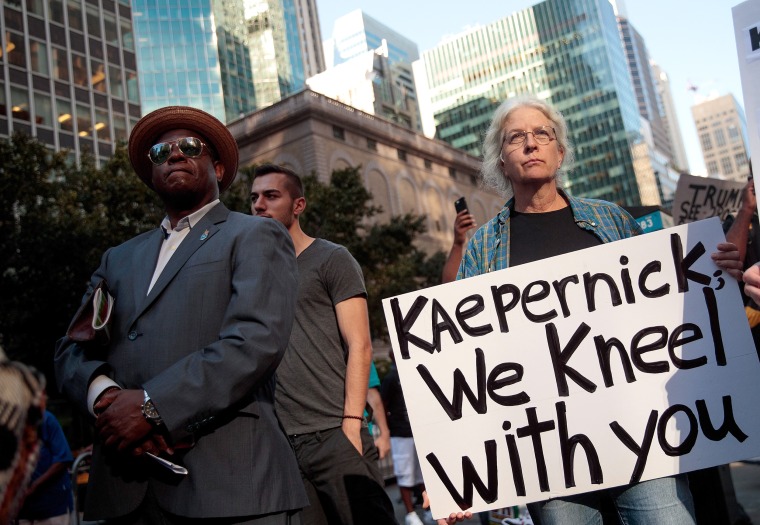 Johnson wrote that it was becoming clear it was "no sheer coincidence" that Kaepernick was not yet signed to a team.
"No player should be victimized and discriminated against because of his exercise of free speech – to do so is in violation of his rights under the Constitution and the NFL's own regulations," he wrote.
Sanders said at the rally that the NFL declined the meeting.
NFL Spokesman Brian McCarthy said in a statement Thursday that league officials told the group that organized the rally that they would not be able to put together a meeting for Wednesday.
"We said we would look to set up a meeting in the next few weeks with groups that have reached out to us," he added in the statement. "The group declined the opportunity. We have not received a letter from the NAACP."
NAACP national board member and New York State Conference President Hazel Dukes said at the rally they wanted "send a clear signal" and making money off of players, "it's about respect for our communities and especially for our black brothers, when 70 percent of your players are African Americans."
"We're standing today for his rights," she said of Kaepernick.