The pedestrian walkway that collapsed Thursday in Miami, killing at least six people, was being built using a popular but relatively new bridge technology specifically designed to speed construction while maintaining safety.
It took only six hours on Saturday to install the 174-foot pedestrian walkway, part of the 320-foot-long FIU-Sweetwater University City Bridge project at Florida International University, which had been scheduled for completion early next year. The project was to have included 9,900 feet of event space that didn't cross the roadway.
Under a method called accelerated bridge construction, which the university helped popularize beginning in 2010, the entire walkway was built by the side of Southwest Eighth Street, a seven-lane highway, and was driven into its perpendicular position across the road in just six hours, the university said.
It was the largest U.S. pedestrian bridge to have been moved that way and the first in the world to have been built from so-called self-cleaning concrete, which grabs pollutants from the air, the university said.
"This project is an outstanding example of the ABC method," Atorod Azizinamini, chairman of the university's civil and environmental engineering department, told the university's news service when the walkway was erected Saturday. "Building the major element of the bridge — its main span superstructure — outside of the traveled way and away from busy Eighth Street is a milestone."
Sen. Marco Rubio, R-Fla., who has taught politics classes at the university for several years, formally asked the U.S. Transportation Department to review the bridge's "design, construction, and ultimate failure."
"What safety standards are in place to ensure speed does not compromise safety in accelerated bridge construction?" he asked in a letter to Transportation Secretary Elaine Chao. "What materials, and from what sources, were used in bridge construction? What, if any, safety procedures were not followed in this instance?"
Rep. Mario Diaz-Balart, R-Fla., who represents part of Miami in the U.S. House, said the engineering company monitoring the project, BDI of Louisville, Colorado, "is super well-renowned, so that is why this is beyond shocking."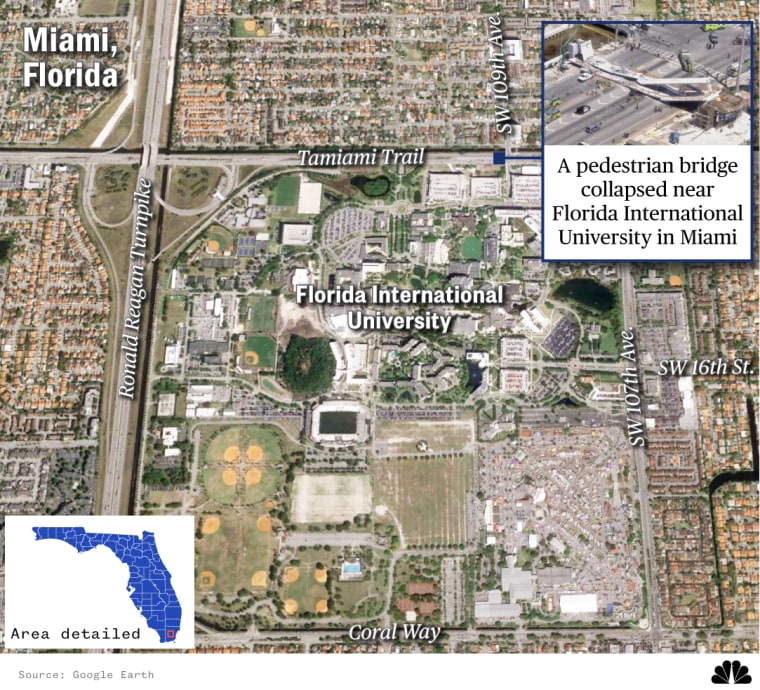 BDI said in a statement that it was "deeply saddened" by the collapse.
Munilla Construction Management of Miami, a prominent firm with numerous multimillion-dollar construction contracts in the region, said it was "devastated" and would conduct a full investigation.
Just 10 days ago, Munilla was sued in state circuit court in Miami by a worker for the Transportation Security Administration, who claimed that he was injured in October 2016 when a temporary bridge collapsed at Fort Lauderdale-Hollywood International Airport, where Munilla is in charge of a $128 million expansion project.
The complaint, which was obtained by NBC News, accuses Munilla of "shoddy" work. Tesha Allison, a lawyer for the plaintiff, Jose Perez, said he suffered broken bones and spinal injuries.
State and federal court records list several other actions against Munilla, which isn't unusual for large, successful construction companies. The company has a strong reputation within the industry and has worked for major clients, like Southwest Airlines and the cities of Miami and Dallas, according to Construction News, an industry trade journal.
A Fort Lauderdale airport spokesman said Thursday that no changes to Munilla's contract were planned.
The co-designer of the Florida International University project, Figg Bridge Group of Tallahassee, Florida, said it would fully cooperate with any investigation.
"In our 40-year history, nothing like this has ever happened before," Figg said in a statement.
Figg also designed the Bob Graham Sunshine Skyway Bridge, a four-mile-long section of Interstate 275 in the Tampa-St. Petersburg region that opened in 1987, and co-designed the Leonard P. Zakim Bunker Hill Memorial Bridge in Boston, which opened in 2003.
In a statement, the Massachusetts Transportation Department said the design of the Zakim Bridge was different from the design of the FIU bridge. The agency said it was "fully confident in the safety of the Zakim Bridge."
While the specific design may be different, both projects were built under the accelerated protocol. Accelerated construction ideas have been used for many years, but they weren't formalized until 2010 with the establishment of the Center for Accelerated Bridge Construction at FIU, in partnership with Iowa State University and the University of Nevada at Reno. The University of Washington and the University of Oklahoma joined the program in 2016 under a federal grant.
In accelerated construction, most or all of a bridge project is fabricated off-site and then put into place all at once, ideally disrupting traffic for only a few hours or days.
The protocol "can improve safety to workers and the public," Seema Javeri, a traffic operations and work zone safety manager for the Federal Highway Administration, said in a web conference on the technology in 2013.
"It's safer since construction workers are not working near active traffic for days on end, as with traditional approaches," Javeri said. "It saves the traveling public time in traffic delays and road closures, and it reduces construction season and time. With cost savings, there's improved quality of the product, and the accelerated project times can potentially reduce project costs."
While it's only a few years old, the technique has been widely adopted by governments and industry organizations alarmed by the delays, costs and safety hazards of building new bridges and repairing old ones, which traditionally has meant closing jampacked roads and highways for months.
It is behind numerous high-profile bridge projects in recent years, including:
A bridge over Interstate 15 in Mesquite, Nevada, which the Federal Highway Administration says was put in place in just six hours in January 2012.
Replacement of the Cedar Street Bridge over Route 9 in Wellesley, Massachusetts, which was completed in 62 hours in mid-2011.
Rehabilitation of the F.W. Cappelen Memorial Bridge, a five-span arch bridge carrying Franklin Avenue over the Mississippi River in Minneapolis. The rehabilitated bridge reopened last year.
"Today, ABC projects have been completed successfully, or are underway, in 44 states, with Utah, Texas, Massachusetts, Vermont and Pennsylvania leading the way," HNTB Corp., a prominent architectural and engineering firm based in Kansas City, Missouri, said in a 2016 white paper.