A newly built baseball dugout collapsed and fatally injured a Pennsylvania college player who had been helping disassemble the unsanctioned structure, officials said Thursday.
Angel Mercado, a 19-year-old middle infielder, had just completed his freshman season at Division II Central Penn College when the tragedy unfolded on Monday afternoon.
Mercado was playing in a summer recreation league, the East Shore Twilight Baseball League, and his team had rented the 7th & Radnor Sports Park in Harrisburg for games and practice, Harrisburg city spokesman Matt Maisel said.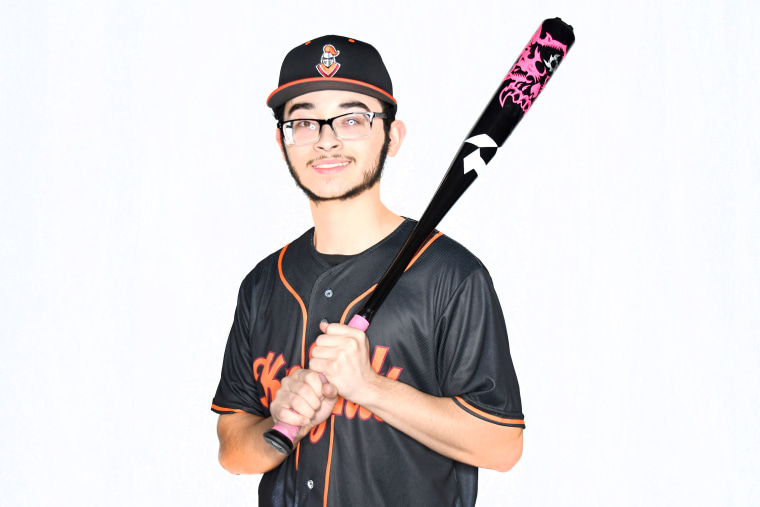 Mercado's recreation league coach had built this makeshift dugout on Sunday and the city told him he wasn't allowed to erect such a structure on public grounds, according to Maisel.
Mercado was one of the players helping the coach disassemble the dugout when it fell apart on Monday, officials said. He was struck in the face and rushed to the hospital, where he died late Tuesday night, Maisel said.
There are no criminal charges expected in the matter.
"Nothing criminal happened here," Maisel said. "No charges will be filed against the coach. No charges will be filed against anyone. This is simply a tragedy."
Gerardo Diaz, coach of Mercado's rec league squad, said he was too distraught to discuss the tragedy on Thursday.
"The name of the team is Harrisburg Internationals, but what I want you to do, I want you to change it to Angels — Harrisburg International Angels," a sobbing Diaz told NBC News, his voice trailing off.
"I don't remember anything right now. Can you please call me some other time. I would love to talk to you, my head is a little clouded still."
Central Penn College is in Summerdale, about six miles west of 7th & Radnor Sports Park, across the Susquehanna River.
In a statement, the school said it was "deeply saddened" by Mercado's death and made it clear he was working "in a program unaffiliated with the college."
"Our Central Penn College family is devastated by the loss of Angel," President Linda Fedrizzi-Williams said in a statement.
"As friends who have become family, we are mourning the heart-wrenching loss of one of our own, a promising young athlete who senselessly lost his life while helping others enjoy the sport he loved so much. No words can adequately express our anguish."