A federal investigation into the "dark underbelly" of college basketball exposed bribery schemes in which coaches at top programs took cash to steer star athletes to certain managers and helped funnel payoffs to players' families to ensure they signed with particular schools, prosecutors said Tuesday.
Some of the biggest names in college sports — from Adidas to the University of Louisville — were caught up in the probe, which began in 2015 with the help of a fallen financial adviser who agreed to wear a wire for the feds.
Acting U.S. Attorney Joon Kim said the FBI and prosecutors set out to investigate the "dark underbelly of college basketball" and found a pay-to-play culture flourishing in some corners of the NCAA.
"The picture of college basketball painted by the charges is not a pretty one — coaches at some of the nation's top programs taking cash bribes, managers and advisers circling blue-chip prospects like coyotes, and employees of a global sportswear company funneling cash to families of high school recruits," he said.
The investigation is ongoing, Kim said. On Tuesday, federal agents executed search warrants at the offices of ASM Sports, which represents 30 current NBA players but which was not charged in the three criminal complaints filed in Manhattan.
Those documents detail a web of corruption in which money allegedly flowed between athletes' families, coaches and others with a financial interest in basketball — with the goal of locking in where young athletes would play, who would represent them and what clothing they would wear.
"If we take care of everybody and everything is done, we control everything," Christian Dawkins, a former recruiter for ASM who was reportedly fired for using a player's credit card, told an undercover agent, according to one complaint.
"You can make millions off one kid."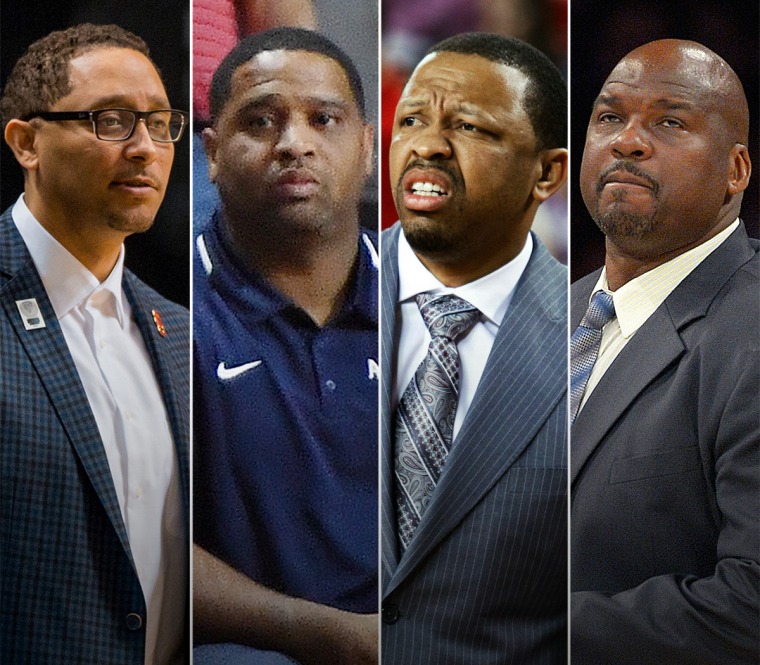 Four assistant coaches accused of taking bribes of between $13,000 and $100,000 to convince players to hire Dawkins and other advisers were identified as Chuck Person of Auburn University, Lamont Evans of Oklahoma State University, Emanuel Richardson of the University of Arizona, and Anthony Bland of the University of Southern California.
"When you've coached Kobe Bryant, played with Phil Jackson, it goes a long way," Person, who played in the NBA, bragged on one recording quoted in the complaint. He allegedly agreed to push players to buy clothing from a bespoke clothing company owned by former NBA referee Rashan Michel, who was also charged.
Also arrested was James Gatto, director of global sports marketing for Adidas, who was accused of paying the families of high-school standouts to sign with two universities that had sponsorship deals with the apparel giant.
The court documents don't name the colleges, but NCAA powerhouse Louisville confirmed it was part of the investigation and pledged to "cooperate fully." The other college was described as a private research university in Florida with 16,000 students and 15 varsity sports, which matches up with the University of Miami, which said it could not comment.
Working with Gatto were Merl Code, an adviser to Adidas, and Jonathan Brad Augustine, who runs an amateur basketball program sponsored by Adidas, prosecutors said. Dawkins and investment adviser Munish Sood helped broker the agreements to pay the families $250,000, court documents say.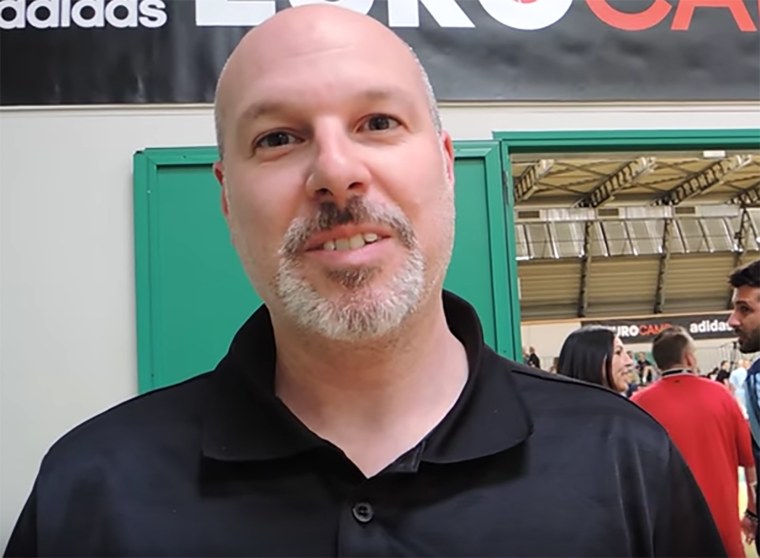 The idea, according to investigators, was that the high-schoolers would matriculate at the colleges sponsored by Adidas; sign with Dawkins and Sood, who would see a windfall when the players joined the NBA; and ink a sponsorship deal with Adidas when they went pro.
"You guys are being introduced to ... how stuff happens with kids and getting into particular schools and so this is kind of one of those instances where we needed to step up and help one of our flagship schools...secure a five-star caliber kid," Code said to Sood and an undercover agent in one recording.
After the charges were announced, Adidas said it had just learned of Gatto's arrest. "We're unaware of any misconduct and will fully cooperate with authorities to understand more," the company said in a statement.
Auburn said it had suspended Person, saying in a statement that "we are saddened, angry and disappointed." The University of Arizona said it was "appalled" and had suspended Richardson. USC said it was "shocked" to hear of Bland's arrest and "does not tolerate misconduct in any way." Oklahoma State said it was "surprised" to hear of Evans' arrest and is "cooperating fully with officials."
The NCAA said the charges were "deeply disturbing."
"We have no tolerance whatsoever for this alleged behavior. Coaches hold a unique position of trust with student-athletes and their families and these bribery allegations, if true, suggest an extraordinary and despicable breach of that trust," NCAA President Mark Emmert said in a statement.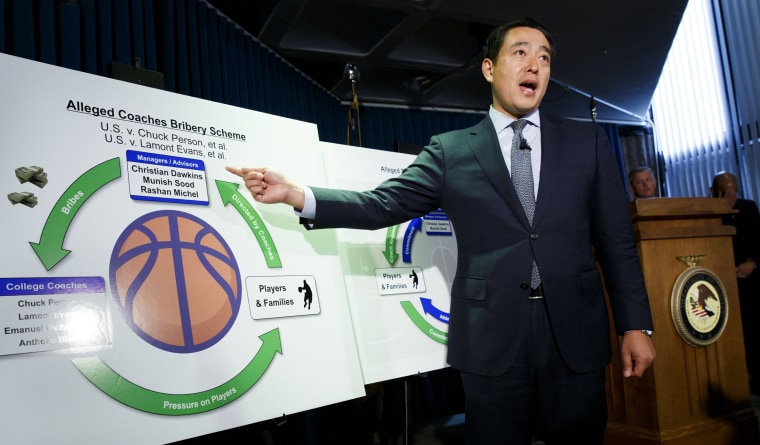 The investigation was carried out largely with the assistance of a cooperating witness, identified Tuesday as Louis Martin Blazer, a former Pittsburgh financial adviser who found himself in hot water in 2014 for siphoning money from professional athletes whose accounts he managed to finance movie and music ventures.
He ultimately pleaded guilty to identity theft, making false statements and documents, wire fraud and security fraud. Under a cooperation agreement, prosecutors agreed to inform the sentencing judge of Blazer's help in the NCAA case.