As a century-old college sports conference teeters on the brink of extinction and student-athletes brace for exhaustive cross-country travel, the attorney arguably responsible for these drastic changes says he's not particularly happy about it at all.
Andrew Coats, the lawyer who convinced the U.S. Supreme Court in 1984 to allow universities to maximize football revenue, leading to a television-driven money-grab and today's sweeping upheaval, now looks back with regret on the landmark case he successfully argued.
"I think I screwed up college football across the board, because I think the case did it," Coats recently told NBC News, reflecting on his role in NCAA v. Board of Regents of the University of Oklahoma.
America's highest court ruled in favor of Coats' clients and said that the governing body of intercollegiate athletics couldn't restrain the trade rights of schools and their conferences.
Now, the once-stable world of college football has turned into a near-nonstop swap meet in which universities constantly change conference affiliations, seeking more lucrative TV contracts. As a result, the Pac-12, a 108-year-old conference, will be reduced to four schools, and likely dissolve altogether.
These massive deals have caused the value of televised college football games to skyrocket in recent decades, largely at the expense of student-athletes who, in all sports, regularly travel thousands of miles for routine games once within reach of short plane rides or bus trips.
A 'complete disaster'
Earlier this week, Notre Dame Athletic Director Jack Swarbrick called the conference shifting a "complete disaster."
"I think the decision-making has lost its way in terms of the focus on the student-athlete and what's primarily best for them," he told "The Dan Patrick Show" on Wednesday. "I'm all for more regional scheduling. I think it makes a load of sense."
While the 1984 case concerned football on TV, the practical impact has been on all programs — with athletes of nonrevenue and Olympic sports bearing an equal or greater burden of long travel.
Oregon softball player Paige Sinicki recently winced at the new reality of conference games as far away as New Jersey, a cross-country trip she suggested she didn't sign up for when committing to the Ducks.
"I picked to play in a high level softball conference where being close to home would allow my parents to come watch my games," Sinicki said recently on X, the social media platform formerly known as Twitter. "It's unfortunate to hear that my senior year I'll be playing as far as New Jersey-Rutgers as well as other east coast schools."
"Just hope that us student athletes will be taken care of for all the travel, time changes, and hours on the road we will experience weekly!" she wrote in another post.
Marshall University announcer Ben Westfall — voice of the Thundering Herd soccer, volleyball, baseball and softball — said decision-makers are not thinking enough about athletes in nonrevenue sports who are bearing the brunt of long travel.
Marshall is about to start its first academic year in the Sun Belt Conference, the New Orleans-based league that now stretches as far west as San Marcos, Texas.
"This is more than money, and this realignment doesn't just affect football and basketball," Westfall wrote on X. "It affects everyone, especially the athletes. It is sad what college athletics is turning into."
This money-driven path was paved by Coats and his clients, leading to round-the-clock football on TV and conference instability.
'Annihilated the idea of geography'
Virtually every game in college football's highest tier, the Football Bowl Subdivision, is now at least streamed or shown on national or regional TV.
The 2023-24 FBS season kicked off Saturday as Notre Dame defeated Navy, 42-3, in a game televised on NBC from Dublin.
On a typical fall Saturday, a college football fan can sit on their couch to watch a Big Ten game kick off at noon ET and stay planted there — with a remote in one hand and a drink in the other — until the final West Coast contest or a Hawaii game wraps up at 2 a.m. (or later) Sunday.
With the right cable or satellite packages and streaming services, more than 100 games can be seen every autumn Saturday.
But before NCAA v. Board of Regents, just a handful of games got on air with only the biggest annual matchups — such as Michigan-Ohio State, USC-UCLA, Texas-Oklahoma and Army-Navy — making it to the tube.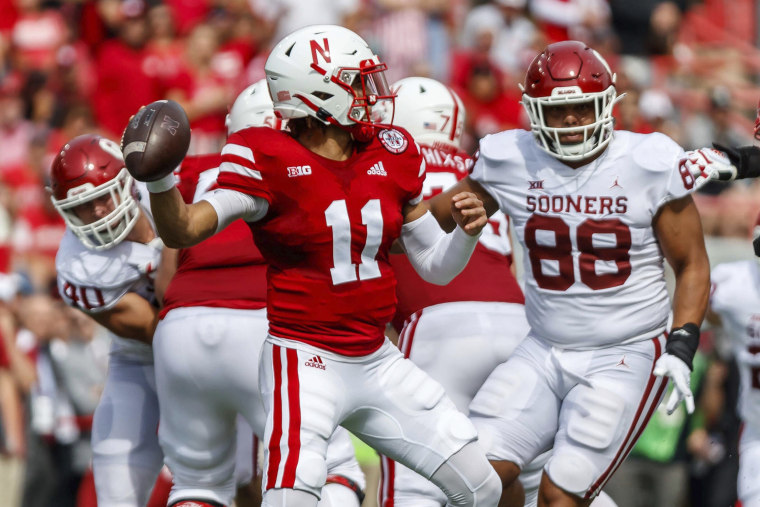 "When this case was decided, it opened up everything," Syracuse University professor and TV historian Robert Thompson said. "It went from one game a week to eventually almost all games being on and it annihilated the idea of geography." 
TV networks shelling out big dollars only want to show the biggest names of college football, no matter where they're located. That's led to a series of conference alignments that maximize marketability but thoroughly confuse mapmakers.
A new reality
The most notable seismic shift was announced 13 months ago when USC and UCLA, both in Los Angeles, said they'd join the 14-school (soon-to-be 18-school) Big Ten, based in Rosemont, Illinois, in 2024-25.
The USC and UCLA defections turned out to be Jenga pulls that have likely collapsed the century-old Pac-12 with Oregon and Washington following their Los Angeles counterparts to the Big Ten in 2024-25. Earlier this summer, Arizona, Arizona State, Utah and Colorado announced they're leaving the Pac-12 and will be in the Big 12 a year from now. 
The four remaining Pac-12 schools — California, Stanford, Washington State and Oregon State — are now in limbo with the likely death of their league, which launched in 1915 as the Pacific Coast Conference with founding members Cal, Washington, Oregon and then-Oregon Agricultural College (now Oregon State).
It'll be a jarring new reality for college sports consumers to learn USC could be regularly playing Penn State in many sports while rarely seeing Stanford, or that the legendary Oklahoma-Oklahoma State rivalry might be swept into the dustpan of history.
"You feel bad how far it's gone," said the 88-year-old Coats, who still teaches law at his alma mater, the University of Oklahoma, and who served as the mayor of Oklahoma City from 1983 to 1987. "But I don't think anyone could have predicted what would happen."
Coats said his side of the table, which included co-litigants the University of Georgia, wanted an out-of-court settlement with the NCAA, which would've kept TV negotiating power with the central college sports authority. But once the high court ruled, all big-money decisions were handed to the conferences and schools, leading to the wild changes unfolding now.
It is sad what college athletics is turning into.
Marshall University announcer Ben Westfall
"We tried at every stage to negotiate an agreement of some kind, to limit what would happen. But we learned the 'NCAA' stood for 'Never Compromise Anything at Anytime' and they wouldn't even talk to us," Coats said.
The NCAA did not respond to a request for comment from NBC News on Friday.
Even had the Oklahoma/Georgia legal action failed, Thompson, the Syracuse University professor, said the drive for more high-profile, intersectional matchups was always in the cards.
"I'll go along with his (Coats') claim, that by arguing that case and winning it, he screwed up college football," Thompson said, laughing. "But I would also say, however, if he hadn't been there to screw it up, there were lots and lots, crowds of other people in line to do it too." 
College Football Hall of Fame historian Denis Crawford agreed that the sport is bound to morph, regardless of the powers-that-be.
"If you look at the breadth of college football, you'll always see it's been evolving," Crawford said. "Change will inevitably continue to happen, and whether you think it's good or it's bad, it's going to be up the individual consumer."
The court of 1984 ruled, 7-2, in favor of Oklahoma and Georgia with dissent from Justices Byron "Whizzer" White and William Rehnquist.
Coats recalled running into White, himself a former college football star at Colorado, during a social function months after the decision and the associate justice uttering prescient words to him.
"He said to me, 'Andy, you might have won that case, but you'll regret it.'"