A 19-year-old student fatally stabbed a couple in their garage in Florida Monday night and was biting the dead man's face when officers subdued him, authorities said Tuesday.
Police believe Florida State University student Austin Harrouff attacked the couple at random shortly before 9:20 p.m. using "weapons of opportunity," and also wounded a neighbor who attempted to intervene, Martin County Sheriff William Snyder told reporters at a press conference.
The sheriff's office responded to the home in Tequesta after a neighbor called 911, and a deputy found Harrouff on top of the male victim's body in the driveway biting off pieces of his victim's face, Snyder said.
"It's inexplicable," Snyder said. "One of the first things we try to do at a crime scene is try to understand the motive of the offender, because it is the motive of the offender that gets us going in the right direction. In this case, we can't establish a motive."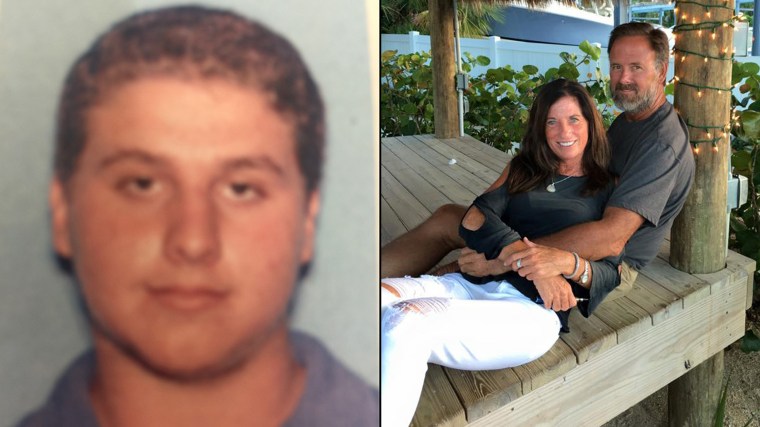 Snyder said Harrouff joined his parents for dinner at a nearby restaurant around 8:30 p.m. but stormed off when he was agitated by the slow service. About 50 minutes later, police responded to the neighbor's 911 call of a man attacking the couple in their garage.
The victims, Michelle Mischon, 53, and John Stevens, 59, were pronounced dead on the scene, Snyder said. Martin County deputies were initially unsuccessful in getting Harrouff off of the victim with a stun gun and police dog, he said.
"The suspect in this case was abnormally strong," Snyder said. "We will be doing sampling of his blood to see if there was flakka or bath salts, which are known to cause what we call the excited delirium, and he did have some indications that we might be working with that."
Related: 'Devil's Drug': Flakka Is Driving Florida Insane
Snyder said initial drug test results for the suspect showed no signs of methamphetamine, cocaine, heroin or other common drugs in his blood. Snyder said Harrouff was making "animal like sounds" after he was arrested and was incoherent. The bites caused substantial trauma to the victim's body, Snyder said.
Deputies did not shoot Harrouff because they were concerned about striking the victim, Snyder said.
Harrouff was being treated at a Palm Beach County hospital Tuesday. Snyder said at a later press conference that his condition has deteriorated significantly, and he may not survive.
"It is possible that he's ingested something that is causing some kind of intestinal problem. We're just not sure. The hospital says that he's in grave condition and he is not at all stable," he said.
Both victims were sitting in their garage with the door open when they were attacked, Snyder said. Investigators have found no known connection between Harrouff and the victims and it appears to have been an unprovoked and random attack, he said.
Related: "The Perception vs. Reality of Violent Crime in America"
The neighbor, 47-year-old Jeff Fisher, was stabbed and was taken to a nearby hospital for surgery, police said. He is expected to survive.
Snyder said Harrouff doesn't have a criminal past and was apparently getting good grades at school, and investigators were trying to determine a motive in the killings. Harrouff lived with his mother a few miles away from the scene of the killings and his father lives in the neighborhood, Snyder said.
Why Harrouff attacked the couple may never be known, Snyder said.
"To all of us, none of this makes sense. There's just not one thing in this case that seems to makes sense," Snyder said. "As we grasp to kind of get out footing and try to understand exactly what happened, we can't get our footing in understanding the motive or how did this happen."
A similar attack occurred in Miami in 2012 when a naked man chewed the face of a homeless man for unknown reasons. The attacker was shot dead by police and the victim survived but suffered serious facial injuries. Bath salts had been suspected in that case, but an autopsy showed the attacker only had marijuana in his system, NBC Miami reported.