The suspect accused of killing five people in a mass shooting last year at a Colorado LGBTQ club ran a neo-Nazi website and used gay and racial slurs while gaming online, a police detective testified Wednesday.
The suspect, Anderson Lee Aldrich, also posted a rifle scope on a gay pride parade and used a slur when referring to someone who was gay, Detective Rebecca Joines of the Colorado Springs Police Department testified on the first day of a three-day hearing to determine if the evidence is strong enough to proceed with hate crime charges against Aldrich.
Xavier Kraus, a former neighbor and friend of the suspect, told NBC News in an exclusive interview last year that an FBI agent had asked him about two websites at an FBI field office in Colorado Springs.
One of the websites, a forum-type "free speech" site where people have anonymously posted racist and antisemitic memes, language and videos, was created by the suspect, Kraus said he told investigators.
Kraus, who, according to public records, lived one door away from Aldrich in a Colorado Springs apartment complex, said he told the FBI that Aldrich made the free speech website in late spring or early summer. Kraus said Aldrich described the site as "a platform where people could go and post pretty much whatever they want." 
Aldrich, who wore an orange jail jumpsuit at the hearing and cried at times, identifies as nonbinary and uses the pronouns they and them.
During the hearing, new details also emerged about the heroic actions of the two men credited with putting an end to the Nov. 19 attack at Club Q.
Navy Petty Officer 2nd Class Thomas James grabbed the barrel of the suspect's rifle after shots rang out in an attempt "to disarm the shooter," blistering his hand because it was so hot, Detective Ashton Gardner told the court.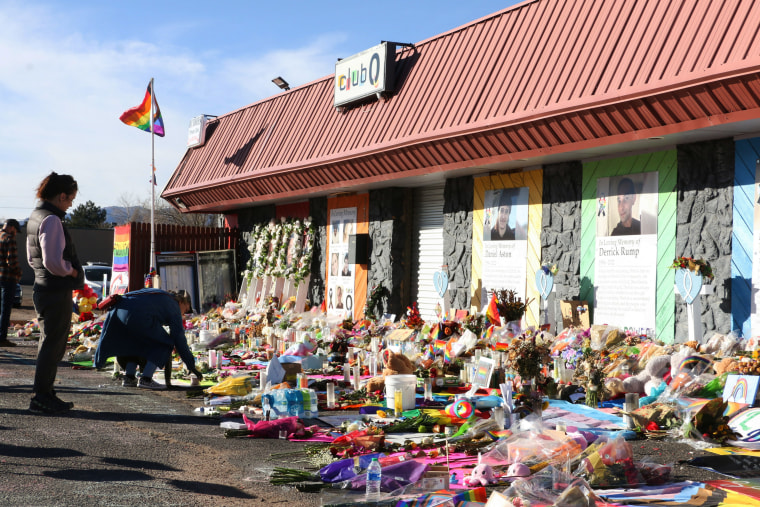 "There is an initial struggle over the rifle ... that was used," he said.
James told investigators that he had fallen to the floor with Aldrich, who pulled out a handgun and fired two shots. James was hit in the torso, Gardner told the courtroom. 
He subdued the suspect, holding Aldrich for authorities alongside decorated Army veteran Richard Fierro, 45, of Colorado Springs.
Eventually, other people came over to help James and Fierro.
The suspect was arrested and charged with 323 criminal counts, including first-degree murder, attempted first-degree murder, first- and second-degree assault and bias-motivated crimes.
Gardner also recounted stories shared with investigators by people who survived the attack. One woman was shot in the face as she tried to escape with her daughter, the detective said. Another woman was shot in the back as she ran, while others played dead hoping the shooter would walk past them.
One man flipped a table so it could provide cover as shots rang out. The man and his wife were shot but survived.
Authorities said that Aldrich entered the club and immediately began firing with a semi-automatic rifle. Daniel Aston, Raymond Green Vance, Kelly Loving, Ashley Paugh and Derrick Rump were killed in the attack and 17 others were injured "because of a gunshot wound," police said.
The hearing will resume Thursday. Video allegedly showing the suspect opening fire at the venue is expected to be played.
The club announced last week that it plans to rebuild and reopen in the fall with enhanced security measures and a permanent tribute to those who died. Matthew Haynes, the founding owner of Club Q, said in a statement that he wanted to assure people that they were "working very hard to bring our home back."
"We look forward to being able to gather as one community again," he said.
Two of the victims were hired as staff and "will work on an administrative basis, assisting management with the rebuild efforts, community relations and more," the club's management team said. The team said it plans to hire at least one more victim and to distribute lost wages to former employees and contractors from fundraisers and a GoFundMe campaign.