Five women have accused Emmy-winning comedian and actor Louis C.K. of sexual misconduct dating back at least 15 years, The New York Times reported on Thursday.
Two female comedians claim that Louis C.K., the creator and star of the FX series "Louie," masturbated in front of them in 2002, The Times reported. Three other women told The Times about other instances of alleged sexual misconduct.
NBC News has not verified the allegations.
After being contacted by The Times for an interview this week, Louis C.K.'s publicist, Lewis Kay, said his client would not respond. "Louis is not going to answer any questions," Kay wrote to The Times in an email Tuesday night. NBC News has reached out to Louis C.K. for comment and will update this article if he responds.
The Times report was published hours after the New York premiere of a new film directed by Louis C.K., 50, was canceled. The distributor of the film, titled "I Love You, Daddy," said in a statement that the screening at the Paris Theatre had been called off because of "unexpected circumstances."
"There is never a place for the behavior detailed in these allegations," the distributor, The Orchard, said in a statement. "As a result, we are giving careful consideration to the timing and release of the film, and continuing to review the situation."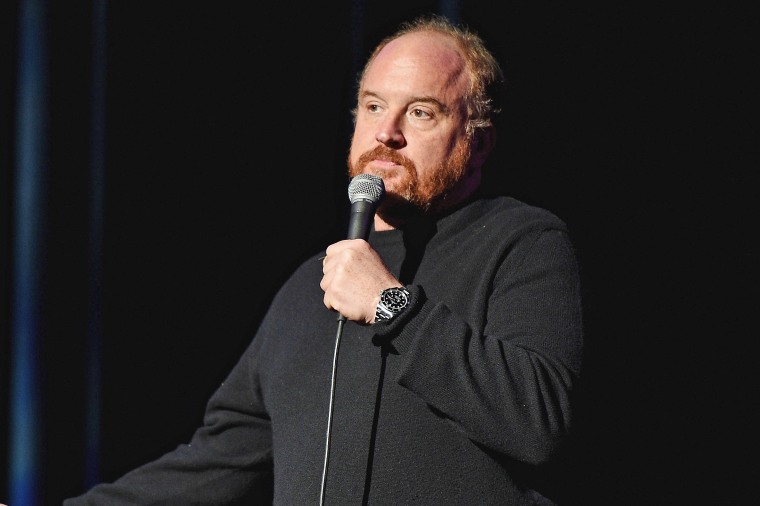 The film, a black-and-white comedy that pays homage to Woody Allen's "Manhattan," has stirred up controversy of its own. It stars Louis C.K. as a television producer whose 17-year-old daughter (Chloe Grace Moritz) becomes involved with a 68-year-old filmmaker (John Malkovich).
Related: The Growing List of Men Accused of Sexual Misconduct Since Harvey Weinstein
The claims published in The Times come amid a wave of other sexual misconduct allegations against other high-profile men in Hollywood, including Oscar-winning mogul Harvey Weinstein, screenwriter James Toback and "Rush Hour" director Brett Ratner.
In the exposé published in The Times, comedians Dana Min Goodman and Julia Wolov allege that Louis C.K. in 2002 invited them to his hotel room in Colorado, undressed himself and masturbated in front of them. Abby Schachner, a comedian who says she called Louis C.K. to invite him to one of her performances in 2003, claims she could hear him masturbating during their phone conversation. Rebecca Corry, a writer and actress, alleges that Louis C.K. asked whether he could masturbate in front of her while they appeared together on a television pilot in 2005.
Goodman and Wolov told The Times that they felt compelled to speak out given the climate in the film industry. "Because of this moment," Wolov told the newspaper, "as gross as it is, we feel compelled to speak."
FX Networks said in a statement Thursday that "we are obviously very troubled by the allegations about Louis C.K. published in The New York Times today" but that the network has received no allegations of misconduct by Louis C.K. related to any of its shows.
"FX Networks and FXP take all necessary actions to protect our employees and thoroughly investigate any allegations of misconduct within our workplace," FX Networks said. "That said, the matter is currently under review."
HBO said Thursday that Louis C.K. will no longer be participating in its "Night of Too Many Stars" autism benefit on Nov. 18, and that the company "is removing Louis C.K.'s past projects from its On Demand services."