Fired FBI Director James Comey told the heads of the Senate Intelligence Committee that the Russia investigation had stalled because of a lack of prosecution resources from the Justice Department, in part because the job of deputy attorney general had been vacant so long, say Congressional and law enforcement officials.
Related: Trump Told He Would Not Be Greeted Warmly at FBI: Officials
Comey did not say he asked Justice for more money or FBI agents to expand the Russia investigation, as one official told NBC News Wednesday — and as was reported by the New York Times, the Washington Post and others. What Comey said he asked Deputy Attorney General Rod Rosenstein for, the officials said, was more attention, focus and labor hours from Justice Department prosecutors.
"What he wanted was basically more prosecutors, more support from the Department of Justice for writing subpoenas and warrants and things like that," one Congressional aide briefed on the matter said.
One big problem, an official with direct knowledge of the matter told NBC News, was that there long had been no deputy attorney general to organize and coordinate the prosecutorial response. Rosenstein assumed that job two weeks ago. In a memo to President Trump Tuesday, Rosenstein all but recommended that Comey be fired for what he characterized as errors in judgment in his handling of the Hillary Clinton email investigation.
Department of Justice spokesperson Sarah Isgur Flores told NBC News Wednesday that "there was absolutely no request" from Comey for more agents or resources for the investigation. She did not immediately respond to a request for comment about whether Comey had asked for more prosecutorial resources.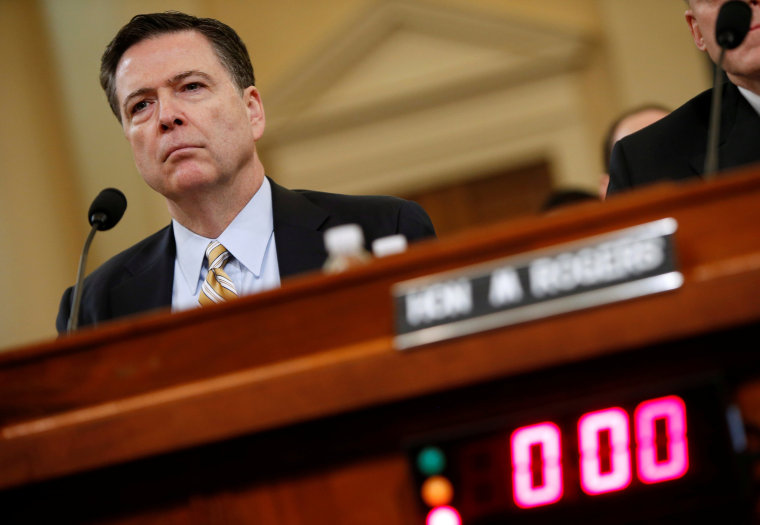 Acting FBI Director Andrew McCabe testified to Congress Thursday that the FBI had sufficient resources for its Russia investigation, and that he was unaware of any request by Comey for more.