WASHINGTON — President Donald Trump went after former FBI director James Comey on Twitter Monday, accusing him of breaking the law by leaking classified information to the news media.
But that isn't true, according to Comey's friend, Columbia University law professor Daniel Richman, who received some of the memos and shared some elements with reporters.
At issue is a report from The Hill stating that more than half of the memos Comey wrote about his conversations with Trump were determined to contain classified material.
The report appeared to prompt a tweet from Trump, saying what Comey had done was "so illegal."
No evidence has surfaced supporting that charge. Three of the memos were classified from the beginning, and were never shared with Richman, the professor tells NBC News.
Of the remaining four, a small portion — much less than half — has been retroactively deemed classified, said a Congressional source familiar with the matter.
Richman said that to his knowledge, nothing in the one memo that he described to reporters was or has been deemed classified.
The retroactive classification may lead to criticism of Comey, since that was exactly the process that stung Hillary Clinton during the campaign.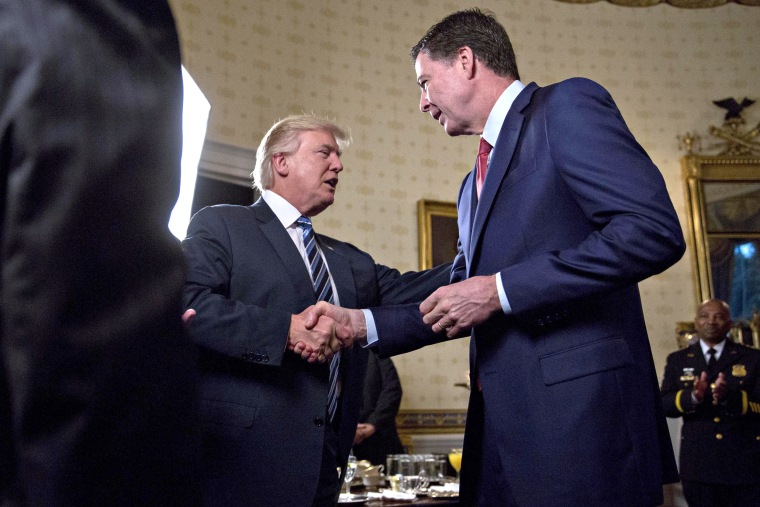 Emails that went to Clinton's private server were later determined to contain classified information, even though they were not marked classified at the time.
In announcing there was no prosecutable case, Comey last year accused Clinton and her team of being "extremely careless in their handling of very sensitive, highly classified information."
Comey's memos are now in the hands of Robert Mueller, who is investigating, among other things, whether President Trump obstructed justice in his dealings with Comey, who was fired in May.