WASHINGTON — Fired FBI Director James Comey said in prepared testimony that he told President Trump he was not personally under investigation, and that Trump pressured him to say so publicly to lift the "cloud" on his presidency.
In testimony released Wednesday by the Senate Intelligence Committee ahead of his appearance Thursday, Comey also confirmed an earlier news report that Trump pressured him into dropping the FBI investigation of former National Security Advisor Michael Flynn, pressure Comey considered inappropriate.
The testimony was released at Comey's request, according to committee chair Richard Burr, R.-N.C.
"I had understood the president to be requesting that we drop any investigation of Flynn in connection with false statements about his conversations with the Russian ambassador in December," Comey wrote. "I did not understand the president to be talking about the broader investigation into Russia or possible links to his campaign… Regardless, it was very concerning, given the FBI's role as an independent investigative agency."
Related: Read James Comey's Full Opening Statement
Comey said he and his aides at the FBI decided not to report the conversation to the Justice Department.
"After discussing the matter, we decided to keep it very closely held, resolving to figure out what to do with it down the road as our investigation progressed," he wrote.
Comey said he did tell Trump on Jan. 6 that the president was not personally under investigation. When the president asked Comey on March 30 to spread the word that he was not under investigation, Comey said he decided not to tell Trump that the FBI didn't want to make that statement public. In part, he said, that is because such a statement would have to be publicly corrected if Trump did come under investigation.
Nonetheless, Trump's outside counsel, Marc Kasowitz, said the president took Comey's Jan. 6 statement as a vindication.
"The President is pleased that Mr. Comey has finally publicly confirmed his private reports that the President was not under investigation in any Russian probe," Kasowitz said in a statement. "The President feels completely and totally vindicated. He is eager to continue to move forward with his agenda."
In his testimony, Comey said he did report to the acting attorney general another part of the March 30 conversation with the president, on March 30, which occurred after Comey revealed to the public that the FBI was investigating whether the Trump campaign colluded with the Russian election interference effort.
"He described the Russia investigation as 'a cloud' that was impairing his ability to act on behalf of the country," Comey wrote. "He said he had nothing to do with Russia, had not been involved with hookers in Russia, and had always assumed he was being recorded when in Russia."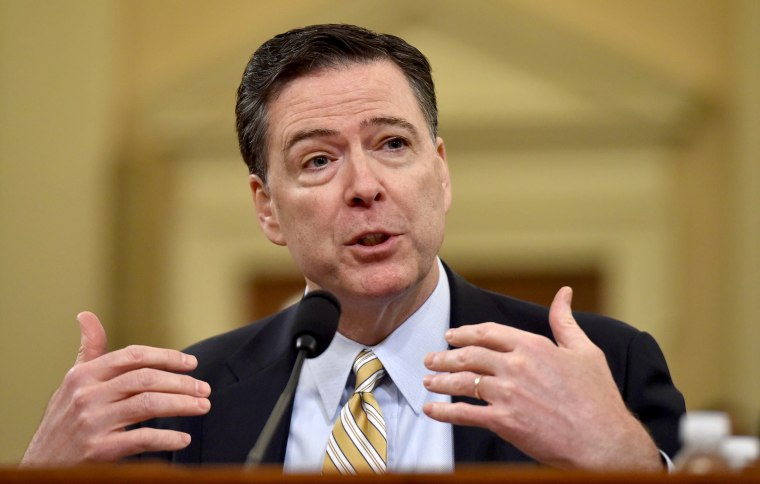 Trump, Comey continued, "asked what we could do to 'lift the cloud.' I responded that we were investigating the matter as quickly as we could, and that there would be great benefit, if we didn't find anything, to our having done the work well. He agreed, but then re-emphasized the problems this was causing him."
Comey added that he "did not tell the President that the FBI and the Department of Justice had been reluctant to make public statements that we did not have an open case on President Trump for a number of reasons, most importantly because it would create a duty to correct, should that change."
Comey's statement also refers to a one-on-one dinner he had with Trump in the White House, in which he says the president asked for his loyalty and he replied that he could offer honesty.
According to Comey, the president said, "I need loyalty, I expect loyalty."
"I need loyalty, I expect loyalty."
Comey's last interaction with Trump came on the morning of April 11, when he says, "The president called me and asked what I had done about his request that I 'get out' that he is not personally under investigation.
Related: White House Prepares for Comey Testimony, But Without a 'War Room'
"I replied that I had passed his request to the Acting Deputy Attorney General, but I had not heard back. He replied that 'the cloud' was getting in the way of his ability to do his job."
One of Trump's allies, Gov. Chris Christie of New Jersey, said on MSNBC's Deadline: White House Wednesday that critics of Trump's remarks to Comey were reading too much into the statements. Trump is an outsider, Christie said, who didn't really know the protocols of how to speak to other agencies of government.
"What you're seeing is a president who is now — very publicly — learning about the way people react to what he considers to be normal New York City conversation," Christie said.